Good morning angels!
Welcome to the Thursday, December 15th edition of the ElevenWarriors.com Skull Session, your daily dose of what Buckeye fans are going to be talking about today.
We are in day 17 of the Urban Meyer era at Ohio State, and it's pretty obvious how much his presence has impacted the national perception of Ohio State already. There is plenty of genuflecting, plenty of objective folks looking at how Meyer will keep Ohio State at the top of the B1G mountain, The hand-wringing and whining coming from up north is also tremendously encouraging, since mental domination of your opponent is the first step towards physical supremacy.
As I write this however, it's been at least a full day since Ohio State received a verbal commitment from a single All-American candidate, so maybe the bloom is off the rose, huh?
CYRUS JONES WILL NOT VISIT OHIO STATE. It was a star-studded night at a high school gym in Maryland last night, as Nick Saban, Luke Fickell and more were in attendance to see Gilman HS star WR Cyrus Jones play. Jones was scheduled to visit Ohio State this upcoming weekend, following at in-home visit with Satan, er, Saban last night. Jones had reportedly even convinced his junior teammate, DT Henry Poggi to accompany him.
Sadly for Buckeyes fans who had dreams of Jones playing a Harvin-esque role at OSU, it appears that Jones has decided to nix his trip to Ohio this weekend and has eliminated Ohio State from contention, instead deciding to narrow his focus on Alabama and Virginia Tech.
For the Buckeyes and their pursuit of the "next" Harvin, another Baltimore prep star, Stefon Diggs, will become the main priority in that chase. Diggs has indicated he will be taking a visit to Columbus sometime in January, but as we learned with Jones, plans can change in an instant.
THOMPSON'S DEFENSIVE SEAL. Jared Sullinger made his return to the Ohio State lineup after sitting out the last two Buckeye contests with back spasms and Ohio State returned home after their first road game, and subsequent first loss of the young season, on Saturday. The Buckeyes hosted the Spartans from the University of South Carolina Upstate and it had all the trappings of a good ol' fashioned Buckeye beatdown; full of run and fun and dunks. Surely the Spartans would learn the unfortunate lesson that so many small schools learn every night across the country: you don't belong on the court with the "Big Boys".
Apparently, someone forgot to give the Buckeyes the script in the first half. To say that Ohio State's performance in the first 20 minutes on Wednesday night against South Carolina Upstate was a bit uninspired is akin to calling the Grand Canyon just a hole in the ground, might be a bit of an understatement.
The Buckeyes trailed 21-17 with 7:15 seconds left in the first half after more than six minutes without a made field goal and freshman guard Sam Thompson had been inserted into the game, hoping to to give an infusion of energy into the Ohio State lineup (maybe to wake up a lackluster Buckeye crowd, as well).
Thompson, who played a single minute in the loss at Kansas, turned the Buckeyes fates with a single play, as he chased down the Spartans' Ty Greene and pinned his lay-up attempt against the backboard. The Buckeyes took the momentum from there, outscoring the Spartans 20-7 in the last 6:30 of the first half before putting the game away with a solid second half. Sullinger finished with a double-double, Deshaun Thomas scored 23 points and the Buckeyes won comfortably, but Thompson's effort in the first half changed things for the Buckeyes.
Sam ended the night with 21 minutes on the court and dazzled the Buckeye faithful not only with his defensive tenacity, but with two thunderous dunks which showcased his incredible athletic ability. He finished with a career-high 8 points, blocking two shots along the way.
Matta's is blessed with possibly the deepest team in Buckeye hoops history, but he has not been kind to the back half of the bench in the past few years, hopefully Thompson's effort will give him more cause to let the youngsters get meaningful minutes moving forward.
Freshman LaQuinton Ross, who was eligible for the first time for the Buckeyes following academic issues that forced him to miss the first 9 games, did not play.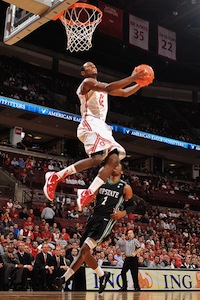 FEAR THE SHAZIER. We all know that Ryan Shazier is tough. We all know that Ryan Shazier is a play-maker. We all know that he should have had more playing time early in the season, because we all saw that this freshman sack-machine from Florida was a difference maker.
Yesterday, the rest of the country received a little confirmation that upheld what already knew, as Shazier was named a Sporting News freshman All-American, despite only playing significant minutes in the final half of the season. His efforts against Penn State, where he had 15 tackles and Michigan (8 tackles with the aforementioned knee injury) certainly opened a lot of eyes and makes him a player to watch heading into the 2012 season.
WILLIAMS TO RETURN IN 2012? While the Buckeyes did not receive any new verbal commitments for the class of 2012 yesterday, they do seem to be getting a bit closer to hearing definitively that DE Nathan Williams, whose microfracture knee surgery took him away from the Buckeyes in 2011, will in fact be back for 2012.
Williams had applied for a medical red-shirt exception and 97.1 The Fan out of Columbus reported yesterday that the request would indeed be granted. Nothing has been made official yet, but it will be a serious shock if that request isn't approved.
Williams had 45.5 tackles, including 8.5 for loss to go along with 4.5 sacks for the Buckeyes in 2010*. His return, combined with the expected announcement that third team All-American John Simon will return for his senior year will provide Urban Meyer some much needed senior leadership in his first year patrolling the OSU sidelines.
GOLDEN GRAHAM LOOKS FOR MORE HONEY. A year ago, the University of Pittsburgh fired head coach Dave Wannstedt and turned their program over to Mike Haywood, who came to them via Oxford, Ohio and Miami University, where he had been the head coach for two years. The Miami job was Haywood's fourth different stop in ten years. His tenure at Pittsburgh came to an abrupt end following a domestic violence charge, and Pitt, in shambles, decided to hire Todd Graham away from the University of Tulsa. Graham had been the HC at Tulsa since 2007, a job he took after one year as the head man at Rice University.
Yesterday, via this text message to his players, Graham announced that he was once again breaking a contract after only one year, and leaving Pittsburgh for Arizona State. His decision came one day after being told by Pitt AD Steve Pederson that he would not be granted permission to speak with ASU about their opening after they had initially inquired. So, rather than deal with pesky things like contracts and commitments and honor, Graham slipped out the back door three weeks before his team plays in their bowl game against Southern Methodist.
The way that coaches come and go without warning, without consideration for their commitments, the NCAA's vice-grip on players who wish to transfer to other schools seeking better opportunities provides one more example of the rampant hypocrisy that permeates every facet of the game's governing body.
Players commit to a school, receive a one year scholarship that coaches can rescind when they see fit (see: SEC oversigning practices) and are held hostage by schools if they wish to transfer by restrictive rules that force them to sit out a year, or sometimes two. You see players being sold a bill of a goods daily from coaches who have no plans to be the coach when they graduate, or in some cases, when they arrive on campus.
Seems like a bit of a double-standard to me, but I guess I might be over-reacting.
QUICK SLANTS. Didn't think we'd get through an entire day without talking about Tebow, did ya? South Carolina's major violations continue to be basically ignored in the public eye... The highly unusual "self-photo bomb"... Do the Hoke-y joke.... What happened in your birth year?  Funny salesmen or insane, rambling maniac?