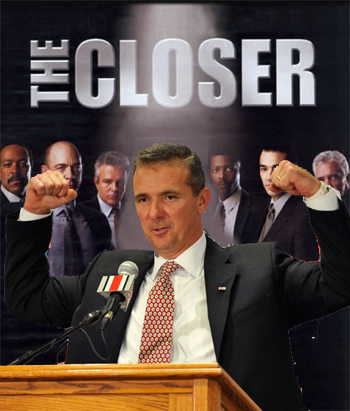 Love him. Hate him. Hate to love him. Love to hate him. It's impossible to be a fan of the greatest game there ever was1 and not know who Urban Meyer is. Nearly as impossible? Not having an opinion on the man.
Meyer is creating enemies around the country, as quickly as he's creating mancrushes all over Ohio. The way the man got straight to work to snatch up the wives, kids and husbands of the B1G likely hasn't helped how polarizing he can be.
We all know how diehard Buckeyes feel about the man. How do those outside of the happiest place on earth feel about the new Buckeye commander in chief? I went to Twitter to find out.
Lyndsay Lee is a Nebraska alum, Husker diehard and worker-bee for College Football Live on the Worldwide Leader. With the Huskers having just wrapped up their first regular season in the B1G, including a historic (nauseating) comeback over the Buckeyes, here are Lyndsay's thoughts on Urban's move to the 614:
Honestly, the first word out of my mouth was "damnit"  just because, well, Meyer>>>>>>>>Pelini.  Before the hiring of Meyer, the B1G was full of coaches that were good, but nobody was really blowing it out of the water performance, scheme, or recruiting wise (post-Tressell of course), so with the addition of Meyer I think it changes the way the B1G will have to compete.
The ushering in of Hoke, Meyer, TBA Penn St, Pelini, brings a whole new competition to the B1G.  It seems as if before this year, the conference was in a rut...I think the new blood & the fear installed by the mere thought of what Meyer *COULD* do at OSU is good for the conference.  After the great staff hires at Michigan and soon to be stellar staff at OSU, I don't think that any team that wants to legitimately compete for a B1G championship can afford to be conservative.  Those teams force the hand of the other programs to make a splash with their hires and recruiting to keep up.  It can only be a good thing for the B1G.  Although the thought of having Meyer at OSU scares me, I only hope it makes Nebraska realize that slow playing this Pelini tenure will not work if it wants to be highly successful.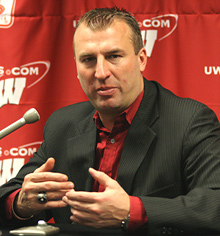 The only thing more irritating than the disturbing look on Bret Bielema's face, is the sewage that comes out of his mouth. What did Twitter's favorite Bielema parody think about the new man in charge? Here it is:
What do I think of Urban Meyer at Ohio State?
I'm just curious what his "excuse" will be when I swoop in and steal all of his recruits and Ohio State is the doormat of the B1G?  Gall bladder?  Hang nail? Pussitis? Sand in his poon?  I'm going with sand in his poon.  If that's all you got for me, I'm off to do P90X, later.
-BB
In light of Urban pick-6ing a Nittany Lion commit, Tommy Schutt, how does a true-blue Penn State guy feel about the hire? For that, we turn to Pete Gray of Black Shoe Diaries: 
As a Penn State fan, I'm obviously not happy that Urbz has set up shop in Columbus. The man knows how to coach, and as we've seen over the past week or two, he recruits on a level that other programs in the B1G simply are not accustomed to. I'm not surprised that he went after Tommy Schutt, and I'm not surprised that Schutt decommitted from PSU, as he was never more than a soft verbal anyway (BUT YOU KEEP YOUR GRUBBY MITTS OFF OF CAM WILLIAMS, MEYER! YOU HEAR ME?!).
That said, Meyer isn't a 100% sure thing. Between the health concerns, and Florida's precipitous decline once Tim Tebow and Meyer's top assistants left, it's fair to question just how much of Florida's success Urbz was directly responsible for. I'm not saying his tenure at Ohio State is going to be a disaster, I'm just saying that another decade of dominance for the Buckeyes is not a sure thing.
The thing I do know with complete certainty, though, is that PSU's margin of error in their ongoing coaching search is now zero.
Gainesville's favorite Twitter sweetheart2 was able to cross party lines to give me a piece of her Gator-loving mind. So, what did she think about Urban Meyer's tenure at Florida?
I think he made it really easy to have a great time. Whether you were a student, alumni, or a local yokel walking around in wet jean shorts, there was nothing on earth that could compare to Gainesville on a gameday from 2006-2009. Everyone hated us, it was awesome.
She still thinks he's awesome now, right?
I hope he's happy in his personal life, but as far as his tenure at OSU is concerned I hope you a-holes end up in the [effing] Insight Bowl every year until he resigns. I defended him through his initial retirement, the ESPN thing, through the OSU rumor mill, etc right up until he stepped to the mic at the press conference (by the way, when the [eff] did Steve Harvey become your athletic director?).
Now? [Eff] him, [eff] y'all, [eff] everyone. It's like watching an ex you were friendly with go stick his [expletive] in some trailer trash [expletive] that you both publicly humiliated a couple years ago. Whatever.
Ps- Hope you guys are practicing your mixology for some Bourbon Meyers. Bourbon Meyers are half sweet tea, half bourbon, splash of lemonade. Much like the namesake, they seem like a better idea than they really are, you'll grit your teeth and swear to your friends it's the best thing ever, and in the end you'll end up with a migraine and a vague recollection of getting [effed].
Adam Kramer, creator of Kegs n Eggs, also happens to be a diehard Iowa Hawkeye. Though the Hawkeyes and the Buckeyes didn't play this year, and won't until 2013, Adam had a message for Buckeye fans with his thoughts on Urbz: 
As a Hawkeye supporter, I actually welcome Urban to the B1G with open arms. My expectations when it comes to Iowa's success are conservative, and while I'd like to declare them as a yearly Big Ten title contender, that simply isn't the case.
Iowa doesn't recruit all that well, and Urban's presence may actually get the Big Ten's secondary teams (Iowa included) better players. This idea of "sloppy seconds" is not something to be proud of, but is realistic when you look at the massive difference between Ohio State and most of the other Big Ten schools.
Outside of being an Iowa fan, I'm also a Big Ten homer. I like the idea that the conference could become better because of this, and I'm curious to see what kind of impact this has beyond Columbus. I know Urban will recruit (hell, he already is), but I also think it's realistic that others could benefit. Well, outside of playing Ohio State. I'm also a Big Ten homer and it's good to see the conference attracting one of the brightest minds and best recruiters in the country.
With all that said, I'm also quite content that Iowa is not in the Leaders division, although I still absolutely despise having to write these Delanyfied division names.
In conclusion, Go Hawks and congrats on a magnificent hire, Buckeye fans.
Ohio State alum and Nebraska head football coach, Bo Pelini, reportedly interviewed for the job that Meyer landed. What does Twitter's favorite parody of the hot-blooded coach have to say? Here it is:
After I turned down the OSU job last month, I didn't really care who got it. I guess Urban Meyer is a decent choice (I actually can relate to him, since we were both named after popes). His players only had 10 felony arrests during his six years at Florida so he should be able to bring down OSU's arrest numbers considerably.
I will give Urban one piece of advice: stay away from QB's like Braxton Miller. The Big Ten needs more Joe Bausermans. Guys with speed like Miller are difficult to coach -- they can wreck drives by breaking off unplanned 50 yard runs. It's hard to build any offensive momentum when your QB is constantly scoring quick touchdowns. I never got truly comfortable with Taylor Martinez until we convinced him to stop sprinting down the sideline toward the end zone all the damn time. Stick with guys like Bauserman – your defense will thank you for it.
Not all those with Florida ties harbor resentment towards the man that brought them two national championships. @ParadigmShift35, Florida alum and lead editor of Throw the Flag Blog also happens to be a rocket scientist, so he's kinda S-M-R-T. Here's what he thinks Buckeye fans can expect with Urban Meyer at the helm:
There are two main things you can expect having Urban Meyer as your coach. You will see him pull the top recruits in that nation and, most importantly, he will win with those recruits. I'm sure Buckeye fans are already witnessing the advantages that Urban Meyer is bringing to your school on the recruiting front. I've been reading articles of Urban already snagging recruits or at least their interest in Ohio State.
Is there anything he would've changed about Meyer's tenure in Gainesville?
There are absolutely some things that I would have changed about Urban Meyer's coaching style while at Florida. I would never let Steve Addazio become Offensive Coordinator in 2009 through 2010. Also, Urban had a falling out with Billy Gonzales in which we lost him to LSU. I wish this never would have happened. Billy was a great Wide Receivers coach that would have been great to have in 2010. Also, 2010 was a terrible year for the Gators. There are a lot of things that I would have changed about the play calls. The Gators would consistently run the dive play with our smurf backs. Also, the three Quarterback system was not exactly effective.
Here's how he feels about Urban Meyer now:
To be honest, I feel the same way about Urban. I was at the University of Florida for almost 6 years and got to witness his entire era. I saw him resurrect our program. Is it frustrating that Urban Meyer came back to coaching so soon? Absolutely, but I will never hate Urban. He was a class act at UF and also great when I met him in person.
To be honest, I used to hate Ohio State with a passion until I joined Twitter and started following some very cool Ohio State alumni. I haven't come across an Ohio State person online who was unchill. This definitely changed my opinion of the school. It actually makes me like Ohio State more now that Urban Meyer is the coach.
Does this man need an introduction? Probably not. Here's what MGoBlog said, when asked how he feels about Urban Meyer at THE Ohio State University:
Annoyed.
1 OF COURSE I'm talking about college football.
2 /snarkheart.