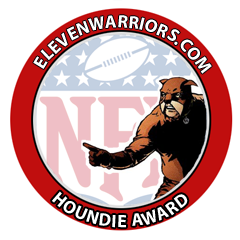 At one point in time, this award was known as the Buckeye NFLer of the Week. Thanks to a typo and the ensuing LOLsession from the commentariat, it was renamed as the Houndie. Same intent, but now with a better name.
Before I get started, I hope everyone had a wonderful Christmas weekend and make sure you are safe this NYE.
I would also like to take an opportunity to personally thank each one of you for tuning in everyday and making 11W what it has become today. As someone who has been around these parts since the beginning and has spent many a nights in the basement typing away, while yelling for mom to bring me some more Mountain Dew and Fudge Rounds, it has been awesome to watch this little site grow into a daily destination spot for Buckeye fans.
I can only hope that 2012 will be a better year for all of us and that with Urban at the controls now, the Houndie will turn into a weekly two-part series with all the Buckeyes in the NFL.
As we wind down the season over the last two weeks, you are probably in one of three camps.
If you're like me, your fantasy season was over long ago and your NFL squad is officially out of the playoffs, so there's not much rooting interest the rest of the way, except for Buckeyes.
Or you've won your fantasy league and your squad is either in the playoffs or fighting for the last few spots this weekend.
Or you're a Bengals fan and you've missed the entire season along with everyone else in the greater Cincy area, because blackouts are a bitch.
Either way, the last weekend of the season should be a good one, as there are still three spots left for the post season and home field advantage to figure out.
We'll start down in Cincinnati, where the Bengals really are having a good season and really do have a chance of making the playoffs. Thier only problem this season has been getting people to show up to the games. This week, another less than capacity crowd saw the Bengals hang on to a 23-16 win over the Cardinals to keep their playoff spirit alive and well. 
Nate Clements once again had a nice game, coming up with his second pick on the year, to go along with four tackles, including one for a loss. He was also credited with a PD and a QB hit. Mike Nugent made 3/5 FG attempts and both his PATs. The two misses dropped him to seventh in FG percentage, but his 30 FGs made has him third in the league, is a career high and is 11 more than the last four years combined. There is no question Nugent has been a big part of the Bengals suceess this year, it's just too bad the fine folks of Cincinnati have to drive up to Columbus to watch it happen.
Stay tuned Bengals fans, if you can beat Baltimore this weekend, you're in and we'll let you know about it here at 11W.
For the Cardinals, the loss officially ends thier slim playoff hopes, but Beanie Wells eclipsed the 1,000 yard mark for the first time in his career, with 53 yards on 14 carries, to go along with a catch for eight yards. Beanie now has 1,047 yards on the season and sits 11th in that category. A strong final week could push him into the top 10.
Another team that doesn't know too much about post season success is the Detroit Lions, who clinched their first playoff spot since 1999, with a 38-10 home win over San Diego. Bobby Carpenter didn't record any stats for the Lions, but we have to give him credit for being able to stay with one team this entire season and we look forward to seeing his flowing locks in the post season. Rob Sims once again started at RG and hasn't missed a game this year.
For the Chargers, Na'il Diggs was second on the team with seven tackles, all of them of the solo variety.
In Tennessee, the Titans kept their playoiff hopes alive with a 23-17 win over Mel Tucker and the Jags. Ashton Youboty has had some recent success for the Jags, but recorded just one tackle before injuring his hamstring, which has landed him on IR for next week.
The Dolphins jumped out to a 17-0 lead in New England, but couldn't hold on, as the Patriots scored 27 straight points and won 27-24. Brian Hartline had four catches for 72 yards in the loss.
In Washington, Minnesota came away with a 33-26 road win over the Redskins. Darrion Scott continues to hang on with the 'Skins and recorded just one tackle.
The Steelers easily beat the Rams, 27-0 in Pittsburgh, finally realizing a healthy Charlie Batch is better than a hurt Big Ben against a terrible Rams team. Cam Heyward enjoyed his best game of his rookie campaign with three solo stops, while Will Allen also had three tackles, but just one was solo.
On the other side of the field, James Laurainitis lead the way once again with 13 tackles. His season total is now 133, which puts him tied for 5th in the league.
Philadelphia went down to Dallas and took care of the Cowboys, 20-7, injuring Tony Romo in the process. Brian Rolle two solo stops, incuding one for a loss, while also deflecting a pass. His 51 total tackles on the season puts him fourth on the team, two spots behind Kurt Coleman, who had just one tackle Saturday, but now has 78 on the year. Even though they won their third straight, the Eagles were eliminated from the playoffs.
The battle of New York went to the Giants, 29-14 and now has them set to face the Cowboys this Sunday for the NFC East title. Jake Ballard had to sit this one out due to a sprained knee and as of now, it doesn't look good for him playing this weekend. He is listed a questionable for practice this week and has yet to start running.
With the loss, the Jets are now on the outside looking in after making the last two AFC Championship games. Santonio Holmes caught four of his nine targets for 50 yards.
In Carolina Chris Gamble had three solo stops, incuding a TFL in the Panthers 48-16 mauling of the Buccaneers. While in Indy, the Colts won their second straight, 19-16 over Houston. Jermale Hines had two stops in the win, which puts the Colts tied with St. Louis for the worst mark in football.
In this week's primetime games, Dane Sanzenbacher had four catches for 51 yards in the Bears 35-21 loss to the Packers on Christmas Night. The road to the Super Bowl goes through Lambeau once again, as the Packers wrapped up home field with the win.
A.J. Hawk had a nice game, going for a season high 12 total tackles, which included one behind the line of scrimmage. Ryan Pickett sat out his second straight game with a concussion while Brandon Saine returned from his to gain eight yards on a carry.
Monday night saw Drew Brees set the all-time mark for passing yards in a season, as the Saints rolled the Falcons, 45-16. Malcolm Jenkins put the game away for good with a 30-yard fumble recovery for a TD early in the 4th. After registering 33 tackles in the last four, he didn't have any Monday night, but was his usual self in patrolling the field, knocking down a couple of passes. Will Smith joined the fun with three tackles and a QB hit.
While there have been many great story lines this season, one of the best has been out in San Fransico. As much as any Buckeye fan hates to admit, Jim Harbaugh has done an unbelievable job turning around the Niners this year, as they beat the Seahawks 19-17. The only silver lining in the story is the amount of Buckeyes on his squad. Ted Ginn sat this one out due to a sprained ankle and hopes to be ready for the playoffs, while Donte Whitner chipped in with three tackles and a fumble recovery on the play you see here. 
That game clinching forced fumble was caused by this week's winner, Larry Grant, who takes home his second Houndie in the last three weeks. Grant, who is filling in for the injured Patrick Willis, had a team high 12 tackles and chased down Tavaris Jackson with just over a minute left, to seal the victory. After registering just 10 stops in his first 12 games of the season, Grant has had 28 in the last three, as the Niners look to secure a first round bye this weekend.
The only man to play in four different National Championship games as a collegian, Grant has been in Beast Mode the last three weeks for his home town squad and as a hater of the Packers, I've jumped on the Niners band wagon for the playoffs.