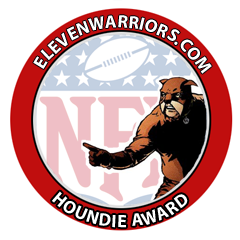 At one point in time, this award was known as the Buckeye NFLer of the Week. Thanks to a typo and the ensuing LOLsession from the commentariat, it was renamed as the Houndie. Same intent, but now with a better name.
Greeting, class. Welcome to your usual second period and home room class. We'll watch Channel One as per usual but sorry to be the bearer of bad news, we'll still have that quiz on taxonomic ranks (the imperative pneumonic device to commit to memory is 'Kurt Philadelphia Coleman Overachiever; Field Goal Seahawks'). Corey is off the blog matrix this week using the popular "Find My iPhone" feature to track down his iPad or more likely at somewhat premature Spring Break taking the stage to Europe's immortal "The Final Countdown". Either way, I will be your party captain for this winter cruise on Lake Wallenpaupack.
Speaking of substitute teachers, my personal favorite one was a man in his late 50's-to-early 60's who had a skullet, wore a smoking jacket, and professed the ability the levitate (when pressed, he'd stand on his tip toes for roughly five minutes then claim you missed it). While I can certainly aim for the stars and settle for the stratosphere (though the end would likely more closely resemble this), I can at least share an equally absurd revelation: for whatever reason, the NFL hasn't done it for me as of late. It's not that I don't respect its place in the American sports pantheon; its parity means any team can have success at any time and it's bar none the most popular sporting product in this country. It's just, well... I can't even quite put my finger on it. For the past nine years I've participated in a picking-against-the-spread league that goes back to my high school days. While I'm still doing it, I know 65-75% less about the games I'm picking this year and that I'm still pulling about a 53% success rate. I can certainly pass along any of you cohorts or devotees of Warren G. Harding the following advice: go with the home team. I've also historically always played in two-to-three fantasy football leagues (including one I'm still the commissioner of, whoops), but at present, my standing with the professional ranks is like being in a relationship with someone as they work to get their work visa ban revoked but them having to be 5500 miles away for six months while the process works itself out. While I can always get excited for my fellow alumni doing great things (and put in a solid Sunday afternoon's work watching just like old times for this very column), here's hoping the playoffs mark that moment I show up at LAX with roses.
Meanwhile, on this side of the pond, we start with last Thursday night's contest in Seattle between the Seahawks and "the Dream Team", the Philadelphia Eagles. The Eagles have been every bit more the Larry Brown-Allen Iverson-Stephon Marbury (they tried to put him in a box) Olympic Team than the namesake, Angola dunking on Michael Jordan-blackballing-Isiah Thomas incarnation we all remember fondly. Even Horseshoe high hopes eviscerating Vince Young has been infected by the malaise as his four picks helped put the nail in the coffin on another disappointing defeat, this one to the tune of 31-14. On the former Buckeye front, even in the losing effort, we had a strong opening case for this week's Houndie. Brian Rolle (and yes, we've still got that B-Roll) had a nice afternoon, accounting for three tackles, two of them solo, and one for a loss, but the real story came from the secondary. Former Buckeye spiritual leader and captain Kurt Coleman accounted for 11 tackles, five solo, and even got two licks in on Seahawks' quarterback Tarvaris Jackson in the losing effort. A strong case indeed but will others outshine him? Find out in Continue Readingsville...
We next check in in Chicago where Dane Sanzenbacher was turning heads, breaking hearts, and giving us all hope that Kristin Cavallari would see what a scumbag Jay Cutler really is and give Daneocracy a chance (okay, so none of us were actually thinking this; her stealing the screen in Van Wilder: Freshman Year surely has all wondering how she hasn't found more regular work though, am I right?). Sadly this wasn't the afternoon for everyone's favorite Toledo product nor the Bears. The Monsters of the Midway fell victim to the Chiefs, 10-3, and our hero was targetted but once (in a what according to twitter mockoutrage was a very catchable ball). Speaking of twitter, Dane seems to be a very polarizing figure amongst those less versed in his body of work than we are. Per the grand chronology of twitter's global timeline, this thought was shared within a matter of seconds of this one. Maybe these two can find each other in real life, settle their great Dane differences, fall in love, and set the basis for the most memorable sports Christmas movie since It's A Wonderful Life (George Bailey blew all those people's money by betting on the World Series; look it up). Former Buckeye Donald Washington was also in attendance but in street clothes as he was inactive with an undisclosed (see: I was too lazy to look it up) injury.
Hopping down to the city where the heat is on, the Miami Dolphins and antithesis of Sanzenbacher in terms of his place in our collective sentiments, one Brian Hartline, soundly defeated the Oakland Raiders, 34-14. Hartline recorded but one reception for nine yards, though hopefully was on the receiving end of a slap on the back of his head from former Buckeye Terrelle Pryor during a post game handshake. Karma, etc. Ex-Buckeye Austin Spitler also got on in on the action recording one solo tackle.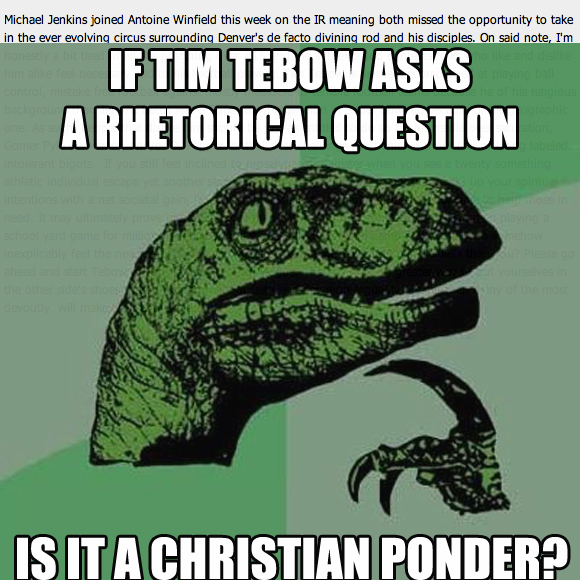 In the Steelers-Bengals contest, which I'm sure more than a few of you are lamenting as you read this, Cameron Heyward had an unmistakable impact. The former defensive line stalwart recorded but one tackle, however, he did manage to get one of his giant paws on a Mike Nugent field goal blocking the kick and creating some kind of Houndie singularity of which we'd have to devote over 3000 words on the subject alone in order to comprehend more properly. More on the lines of the Bengals' bad luck (who fell 35-7, you know, if people actually kept score at things like this), that was Nuge's only try of the day leaving him to ultimately having to settle for being 0/1 with that one extra point to his name. Sad Mike Nugent is sad.
A strong case was also made for Houndie consideration as Chris Gamble and the Panthers defeated the creamsicle uniform clad Buccanneers, 38-19. Arguably my favorite Buckeye ever (as proven by my profile; click for proof, doubting Thomas), Gamble recorded six tackles including five solo. Quite the feat for a defensive back. He also statistically defended one pass on the day though if Carolina coach Ron Rivera had asked him, I'm sure he would've played over 120 plays without so much as taking a breather.
Heading to my neck of the woods (or, you know, almost 45 minutes from it; thanks, Dan Snyder), in Landover, MD, former Super Bowl MVP Santonio Holmes did work as per usual en route to helping the Jets to a 34-19 win. On the afternoon, the noted self cellphone photo aficionado caught four balls (I swear this was unintentional) for 58 yards and a key touchdown. Former Buckeye Darrion Scott suited up for the Redskins but did not record any meaningful statistics.
The Packers and Giants certainly put on what many would deem the game of the weekend with the Packers ultimately prevailing to stay unbeaten by the count of 38-35. Many a Buckeyes got their names in the paper on this one too beginning with Brandon Saine. While it still seems mystifing that there was ever a Team Boom/Team Zoom debate at all (and more frighteningly that the likes of yours truly fell into the second camp *weeps*), Saine has found his way into the good graces of the Super Bowl champs and head coach Mike McCarthy. While there's no video cataloguing each and every play Saine appeared in on YouTube like there was last week (Piqua loves the YouTubes, evidently), Saine did carry the ball six times for 16 yards and more impressively tacked on four catches for 29, including a twittergasmic 22 yard scramble. Proving his super human like ability, Saine also played on special teams and recorded a tackle. Clearly a professional after my own heart and affection. Ryan Pickett also was in on the action for the Packers and was up to his standard fare, recording three tackles, all of them solo. Rose Bowl ubermench Jake Ballard unfortunately fell on the wrong side of the ledger but did have three catches for 47 yards in a losing effort.
Typical Houndie front runner Beanie Wells and the Cardinals played a throwback NFC East affair with the Cowboys before ultimately prevailing in overtime, 19-13. While he did record the game tying PAT setting up touchdown, Wells wasn't up to his customary level of recent excellence as he aggregated just 67 yards on 20 carries to go with the score. Beanie's relative lack of productivity prompted mass 1920's style protests, which unlike the Occupy Wall Street movements (though admittedly I did get to enjoy a free Jackson Browne concert on my lunch break yesterday; thanks, tent dwellers!) and their peers of present, were far cooler back then. Beanie's response was, well, sublte, appropriate, to the point, and era appropriate.
Down in the Big Easy, the Lions were seeking to get their season back on track but would have to go through the always stout New Orleans Saints to accomplish this. Their mission, much like at least 50% of impossible ones attributed to Tom Cruise, was as uninspirising as it was possible (TEAM J.J. FOREVER THOUGH, Y'ALL, DON'T EVEN FRONT). The Saints would ultimately own the afternoon, 31-17, though former fan favorite, the Fresh Prince, Will Smith, failed to do much statistically. Smith recorded but one tackle though did cement himself in the nightmares of Lions QB and uber bro Matt Stafford for the better part of the next week. Malcolm Jenkins, on the other hand, had a statement game and made sure to cement himself yet again on the Houndie shortlist. The former corner turned safety recorded seven tackles, six of them solo, and also defended a pass helping put pressure on the Lions' talented receiving corp much of the afternoon. On the opposing sidelines, Bobby Carpenter played for the Lions as best as I can tell, but box scores and those times The Red Zone channel highlighted this one failed to prove otherwise. Clearly a Milford man.
In Jacksonville last night, we saw the debut of former Ohio State defensive backs coach Mel Tucker. He spent basically the entirety looking like this. His debut would not go as he nor Coach Tressel (who spoke highly of him earlier in the week and wished his now divisional rival the best) would've scripted it as the Jags ultimately fell, 38-14. Ashton Youboty was rockin' everywhere, though perhaps not to the lavish standards of last week as he recorded but a single tackle on the evening. Fellow former Buck Na'il Diggs (this was a guy who played defensive end and linebacker for the Bucks in the 90's, Danny) was inactive for the Chargers due to injury.
Lastly we look towards a divisional rivalry which as of late has had a definitive Buckeye flair to it. This game had a number of prominent Houndie candidates with the first being former speedster Ted Ginn. TG2 has really found himself a nice niche in new coach Jim Harbaugh's offense as he proved ever the renaissance man Sunday afternoon. Ginn had one kick return for 31 yards (which given the absurd new kickoff rules is quite the accomplishment), three punt returns totalling 19 yards, an end around which he took for 16 yards and the first down, and four receptions as well amassing 56 yards to boot. It's admittedly pretty awesome to see Teddy Ballgame finally getting his in the NFL.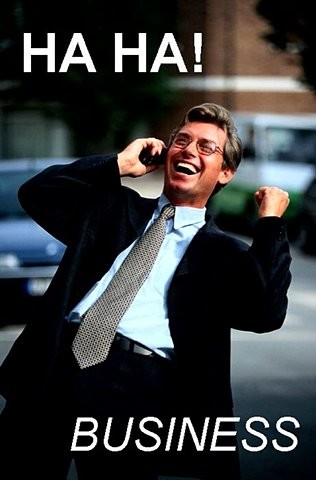 The defensive side of the ball is where we saw this week's contest actually shake out. First, it's important that we give an honorable mention to the Niners' Donte Whitner, who recorded three tackles, two of them solo. Alas, this effort was but a "The Blind Side" nomination as we have a set number we have to make and there was never any realistic chance it was going to win (and serously though, that was nominated?) The Houndie ultimately came down to a battle of wills between two former Silver Bullet battery mates. For the victorious Niners (who won for those keeping track of that kind of stuff, 26-0) former Ram Larry Grant had one of his best games of the 2011 season. Grant recorded six tackles, five of them solo, added a sack to his credit, and was also able to take down two Rams in the backfield for a loss. All in all a stellar day for the former Buckeye. However, much like often the case in the Shoe on Saturday's, Grant would be overshadowed by the man affectionately known as "Little Animal". James Laurinaitis was up to his usual tricks as he recorded 12(!) tackles, an absurd 10 of them solo, matched Grant's effort with a sack, and also added a key tackle for a loss of his own. Seemingly if it's not Beanie and it's not Malcolm Jenkins, it's this man. The trophy goes to number double five yet again, and I won't even attribute it to my being laid over in St Louis late last Sunday night and seeing half a dozen JL Rams jerseys making the rounds.
In closing, because I know sometimes reorienting yourself to gravity effects of going from college football-to-pro football-back to-college football can be a bit much, I give you a baby polar bear being tickled for no reason whatsoever. FIN