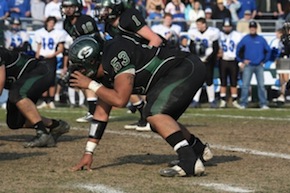 Good afternoon Eleven Warriorites, I am sure you're checking in today for your regularly scheduled dose of "Around The Oval", where we review the previous week of Buckeye non-revenue sports.
I hope that you're not too disappointed when you realize that once more we've decided to mix it up a bit, and in lieu of ATO this week, we'll take a look at the "big picture" of Ohio State's football recruiting class.
Yo, VIP, let's kick it.
where we are today

Yesterday Ohio State received their two latest commitments in the 2012 recruiting class from DT Tommy Schutt and DE Se'Von Pittman.
Schutt (5th rated DT on Scout.com and Rivals.com) was very high on Ohio State early in his recruitment, but had committed to Penn State after the "Memorial Day Massacre" in Columbus. Once his new chosen school was hit by its own (and on-going) coaching change amid scandal, he decided to start looking around again. He visited Ohio State this past weekend for an official visit and made a verbal commitment to Urban Meyer on Sunday before it became public yesterday. 
Pittman completed the Monday double-down late Monday night when he committed during an in-home visit with Urban Meyer and Luke Fickell. Se'Von had pledged to Michigan State in June, and there was a lot of speculation at the time that perhaps his commitment was as functional as it was factual. The rumor-mongering and yellow journalism outlining Ohio State's NCAA fate was at an all-time high, and Pittman protected his place with MSU. The coaching situation at Ohio State was murky, the NCAA situation was murky, and Pittman made a "smart" decision. On Monday, he made a "heart" decision and told MSU's Mark Dantonio he would be signing with Ohio State come February.
2012 Ohio State Commitment List


| NAME | POS | Hometown |
| --- | --- | --- |
| Cardale Jones | QB | Cleveland, OH |
| Bri'onte Dunn | RB | Canton, OH |
| Warren Ball | RB | Columbus, OH |
| Mike Thomas | WR | Los Angeles, CA |
| Frank Epitropoulus | WR | Upper Arlington, OH |
| Roger Lewis | WR | Pickerington, OH |
| Ricquan Southward | WR | Lakeland, FL |
| Blake Thomas | TE | Cleveland, OH |
| Patrick Elflein | G | Pickerington, OH |
| Jacoby Boren | G | Pickerington, OH |
| Tommy Schutt | DT | Glen Ellyn, IL |
| Adolphus Washington | DE | Cincinnati, OH |
| Se'Von Pittman | DE | Canton, OH |
| Joshua Perry | LB | Lewis Center, OH |
| Luke Roberts | LB | Lancaster, OH |
| Devan Bogard | DB | Cleveland, OH |
| Najee Murray | DB | Steubenville, OH |
| Tyvis Powell | DB | Bedford, OH |
 So with signing day only 49 days away, the Buckeyes now sit in a position that not many could visualize as recently as three weeks ago: having to turn down a handful of All-American quality recruits. With 18 current commitments there is one question that is regularly being tossed around, and with good reason.
how much room is left at the inn?

"How can Ohio State have 18 commitments, Jeremy? They only have 14 seniors! Darn you Urban Meyer, you oversigning SEC warlock!"
Ohio State entered this season with 79 players on scholarship, which means that they were six scholarships under the NCAA limit of 85. Those six open spots, combined with the 14 departing seniors, means that there would be 20 "open" scholarships for this 2012 class. Nathan Williams will apply for, and likely receive, a medical redshirt from the NCAA, taking that number down to 19. Taylor Graham's transfer bumps it back to 20.
If you breakdown the roster a bit further, more spots open up without much wrangling. The smoke around rumors that Melvin Fellows will end up having his career finished due to injuries is almost impossible to see through it's so thick, and Scott McVey and Chad Hagan may end up in similar situations.
Jamaal Berry's legal status is in limbo, and if he finds himself convicted of assault, it's very unlikely that he ever plays again for Ohio State.
There are rumors that one current commitment is in danger of not making the grade, and he could find himself on the outside looking in if that's the case. 
Then there's the curious case of Bri'onte Dunn. Dunn is currently committed to Ohio State, and has been for a while, but his commitment would not be regarded as "solid" by most. I keep him on the list, but tentatively so. He was scheduled to Michigan this weekend for the third time in the last month, this time "officially", but has pushed that visit back to January. The entire Midwest seems to be waiting for him to make his final decision.
Aside from those obvious cases, there is attrition in any coaching change, and Buckeye fans should expect to see other players leave the program for any number of reasons. It's not unreasonable to think that Urban could get 25 in this class if he felt like playing the "wait and see" game that Nick Saban likes to play, but I don't think that will fly in Ohio with high school coaches, and I think Urban knows that, too. I assure you that none of the players currently committed will have their offers retracted, or be told to look elsewhere so that "better" guys can get in. 
For the sake of arguing, I believe that Ohio State will sign 24 players come February 1st.
get yo' popcorn ready

The frenetic pace that Urban Meyer has set, the big names he has reached out to, and the renewed interest those big names have in Ohio State has been discussed ad nauseam, so rather than go over all the remaining possibilities to fill the last six spots, we'll try and focus on a select few that you're likely to hear the most about in upcoming weeks.
Jameis Winston - Quarterback - Hueytown, Alabama Winston is the nation's second ranked QB prospect, and was at one point a Florida State verbal commitment, but has since re-opened his commitment, and the Buckeyes are squarely in the picture. Winston was very high on Ohio State before Tressel's "resignation", and was one of the first players Urban contacted upon his hiring. If he cements a visit date, then this goes from interesting to very interesting. 
Cyrus Jones - Wide Receiver - Baltimore, Maryland When you think of Urban Meyer's offense, it seems most people go to Tim Tebow and Percy Harvin. Cyrus Jones is one of Urban's highest priority targets, and he has let Jones know it. Jones will visit Ohio State this upcoming weekend after being visited by Luke Fickell last week and his announcement is scheduled for the January 5th Under-Armour All-Star Game.
Joel Caleb - Wide Receiver - Midlothian, VA The first of the "new wave" of potential recruiting targets is Joel Caleb. A big, fluid athlete at WR, Caleb visited Ohio State two weekends ago and "loved everything." In a numbers game, Caleb may be forced to pull the trigger on a commitment soon, lest he risk losing the chance.
Kyle Dodson - Offensive Tackle - Cleveland, OH Dodson is a big body at a position of great need for the Buckeyes, and his commitment to Wisconsin was both a shock and a disappointment when it happened in June. Some speculate that he was turned off by the Buckeyes attempt at motivating him to improve his grades to earn an offer, others feel he was just sold a bill of goods on the Buckeyes NCAA prospects. Either way, the big fella' visited Ohio State this past weekend and is definitely rethinking his commitment to the Badgers. He may very well be the next piece of the Buckeye puzzle to fall into place.
Noah Spence - Defensive End - Harrisburg, PA Spence, like LB Camren Williams, may become available to Ohio State because of the unrest at Penn State. While Spence was never a commitment for the Nittany Lions, they were considered to be the heavy favorite. As the top-ranked defensive end in the country, Spence could give the Buckeyes the best defensive line haul in their recruiting history; heck, were he to choose the Buckeyes, the group of DL commits could rival anyone's, ever.
Bam Bradley - Defensive Back - Trotwood, OH Bradley is making a visit to Columbus this upcoming weekend fresh on the heels of winning a state championship at Trotwood-Madison. Bradley has a number of excellent offers, and his visit happening so quickly indicates that A) the staff is serious about him and his offer and B) he realizes this class is going to fill up very quickly. Bradley is sort of a man without a position, but has the athletic ability to play DB and the frame to maybe make a move to linebacker. Coming from Trotwood-Madison, a school that is quickly becoming one of Ohio's premiere breeding grounds for D1 talent doesn't hurt either.
There are plenty of other names considering Ohio State, and Urban Meyer is probably calling more as I type this. So don't be surprised if/when new names to pop up.
2012 Recruiting Targets


| Name | POS | Hometown  | Other Schools of Interest | Visit |
| --- | --- | --- | --- | --- |
| Jameis Winston | QB | Hueytown, AL | FSU, Alabama, Auburn | N/A |
| Cyrus Jones | WR | Baltimore, MD | Alabama, Florida, Auburn | 12/16 |
| Stefon Diggs | WR | Baltimore, MD | Auburn, Cal, Florida, Michigan | N/A |
| Joel Caleb  | WR | Midlothian, VA | Penn State, Georgia, VaTech, WVU | 12/02 |
| Kyle Dodson | OT | Cleveland, OH | Auburn, Wisconsin | 12/10 |
| Jordan Diamond | OT | Chicago, IL | Auburn, Michigan, Wisconsin,  | 12/10 |
| Nick Davidson | OT | Eden Prairie, MN | Minnesota, Duke, Clemson | N/A |
| Alex Kozan | OG | Highlands Ranch, CO | Colorado, Iowa, Michigan | 11/04 |
| Noah Spence | DE | Harrisburg, PA | Florida, Notre Dame, Penn State | 12/17 |
| Jamal Marcus | DE | Durham, NC | Florida, Florida State, UNC, ECU | N/A |
| Ekpen Iduoze | DT | New Berlin, NY | Colorado, USC, Ball State | 12/10 |
| Camren Williams | LB | West Roxbury, MA | Penn State, Boston College, UConn | 12/11 |
| David Perkins | LB | South Bend, IN  | LSU, Michigan St, Tennessee, Mizzou | N/A |
| Bam Bradley | DB | Trotwood, OH | Michigan, Stanford, Pittsburgh | 12/16 |
| Davonte' Neal | DB | Scottsdale, AZ  | Notre Dame, Arizona, Arizona State | N/A |
The last ten years saw Ohio State's brand develop into one of the nation's most recognizable among high school recruits, and the addition of Urban Meyer takes it to an even higher level. Jim Tressel, as comfortable and cool and loved as he was among his players, was not regarded as a "rock star" among the high school kids throughout the country, but Meyer is. We will see the Buckeyes more involved with the top players in Ohio and around the nation more than we ever have. 
Sprint to the finish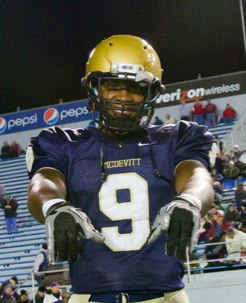 It's going to be an incredibly exciting and chaotic finish to this season's recruiting, and it should help the program build ridiculous momentum as the class of 2013 opens up.
Alex and I sat down and have put pen to paper on who we think finishes the class off for 2012.
There are subtle differences in our final guys, but we are in agreement that Noah Spence, Cyrus Jones, Jamal Marcus, Bam Bradley, and Kyle Dodson all end up donning the scarlet and gray for Urban Meyer next year.
I am decidedly less confident on the prospect of reeling in Jordan Diamond, the massive OT from Chicago who visited last weekend and got to spend a lot of time hanging out with a big number of Buckeye commits. I believe that Diamond had a great time at Ohio State, but I think that he may end up elsewhere. 
If Ohio State doesn't end up with Winston, then I wouldn't be shocked if another less-heralded QB has a chance to make the final cut. The Graham transfer and the graduation of Bauserman leave a bit of a hole depth-wise. If Kenny Guiton were to decide to transfer (not saying he will, or is even thinking about it, but who knows?) or Cardale Jones doesn't make the cut for one reason or another, then there's a major issue with QB depth, and Urban will address that each and every year.
Anyway, enough rambling from me. Here are our guesses, some educated, others not so much.
The 11W Wrap-Up


| alex     | Jeremy |
| --- | --- |
| OT Jordan Diamond | OT Kyle Dodson |
| OT Kyle Dodson | QB Jameis Winston |
| DE Noah Spence | DE Noah Spence |
| WR Cyrus Jones | WR Cyrus Jones |
| LB Camren Williams | OL Nick Davidson |
| DE/LB Jamal Marcus | DE/LB Jamal Marcus |
| DB Bam Bradley | DB Bam Bradley |
It now stands to reason that Ohio State could end up with another Top 5 class nationally, after an under whelming start fueled by innuendo and negative expectations. It's an incredible testament to the power of Ohio State, but also to the appeal of Urban Meyer.
Next Tuesday we will back with Around The Oval. See you then.