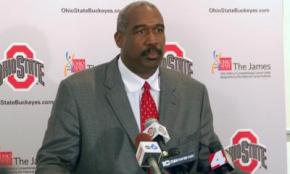 Wow, I am shocked. When I heard yesterday's news I was angry then outraged then angry again then depressed and then finally angry for a third time before I went to bed. All the information we had been given from all sources pointed to no postseason ban for the Buckeyes prior to the 2 PM bomb drop, but apparently they were wrong or misinformed.
The reason for the bad information was none other than the one feeding it to them, Gene Smith. The athletic director that I have been the minority in supporting this year completely dropped the ball and that was the last straw for me. I spoke to someone in the athletic department who would be briefed on any potential bowl ban that happened to talk to Gene on Tuesday morning. He told me he was furious because Gene looked him in the eye and told him point blank that all that would come from the NCAA would be extra scholarship losses and another year of probation. 
With that information Gene Smith is either a liar or was so out of touch to this situation that it is embarrassing. This is a man who stood up at the podium multiple times and looked like a fool in handling this situation, turning Ohio State into a public relations nightmare. This is a man who stood up at the podium, conveying his ever-lasting support to Jim Tressel, only to oversee his "retirement" just a couple months later. This is a man who stood up and continually said the worst was behind us, emphatic about their being no bowl ban for 2012 while continuing to hand out what was nationally perceived as petty self-imposed slaps on the wrist.
It looks like we are the ones who are fools now, believing that Smith's relationship with the NCAA, Ohio State's cooperation with the organization, and some sort of precedence that collegiate athletics' governing body never really uses would save us from being made an example of. I'm finally done with supporting Gene Smith and think he should be dismissed as soon as the gun goes off to end the Gator Bowl, signaling the start of a new era and a beginning to moving on. He's not the only one to blame in the situation, as others have certainly been at fault, but someone has to deal with the suffering that will take place among Buckeye Nation over the next year.
We as fans have to suffer, watching a season we know is going absolutely nowhere, hanging on to our justification for watching just so we can see some sort of development for a championship run in 2013. The players, notably this year's juniors, have to suffer for crimes they did not commit and have to try to stay focused with purpose. Urban Meyer has to suffer, for taking his dream job in which he thought he would kick off with at least a conference championship, now having to wait until year two to play in a game that means something other than his first shot in The Game.
Today, we take a look at how the NCAA's Ban Hammer affects the parties involved, including the fans, the players, the recruiting trail, and Coach Meyer. It's going to be another long year of waiting for Buckeye fans, but the grieving process can begin now and we can all take this journey (once again) together.
The Fans
I was going back and forth on Twitter with a few people yesterday, after saying that both the fans and players have to go through 2012 knowing it means absolutely nothing. Some people brought up ruining other teams' seasons, beating Michigan, playing to gel as a team for a MNC run in 2013, and other things. At the end of the day, I was still struggling to find a meaning for next year.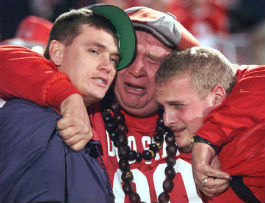 Of course you always want to beat Michigan and that may be the one game worth getting overly excited for next year, but all of those other reasons just don't give me validation. I, of course, will watch every minute of every Buckeye game next year being that I live, breath, sweat, and sleep Ohio State athletics, but for the more moderate fan, what's their purpose?
Even a super fan like myself is questioning the trips I had planned for next year. I'll still be going to The Game as my family is visiting my brother in Columbus for Thanksgiving, but is it really worth my money and paid time off from work to take the trip to Ohio Stadium to see them play Cal? Is it worth the 8 hours of total driving to and from Beaver Stadium in State College to see the Bucks play on the road in a game that means absolutely nothing to the season?
I guess the verdict remains out on what I will do, but the situation is what it is and us as fans need to begin coping with it. There is nothing we did wrong and nothing we can do to change things. What I have thought about and concluded is that we need to continue to support the Buckeyes as we normally would, because if the people who give these student-athletes the opportunity to play aren't showing their support, why should the student-athletes who we all adore go out and give 100% of their effort?
Trust me, I know it hurts to not be able to play in a bowl game, but once this is all said and done next holiday season, we will all look back and realize that our feelings were a little exaggerated. It stings now, but when 2013 rolls around and everyone is amped up to see Urban Meyer's team with a year of seasoning under their belts, ready to make a run at the National Championship, I think we all will forget about this. Things are tough now, but you can't run and abandon your team in tough times. I know we all don't expect that from the players, so don't let the players expect that from the fans.
The PLayers
The first thing that came into my mind when I heard the news was how badly I felt for the juniors on this football team. Guys like John Simon, Nathan Williams, Jake Stoneburner, Jordan Hall, Etienne Sabino, Reid Fragel, Zach Boren, Storm Klein, Ben Buchanan, Travis Howard, Garrett Goebel, and the other seniors-to-be pour their hearts and souls out for this team every single day. Their senior season is basically now just a showcase to the NFL, as they are not playing for anything meaningful in relation to the college football season, other than to get their third (and some fourth) pair of gold pants.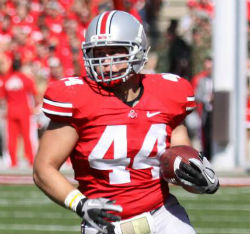 I feel for these guys, as except for Howard and Hall who served suspensions for minor violations earlier this year, none of these players did anything wrong to have to suffer through this. They watch Terrelle Pryor making hundreds of thousands of dollars in the NFL. They watch Jim Tressel lose his job, yet be a candidate for the Indianapolis Colts' head coaching position. They watch Boom Herron, Mike Adams and DeVier Posey getting drafted this coming April. They watch Solomon Thomas play in a bowl game during his senior season. All of the guilty parties get off for free in 2012, while they suffer the consequences.
I then look to the rest of the Ohio State team in 2012. How will they keep their focus? You've seen USC over the last two years. That is a team that played for the individuals trying to make a dollar in the NFL, rather than for the team in a quest towards accomplishing something bigger. Yes, that was a two year bowl ban and in year two there was a lot more heart than in year one, but it still wasn't there the way it should be. I am nervous that will happen to Ohio State next season.
Speaking of USC, something we saw there was the NCAA granting juniors and seniors to transfer without sitting out so that they could play in the postseason and not be affected by the penalties handed down. Will we see that again with Ohio State? If we do, will any players bolt to other programs? Speaking of bolting, will any players leave for the NFL? I sure hope not, but someone will have to convince them there is a reason to stay.
People talk about going 12-0 and trying to play for an AP National Championship, but the players know better. The media outside of Columbus, and some even in the city, aren't exactly all about giving the Buckeyes love, making a media national championship a long shot, even if the team somehow goes undefeated. Just like in 2011, the team could go two ways: either rise up against the fire and plow through everyone or burn in what resulted in a 6-6 season this year.
I'm not exactly sure how things will pan out, but I can't blame the players for being bummed out in ultimately losing out on a year of their collegiate career. How they react to this situation will tell a lot about the young men we have on this Ohio State roster.
Recruiting
I think the questions I was asked the most yesterday were centered around recruiting. Fans wanted to know how the sanctions would impact the only thing that has kept Buckeye faithful smiling over the last three weeks or so, and many expected the worst when it came to the recruiting trail.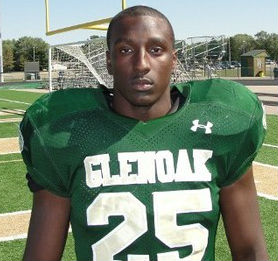 Fear not, as nothing is guaranteed, but I was able to contact most of the committed recruits yesterday and all continued to pledge their allegiance to Ohio State. There has not been one peep of anyone backing out of their verbal pledge and all 19 committed players are expected to remain committed to the Buckeyes, at least in regards to the NCAA sanction situation.
I definitely feel bad for these players, but the silver lining is this is a one year ban and really won't have too much impact on their OSU careers. Many of them will even be redshirting next year, so they will still have four years to go to a bowl game, and wishful thinking of four years to win national championships. In fact, if you look at the situation, it really doesn't make much sense for any of the current commits to question their pledge, as if they want to be Buckeyes, these sanctions have little affect on their standing with Ohio State.
As for the uncommitted prospects, I think the ones who are being guided by reasonable parties will see the above sentiment and relay it to them. There are sure to be coaches across the country using the sanctions as a negative recruiting tactic for these players, but luckily OSU has Urban Meyer at the helm and you can bet your bottom dollar he was doing everything he could to make sure the players still on the radar know that this will not impact them greatly at all.
It will be interesting to see how things shake out with the remaining recruits, as the Bucks have anywhere from 4-6 spots to fill out. 2012 may take a bit of a hit in terms of a big recruit or two getting swayed by the naysaying of rival coaches, but 2013 will not be impacted whatsoever and that class is going to be absolutely buck wild for Urban Meyer and Ohio State.
Urban Meyer
From what I heard yesterday, Urban Meyer was not happy when he heard the news about the bowl ban. "Not happy" is a very, very big understatement from what I was told, and if you can bet Meyer had steam coming out of his ears and a beat red face filled with anger yesterday afternoon.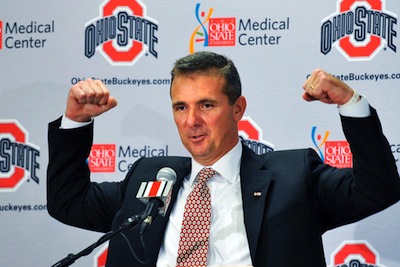 Sure, Meyer signed a six year deal and will still have five of those years to bring a couple of championships back to Columbus, but he took this job with the presumption that the Bucks would be in the clear. Gene Smith played a big part in helping Urban to believe that way, but Meyer also had his own NCAA contacts who presumably told him all would be well in Buckeyeland.
Obviously all parties were wrong, and while Meyer seemed to be cool, calm, and collected regarding the situation, he has to be disappointed that he won't be playing for all the marbles, including even the conference championship during his first season at the helm. Keep in mind, his contract has bonuses for achievements such as conference and national titles, two things he will not be able to win next year. Regardless of that, you know Meyer wanted to come in and make a splash in the Big Ten and now he'll have to wait until year two to do this.
The most difficult task for Meyer is now getting his team to play hard, relentless football during the 2012 season, despite the players knowing it will really lead them nowhere. Knowing Meyer's past, I'm sure he will find a way and he will not let this team just roll over and die. I'm sure an emphasis will be put on the fact that the performances of next season will help them in 2013, beating Michigan in The Game, and setting themselves up to come back the following year with a bang.
It's definitely a tough situation for Meyer to be in, and not the ideal way for him to start his tenure at Ohio State, but he knows better days are ahead and will work as hard as he can to make sure the team is in a position to pick up the ball and run with it in 2013. Besides, nothing may be better than seeing Meyer wipe the smirk off Brady Hoke's face next November after a dominating Ohio State win in the Horseshoe in what will be the de-facto national championship for the Buckeyes.