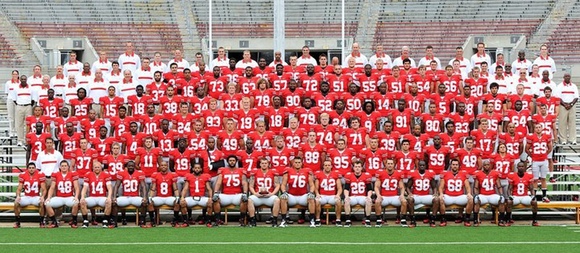 Regardless of whether Ohio State goes 14-0 or 6-6, the team celebrates the season with a banquet in December. While the banquet won't feature the sweet melodies of a Josh Groban cut, players will be recognized 15 (non-hyphenated) awards will be handed to players to recognize the hard work they put in both on and off the field this year.
The 2011 Ohio State football banquet will be held next Sunday night at a nice hotel downtown and though it's difficult to predict the winners of every award, we can come pretty close. Here's how we think it will go.
John Galbreath Academic Award
2010 WINNER: Jake McQuaide
PROJECTED WINNER: Chris Roark
Without knowing exact GPAs, this one is a little tough to call. We do know that 10 Buckeyes: Ben Buchanan, Dominic Clarke, Zach Domicone, Nate Ebner, Derek Erwin, Adam Homan, Chris Maxwell, Tyler Moeller, Chris Roark and Andrew Sweat, were recently named Academic All-Big Ten by the conference, so we can probably narrow things down to this list. Chances are it will be a senior, so we're going to a wildcard, Chris Roark.
Jim Marshall Warrior Award
2010 WINNER: Brandon Saine and Aaron Gant
PROJECTED WINNER: Tyler Moeller
In years past, this award has gone to guys that consistently put forth great effort in games and on the practice field inspiring teammates to soldier on. Think Quinn Pitcock or Thaddeus Gibson, both previous winners of this award. As a senior that has had to overcome injuries suffered on and off the field, the logical choice here is Tyler Moeller.
SAE Homecoming Game Standout (Wisconsin)
2010 WINNER: Andrew Sweat
PROJECTED WINNER: Braxton Miller
There were plenty of heroes from Ohio State's 32-29 homecoming victory over the Badgers this year: Andrew Sweat led the team with 8 tackles, John Simon chipped in with two sacks, Ryan Shazier blocked a punt that led to a touchdown and Boom Herron finished the night with 33 carries for 168 yards, but only one player heaved this. Oh, he also cracked 100 yards on the ground for good measure.
WW Hayes award (Michigan Game MVP)
2010 WINNER: Brian Rolle
PROJECTED WINNER: Braxton Miller
If any one game propelled Braxton Miller to his Big Ten Freshman of the Year award, it was the finale in Ann Arbor. The quarterback finished with 117 yards and a touchdown on 16 carries and completed 14 of 25 through the air for an additional 235 yards and two touchdowns, accounting for a total of 352 yards of offense and three touchdowns in a losing effort.
Top Freshman Offensive Player
2010 WINNER: Corey Brown
PROJECTED WINNER:Braxton Miller
Though he didn't get his first career start until the fourth game of the season against Colorado, Miller learned every week on the job as a true freshman quarterback, ultimately finishing with 997 passing yards to go along with 11 touchdowns to just four interceptions. On the ground, he was even better, displaying jukes not seen in Columbus in a long time on the way 695 yards and seven more touchdowns. Included in those numbers is a school-record 81-yard touchdown run against the Indiana Hoosiers.
Top Freshman Defensive Player
2010 WINNER: Johnathan Hankins
PROJECTED WINNER: Ryan Shazier
Shazier was an absolute terror on special teams for the first nine games of freshman season for the Buckeyes. The highlight, of course, was his blocked punt against the Badgers that was scooped up by fellow freshman Curtis Grant and eventually converted into a touchdown. When Andrew Sweat suffered a concussion against Purdue, Shazier saw his first chance at quality minutes from the linebacker spot and responded with seven tackles and a TFL. The following week, in his first career start against Penn State, the Florida native responded with a 15 tackle performance, leading the team. He would go on to suffer an MCL injury in the finale against the Wolverines, but even a bum knee couldn't keep him on the bench as he finished 2nd on the team with eight tackles.
Ike Kelley Award (Special Teams Player of the Year)
2010 WINNER: Devin Barclay
PROJECTED WINNER: Ben Buchanan
Punting over five times per game, sophomore Buchanan was a special teams weapon for the Buckeyes this year, continually dropping kicks inside the opponent's 20 yard line or flipping the field when the Buckeyes were pinned deep. For the year, Buchanan dropped 24 kicks inside the opponent's 20 (including a staggering 13 inside the opponent's 10) against just two touchbacks. He averaged 40.82 yards per punt -- a number that certainly would have been higher had it not been for all of his coffin corner work.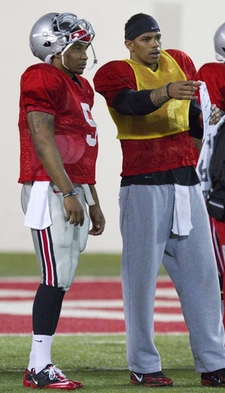 Rex Kern Award (Offensive Back of the Year)
2010 WINNER: Dan Herron
PROJECTED WINNER: Dan Herron
Boom wasn't available for the first six games of the season, but when he returned, the team's emotional leader did so with a vengeance. In his first game back, against the Illini on the road, Boom finished with 23 carries for 114 yards, leading the Buckeyes to an upset over then undefeated Illinois (and effectively kicking Ron Zook's career into a death spiral). He topped those numbers by going for 160 yards against the Badgers the following week and 141 against the Hoosiers the week after that. For the year, he finished with 593 yards on the ground in only six games.
Arnie Chonko Award (Defensive Back of the Year)
2010 WINNER: Chimdi Chekwa and Jermale Hines
PROJECTED WINNER: Bradley Roby
While junior Travis Howard came into 2011 with all of the hype, it was fellow corner, redshirt freshman Bradley Roby that is giving fans the most optimism heading into next season. As a first-year starter, Roby finished the season tied for first on the team with three interceptions and tied for third on the team with five pass break-ups. The Ohio State secondary took its lumps this year, but with the growth Roby showed at cornerback this season, the future looks bright.
Randy Gradishar Award (Linebacker of the Year)
2010 WINNER: Brian Rolle and Ross Homan
PROJECTED WINNER: Andrew Sweat
How important was Andrew Sweat to Ohio State this year? While Ryan Shazier filled in nicely for him when he was injured, the loss of Sweat meant that a team that could sometimes stop teams on third and down turned immediately into a unit that no longer seemed to be able to do so. Though he missed the final two and a half games due to injury, the senior finished second on the team in solo (34) and total tackles (68), also chipping in with five TFLs and an interception.
Jack Stephenson Award (Defensive Lineman of the Year)
2010 WINNER: Dexter Larimore
PROJECTED WINNER: John Simon
When fans start to foam at the mouth thinking of the 2012 Buckeye defensive front, John Simon is the name that first comes to mind. The junior from Youngstown led the team with seven sacks and an astonishing 15 TFLs to go along with 50 tackles, which was good enough for sixth on the team. Offenses found ways to scheme around him as the season progressed (and by "scheme", I really mean "holding"), but Simon still managed to take over football games, most notably the close call against Toledo early in the season and the game at Illinois when he finished with two sacks and four TFLs.
Jim Parker Award (Offensive Lineman of the Year)
2010 WINNER: Justin Boren and Bryant Browning
PROJECTED WINNER: Mike Adams and Michael Brewster
If not for the late season snap problems, Brewster would likely be taking this award home all by himself, but the boost Mike Adams gave to the team upon his return and his ability to seal off the left side of the line went a long way to helping a young quarterback grow up on the job. Regardless of how this award is handed out, the "Brew Crew" of Adams, Brewster and Shugarts accomplished quite a bit in their Buckeye careers and won't easily be replaced.
Bill Willis Award (Outstanding Defensive Player)
2010 WINNER: Cameron Heyward
PROJECTED WINNER: John Simon
This should be a no-brainer, with "All Flannel Tops" capturing this award to go along with his Jack Stephenson Award.
Archie Griffin Award (Outstanding Offensive Player)
2010 WINNER: Terrelle Pryor
PROJECTED WINNER: Braxton Miller
The freshman led the team in passing and rushing despite only starting eight games.
Team MVP
2010 WINNER: Dane Sanzenbacher
PROJECTED WINNER: Braxton Miller
For the second time in the last four years, Buckeye fans have watched a young, heavily hyped freshman come in and grab the starting job at quarterback on the way to capturing conference Freshman of the Year honors. With Pryor's recent transgressions serving as a cautionary tale for the young Miller, expect this story to play out a little differently. The future is bright, indeed.