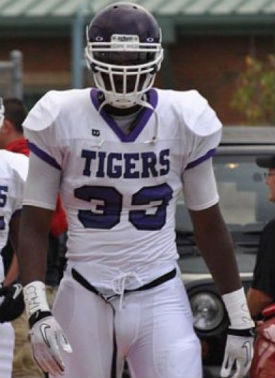 Pickerington Central has been very good to Ohio State over the last decade. AJ Trapasso, Zach Boren, Jamie Wood, Jacoby Boren, and Roger Lewis are all players who have played for the Tigers and who eventually committed to the Buckeyes.
As the Tigers' program continues to get better, they are putting more talent at the Division I level. That is a trend you can expect to see continue with the 2013 class, especially with defensive end/outside linebacker Taco Charlton.
In addition to having one of the cooler names you will see on the recruiting circuit, Charlton happens to be a pretty good football player. At 6-6/235, he is projected to play on the defensive line in college, but is fast and agile enough to play outside linebacker as well.
He is ranked in ESPN's Top 150 for the class of 2013 and already has offers from a number of BCS conference schools. That offer list is expected to grow as he takes visits and attends camps during this off-season and into the summer.
We had the chance to catch up with Taco to discuss the local product's recruitment, his thoughts on the Urban Meyer hiring, what his plans are going forward, and much more. Join us after the jump to learn more about Pickerington Central's Taco Charlton.
[interview done prior to Saturday's championship game loss to St. Ignatius]
How did your junior season go?
It's going well. We're in the state championship, so that will define how the season went.
What is going on with your recruitment? Who has offered and who has shown interest?
Recruitment is going well. I have offers from Cincinnati, Purdue, UCLA, Syracuse, Michigan, Notre Dame, and Pittsburgh. I have been getting letters from every school around the nation.
Who are you interested in hearing from? Do you have a favorite or list of top schools right now?
I'm interested in anybody at this point. I don't have a favorite right now and I want to take some visits first.
When would you like to make your decision by?
I haven't decided yet exactly when I'll make my decision.
What do you think of OSU's decision to hire Urban Meyer as it's head coach? How does that impact your decision regarding Ohio State?
I think Urban Meyer is a great coach, one of the best, so it was a great fit and decision. I grew up an Ohio State fan so they were never out of the picture and I know a lot of people that will be going there.
Has Urban Meyer or the staff reached out to you yet? 
No he hasn't and I haven't thought much about it. I've just been focused on my state championship game.
There have been a number of Pickerington guys to go to OSU of late. Is that something that will play to Ohio State's advantage? 
Yeah, that's always a positive thing, but I will make the best decision based on how I feel about the college. Having someone that you know at a college is definitely a positive thing though.
What is your plan now that the season is over? Any visits planned? Play any other sports?
My plan for after the season is to help my basketball team out. I will still be training for football by lifting weights and doing speed training. In terms of visits, I have no idea right now where, but I do plan to visit a couple of places.
What will be the most important thing to you when choosing your future school?
The most important thing for me when choosing a school is if they can make me the best player I can be. I also am looking at how I feel there and how comfortable I am in the program. It will be a very well thought out process. 
10. What do you want to work on this off season to improve before your senior season?
I want to improve on everything for next year. I just want to get out there and dominate games.
HIGHLIGHTS: