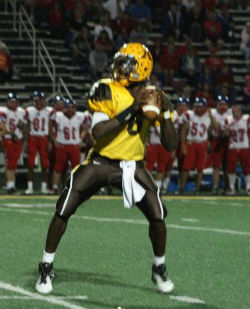 The trend for Ohio State over the last seven to eight years has been to get away from the tradition pocket passing quarterback and move towards the mobile, dual-threat signal caller. We have seen this in the form of Heisman Trophy winner Troy Smith, Terrelle Pryor, and now Braxton Miller leading the Buckeyes into battle each Saturday.
While the next few years under Miller will be very exciting, fans are already clamoring to see who will be next to hold one of the two most important jobs in the state of Ohio. Cardale Jones is set to enroll this January, but many recruiting fans are looking to a current junior who reminds you of Troy Smith when you watch his film. That player is Malik Zaire of Kettering Alter.
Zaire, a 6-1/190 lefty, didn't even have a high school start under his belt prior to this year, but was well known to coaching staffs thanks to some impressive camp performances last summer. Zaire impressed with his ability to throw the football with both power an accuracy, as well as make plays with his legs and athleticism. He impressed so much that Cincinnati offered him on his camp performance alone, before seeing him take his first snaps as a junior starter for Alter this season.
It didn't take long for others to join the fold. During this junior season, where Zaire has over 1,000 yards both passing and rushing, Wisconsin and Ohio State have offered and many others are interested. Zaire is becoming the name to know when it comes to quarterbacks in the state of Ohio for the class of 2013 and is getting attention from programs around the country. His list of suitors grows larger by the day and by the time he suits up for his senior season, expect him to be national commodity.
We got the chance to sit down with Malik to discuss his recruitment, what he thinks about Urban Meyer, his plans for the off-season and much more. Join us after the jump to catch up with Malik Zaire.
How did your junior season go? how did your team do and how did your perform individually?
My junior year was my first year starting and it was a great experience. We had an undefeated season at 10-0, but lost in the first round of the playoffs, so that was disappointing, but just made me hungry to win next season. Individually, I had over 1,000 yards passing and rushing.
For someone who wasn't the starter until this year, your recruitment really has blown up. I know you have offers from UC, OSU, and Wisconsin, but who else has offered and who is close to offering?
No other offers just yet, but I get a lot of love from Oregon, Northwestern, Boston College, Iowa, Indiana, Nebraska, Kentucky, Vanderbilt, Purdue, and some others.
Do you have a favorite or top schools right now?
My favorite schools are the ones that have offered me so far: Ohio State, Wisconsin, and Cincinnati.
When would you like to make your decision by?
I'll probably make my decision sometime before my senior season.
What do you think of OSU's decision to hire Urban Meyer as it's head coach? How does that impact your decision regarding Ohio State?
Urban Meyer being hired as Ohio State's head coach will be great for Braxton [Miller] and the Ohio State offense, as well as Ohio State's community and football program. it's the start of a new era. It impacts my decision in some areas, as it would be great to play for such a winning and profound coach.
Has Urban reached out to you yet?
Coach Meyer has not reached out to me yet. It would be an honor to hear from him soon, though.
It seems like Urban Meyer's offense fits right into your strengths. Do you see yourself fitting in to Urban Meyer's offense at Ohio State and would playing in a system like that excite you?
Coach Meyer's offense isn't my ideal offense that I would like to play in, but it is a successful, high powered and high scoring offense. I can definitely be effective in it for sure.
What is your plan now that the season is over? Any visits planned? 
Now that the season is over, I'm just working hard with my trainer. Actually, I use the same trainer that Braxton used during high school. I'll schedule visits sometime after the Army All-American Combine down in Texas which is in January. 
What will be the most important thing to you when choosing your future school?
What is most important to me in searching for a college is the best education for my major in athletic training. After that it would be my relationship with my coaches and the players. Finally, I am just looking for a great opportunity to play at the next level. 
What do you want to work on this off season to improve before your senior season?
What I want to improve on before my senior season is the little techniques and fundamentals that make good quarterbacks great. I also want to work on a lot more film study, being more patient in the pocket, and improve at reading and going through my progressions.
HIGHLIGHTS: