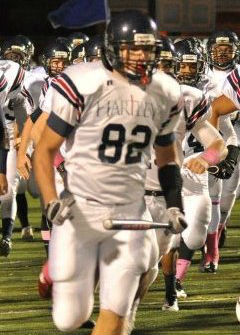 There have been some great players from the city and suburbs of Columbus to come to Ohio State over the years, but during the Jim Tressel era, it seemed like most of the talent came from the Dayton and Cleveland areas. That has changed of late with the some top prospects emerging from the "614", and looks like it will continue with a group of players in the class of 2013.
One of those players is Jacob Matuska, a 6-5/240 defensive end and tight end from Bishop Hartley. Matuska is already highly sought after despite being just a junior, and is highly ranked in the latest 247 Sports Top 247, coming in at #82 overall, #4 at the tight end position, and #7 overall in the state of Ohio.
It varies by school whether Matuska will play defense or offense, but one thing that's for sure is that this kid is an athlete that many programs want. Already holding a couple Division I offers, including one from a BCS conference school, Matuska is sure to see interest grow over the next six months.
We got the chance to sit down with Matuska to discuss the Columbus native's thoughts on Ohio State hiring Urban Meyer, the latest on his recruitment, who he grew up rooting for, and much more. Join us after the jump to catch up with Jacob Matuska.
 How did your junior season go? How did your team do and how did you perform individually?
In regards to my junior season, we had an incredible year. We had the first undefeated regular season in school history, which was a huge thing for us and it was extremely exciting. We were Division IV Region 13 runner-up and ended the season 11-1, which was a lot better than what most people predicted us to do. We had a great season that unfortunately had to end, but we definitely went out with a fight, losing to Kenton 30-28. We are proud of all we have accomplished. 
I am ready to comeback next year and have a great senior season. As for individual stats I had 9 receptions for 135 yards and 4 touchdowns as well as 3 two point conversions on offense. On defense I had 13 tackles and 20 assists with 33 times on tackle.
I know you can play defensive end or tight end. What are schools telling you regarding that and where would you like to play?
As for the DE/TE controversy I really haven't gotten much feedback as for which position college coaches want me to play, but I would rather play tight end at the collegiate level
How is your recruiting going? What schools have offered? What schools have shown interest?
Recruiting has gone really well so far. I have two offers, from the University of Cincinnati, as well as from the University of Toledo.
Right now a lot of other schools have contacted me through mail, e-mail, and Facebook. Those schools include Notre Dame, Stanford, Michigan State, Florida State, Miami (FL), Tennessee, Virginia, Boston College, Michigan, Oregon, Auburn, Missouri, Indiana, Northwestern, Wisconsin, Michigan and even Harvard.
Do you have a list of schools you are favoring right now? Do you have an outright favorite?
The schools at the top of the list right now are Notre Dame, Michigan State, Stanford, Tennessee, Boston College, Florida State, Ohio State, Michigan, and Harvard. Notre Dame is a slight favorite, but I am definitely interested in all the schools that I just mentioned.
What visits have you taken this year and what visits are you planning on taking?
This year I have been to Ohio State twice, and Notre Dame and Michigan once. Right now I don't have any visits planned for the rest of the year. I'd like to maybe go on one more before the season ends, and then visit a few other schools during the off-season.
What is your opinion of Ohio State hiring Urban Meyer as it's new head coach?
Urban Meyer being hired as the coach at The Ohio State University is a huge addition for the Buckeyes. He is an extremely successful coach and strives for excellence, which is what you need in order to be successful. I think he will be successful at Ohio State and they will continue to win games, like they always have.
Has Coach Meyer or anyone on the staff reached out to you yet? 
So far, Coach Meyer and his staff have not been in contact with me yet. I'm not sure if they will be, but I would definitely be glad to talk to them and get in contact with them soon.
Growing up in the suburbs of Columbus, the Buckeyes were right down the road from you. How does that factor at all into your decision? Did you grow up rooting for Ohio State?
Growing up in Ohio, it is really tough not to root for the Buckeyes. I did root for them as a kid until I switched over to rooting for the Irish at Notre Dame when I got older. I definitely would still root for the Buckeyes as well, though.
Living here in Columbus it plays a bit of a factor.  I am keeping all of my options open, and when I make my decision, the fact that I live where I live will be a factor to contemplate.
What is your timeline on making a college decision? What things are you looking at when making that decision?
Right now my timeline is to make a decision around the end of my junior year, or summer before my senior year. I want to have my decision made and then focus on my senior year so that I can just have fun playing the game I love during my last year of high school.
What do you want to work on this off-season to help you improve for your senior season?
This off-season, I am mostly going to work on getting bigger and gaining more muscle mass. I believe that getting bigger will help me tremendously during my senior season. as well as in the future.
HIGHLIGHTS: