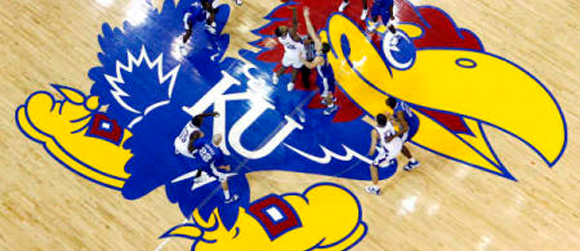 Greetings, sports fans! If you were oblivious before November 29, I'm sure you've since been reminded that sports other than football do exist at Ohio State. The basketball team is off to a great start, with an 8-0 record, including big wins over #12 Florida and #5 Duke. This season, in place of Across the Field, I'll be bringing you a weekly inside look at an upcoming basketball opponent with Across the Court, a Q & A with an opposing blogger or writer.
The #2 Buckeyes take on #13 Kansas this Saturday, the Buckeyes coming off of a Sully-less win over the Texas-Pan American Broncs, and the Jayhawks a narrow win over Long Beach State (Go Beach! Class of '07 here). Looking forward to this weekend's game, Steve Fetch of Rock Chalk Talk graciously gives us his valuable insights on the Kansas Jayhawks, star forward Thomas Robinson, and Saturday's matchup.
The Jayhawks' two losses so far this year were to undefeated Kentucky and one loss Duke, which is not too shabby. What are the biggest strengths of this Kansas team, based on what you've seen so far?
The biggest strengths for this year's team are on the defensive end. They have struggled a bit at defending the three, but I think that's because they are so focused on not letting teams score from inside the arc and not letting teams grab offensive rebounds. In fact if the season ended today this year would be Bill Self's second best defense at Kansas in terms of allowing two pointers. They are also, as of now, the 9th best team in the country at blocking shots, but I don't expect any Jared Sullinger shots to get swatted into the fourth row.
Thomas Robinson had a breakout season last year as the Kansas sixth man and was a finalist for the V Foundation Comeback Award. For Ohio State fans who are just now turning their focus over to basketball, can you tell us a little bit about Robinson and what makes him so special as a player?
The big thing that stands out about Robinson is his physique. If you could build a basketball player from scratch you would probably build a 6'9" 240 pound big man who can run the floor, catch the ball in traffic, shoot a pull up jumper and dunk through or over nearly anyone.
The next big thing is his desire to be great. I don't normally break out those kind of cliches, but with Robinson, it's true. For those unfamiliar with his story Robinson lost two grandparents and his mom within a month last year, and is now trying to be a lottery pick so he can take care of his little sister. It's worked out so far as he has turned into one of the best rebounders in the country and is on his way to being potentially a top 5 pick next summer.
The most recent update has Jared Sullinger (back spasms) playing on Saturday. After participating in a couple camps together during the offseason, rumor has it Sullinger and Robinson are looking forward to meeting up on the court again, and I'm hearing that Robinson has had this game circled on his calendar for quite some time. How do you think he and the team will respond to the attention and the pressure? What are your thoughts on the matchup of these two players?
I think based on how the team came out against Duke and Kentucky they'll come out ready to play, plus they'll have the Allen Fieldhouse crowd to help get them fired up.
I think the individual matchup between Sullinger and Robinson is really interesting. Robinson is definitely the better athlete, but Sullinger the more complete basketball player. A big key will be whether Robinson can guard in space, which I think he can, and avoid committing fouls, which I am much less sure about. I'm also interested to see how they rebound against each other given that they are both so dominant on the glass.
What are some weaknesses you've seen in this Kansas team that either have been, or you fear may get, exposed on the court this year?
Definitely the biggest weakness, to me, is how often they turn it over. They're committing turnovers on 21.4% of their possessions, which in and of itself isn't the biggest problem, but unlike last year when they also turned it over  quite a bit, they don't have the efficient scorers they did last year to make up for it.
They're allowing teams to shoot very well from beyond the arc as well, but I think it's a combo of playing some good three point shooting teams and guards doubling down on opposing post players and drivers to protect Robinson and Jeff Withey from foul trouble, which leads to a lot more open threes.
Bill Self and President Obama met before the Long Beach State game Tuesday night, and apparently joked about the Jawhawks coming up short in the last two tournaments, despite Obama picking them to win it all. How far do you think this year's team has the potential to go, and what do they need to do to get there?
Potentially I think this team has a Final Four ceiling, but more realistic is a Sweet 16 or Elite 8 appearance, due to their lack of offense. Defensively they're good enough to get there, but every team ratchets up their defense a bit in the tournament and Kansas struggles scoring in the half court as it is, so I can't imagine the problems they'll have in a  situation where they need a stop. So I think they'll make it to the Sweet 16 and then from there on it will be based on matchups.
Based on the way these two teams matchup, what makes you nervous and what makes you confident for Saturday?
The two big things that make me nervous are obviously Sullinger and Craft. Our guards turn the ball over a lot as it is, but with Aaron Craft guarding them it could potentially be ugly. Sullinger inside could potentially both score a lot from the field as well as draw fouls and score from the line. Robinson or Jeff Withey guarding him already makes me nervous, but if they have to turn to Justin Wesley or somebody else, Sullinger could end up eating us alive.
The one thing that does make me confident is Ohio State's relative inability to shoot the three. Given how good Kansas is at defending inside the arc it could either lead to Ohio State shooting some generally low percentage two point shots or shooting a lot of threes which they aren't as good at.
Do you have any final thoughts on the game, and can you share a score prediction?
I really am not sure how to take this game to be honest. Ohio State is obviously the better team (and right now maybe the best team in the country) but Kansas has played to its competition for the last couple years and especially this year, so they should be at their best in this one.
They also have the Allen Fieldhouse crowd behind them, and it's one of the best home court advantages in sports, so the upset wouldn't surprise me. If Sullinger plays I think it will end up being something like 72-64 Ohio State, and if he doesn't (and I really hope he does by the way) I think Kansas will pull out a narrow win.
---
Thanks again to Steve Fetch, of Rock Chalk Talk for sharing his Kansas Basketball insights with us. To read more from Steve, and the rest of his crew, on the Jayhawks check out the following links:
Rock Chalk Talk: www.rockchalktalk.com
Twitter: @rockchalktalk
Twitter: @fetch9