Urbanmania has hit the nation and it is sweeping fast. While there weren't any verbal commitments, I don't think any more noise could have been made in regards to Ohio State on the recruiting trail during Meyer's first week at the helm.
The new Buckeye coach has been as aggressive as you can be in filling out the class of 2012. With anywhere from five to eight more spots left in the class, Meyer is casting a wide net and reaching out to not only the best prospects in the state, but also the best prospects in the nation, regardless of whether they are committed to another program already or not. 
Urban has been relentless thus far while his focus doesn't involve too much on-field activity and it is paying dividends. The Buckeyes are scheduling Top 100 players left and right on visits, are getting back on the short lists of said players, and are also setting a nice stage for a 2013 class that may be even more impressive than the one before it. Ultimately, nobody is untouchable when you combine Urban Meyer's recruiting prowess with the power and tradition of the Ohio State program.
In this week's edition of the 11W recruiting notebook we'll give you the latest on news regarding some super prospects visiting Columbus, bring you up to date on what is going on regarding Bri'onte Dunn, let you know how Joel Caleb's visit went last weekend, and much more. Join us after the jump to get the latest on Buckeye recruiting.
Decision Day Nears For Dunn
As you know, Bri'onte Dunn committed to the Buckeyes last year and was very excited to run the Dave and play in the "three yards and a cloud of dust" offense of Ohio State under Jim Tressel. Obviously things changed a bit when Tressel was dismissed and Luke Fickell took over as head coach. Dunn stayed with his commitment to OSU, but stated he was keeping his options open in case the NCAA came down hard on the Buckeyes or there was a coaching change made that he was not in favor of.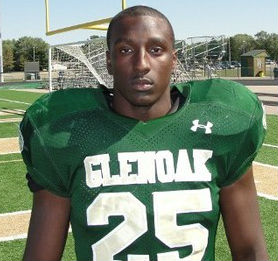 Dunn took a few visits this season, including one to Penn State and spending two weeks back to back in Ann Arbor, but maintained he was still committed to the Bucks until new developments happened. While it appears the NCAA isn't going to come down hard, Dunn's other worry of a coaching change happened in the form of Urban Meyer.
Dunn had nothing against Meyer, but stated after the news broke that he did not want to play in a spread offense, something that made him not even consider Florida as an option while the new Buckeyes' coach was there two seasons ago. It appeared more and more likely that Dunn would join his friends Kyle Kalis and Tom Strobel, as well as cousin Dymonte Thomas, at Michigan, and that it would happen fast due to Dunn enrolling in January. Then Urban called.
One of the first calls Meyer made as Ohio State head coach was to Dunn to get to know the prospect and try to temper some of his worries about the spread. The two got things off on the right foot, with Meyer reassuring Dunn that he'd be utilized to his skills in his offense and that he'd always wanted a big back like him. Dunn seemed to be back on the Buckeye train and the two left the conversation pleased with their first interaction.
Fast forward to this week and while the Buckeyes still have the lead in this one, the Wolverines are right there pounding on the door. By making the decision to enroll early, Dunn also needs to make a decision early, meaning a final verbal is imminent in the coming weeks.
Brady Hoke and the staff will make an in-home visit to the Dunn family tomorrow, while Urban Meyer and his staff will visit the Dunn home next week. Dunn will make a trip to Ohio State this weekend for his first official visit and will get up to Michigan the following week for his last official. While he still has some work to do in order to be eligible to enroll early, this battle should be over soon and it appears it will be a dogfight until the end.
This is the first true Urban Meyer-Brady Hoke fight over a recruit and it will be exciting to watch. While Hoke has the longer running relationship with Dunn, Urban Meyer has the Ohio State name on his side and will work every piece of recruiting magic he has over the next week to land the outstanding Canton product.
UrBan's Gonna Find You A Diamond
It's no secret offensive line is the biggest need for the Buckeyes this recruiting season, and with only Jacoby Boren and Pat Elflein on board, the Ohio State staff is going to look to add two to three more players intro the group before Signing Day in February.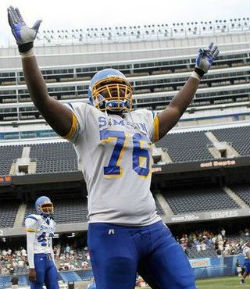 One of the top offensive linemen in the country is Chicago Simeon Vocational's Jordan Diamond. Diamond (6-6/290) is rated as a 4-star prospect on ESPN and Rivals and is a 5-star prospect on Scout. He has offers from some of the top programs in the country including Auburn, Michigan, Wisconsin, Iowa, Alabama, Arkansas, Florida State, Notre Dame, Tennessee, Oregon, and others in addition to Ohio State.
Diamond had OSU high on his list while Jim Tressel was head coach, but things have been quiet on that front since Memorial Day. Now that Meyer is the head coach, does that change things?
It does indeed, as after talking to Meyer, not only are the Buckeyes back in the picture, but they are also receiving an official visit from Diamond this weekend. The senior will visit Auburn the weekend after he's in Columbus and will take his three other visits in January before making a decision.
While this is far from a done deal, expect Meyer to bring the heat this weekend when it comes to Diamond. He has been to Columbus before and taken in a game at the Horseshoe, so his face time with Urban could really be an x-factor. I think it is safe to say that the Bucks are in as good a position as anyone to land Diamond and the visit this weekend will be a huge in telling how things will unfold.
Spence Coming Too
Landing Adolphus Washington was great, but the Buckeyes would like to add another defensive end or two to this class to help what seemed to be a non-existent pass rush at times this season.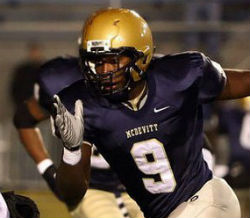 Noah Spence is rated as the top player at the position in the country, is from Harrisburg, Pennsylvania, grew up loving Urban Meyer at Florida, and is still uncommitted. Appears to us like a match made in heaven and apparently the new Buckeye coach agrees as the heat has been turned on with this super prospect.
Spence tweeted after Meyer called him that the Buckeyes were now at the top of his list, but it was unknown if that was just initial excitement or if it would turn into legitimate interest in Ohio State. It appears it has, as Spence has scheduled a visit to Columbus the weekend of December 17 per his father, Greg. The kicker is that it may be the only official visit the 5-star talent takes.
Penn State and Florida have recently made in-home visits to Spence, but because of his high school team's playoff schedule it appears there will be only one official visit. That trip has been given to the Buckeyes as of now, which says a lot as it comes just a few weeks before Noah will announce his decision at the Under Armour All-American game.
With a huge advantage, Urban has to be feeling good about his chances with Spence, and we are too. If I had to call it today, I would put Spence in this class, giving the Buckeyes an unbelievable duo of defensive ends along with Washington.
More News Around The Recruiting Room