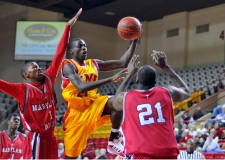 What's been going on around these parts? Anything new? I haven't been out of the basement in days, but I hear it's Michigan week and there's a hoops game tonight, which I'm 99.7 percent sure OSU will win.
VMI comes into Cbus tonight for their 3rd trip all-time, but first since 2007. Ohio State easily won the first two by an average of 36 points, but VMI will get up and down the floor, so Ohio State will be challenged on the defensive side.
The Keydets are 8th in the country in scoring at 88 points a game, however VMI hasn't played anybody this year, notching wins over the likes of Alice Lloyd College and UMBC, with their lone loss coming at Air Force.
VMI returns 4 starters from last year's 18-13 team and are picked to finish 3rd in the Big South. They have lead the nation in scoring in each of the past five seasons. 
| # | Name | PTS | REB | ASST | POS | # | Name | PTS | REB | ASST |
| --- | --- | --- | --- | --- | --- | --- | --- | --- | --- | --- |
| 4 | Aaron Craft | 6.8 | 3.3 | 4.3 | G | 1 | Rodney Glasgow | 10.0 | 3.5 | 4.5 |
| 32 | Lenzelle Smith Jr. | 6.0 | 4.3 | 2.8 | G | 21 | Keith Gabriel | 19.3 | 2.8 | 2.0 |
| 44 | William Buford | 14.5 | 4.3 | 3.0 | F | 11 | Stan Okoye | 16.3 | 5.3 | 2.0 |
| 1 | DeShaun Thomas | 12.8 | 5.0 | 0.5 | F | 15 | Ron Burks | 10.0 | 4.8 | 4.0 |
| 0 | Jared Sullinger | 20.5 | 9.8 | 1.3 | C | 30 | Nick Gore | 10.0 | 4.5 | 1.5 |
Opponent
Coach Duggar Baucom will use a nine man rotation that lacks in size, primarily using a four guard lineup, with no one over 6'7" on the inside. Though they are scoring points, VMI is not a very good shooting team, they just put up a ton of shots.
Overall the Keydets are shooting 44.6% from the floor on an average of 70 shots a game. As expected with such a small lineup, almost half of their shots have come from beyond the arc, but they have connected on just 29.6% of the 135 attempts. They do have a nice 17/11 A/TO ratio, while grabbing 37 boards and swiping 7 steals a contest.
As you can see, all five starters average in double digits and so does their sixth man, Jordan Weethee. The offense will be lead by senior Keith Gabriel, who has gone for 23 a game over the last two. At 6'3", Gabriel will shoot from deep, hitting 11/33 from there thus far and 26/55 overall. Okoye is the second tallest starter at 6'5" and he'll battle for his points inside the arc. Okoye leads the team in shooting at 60%, making 24/40 shots thus far.
Weethee is a 6'6" FR. who is third on the team in shots attempted (13/35) and scoring (10.3), but last in FG percentage at 37. His 25 attempts from deep are second to Gabriel, but Wheethee has made just 7, good for a 28% clip.
Another player to watch from deep is Michael Sparks, who has mad 7/19 from there and plays about 19 minutes a game. The 6'1" SR. averaged 12.1 points as a sophomore and has nailed 3 three pointer twice this year.
Also entering the rotation will be a couple of freshmen, 6'5" Quintin Upshur and 6'7" Jarid Watson (the tallest Keydet to play). Each have received just over 10 minutes a game, combining for 4 points and 4 boards.
Buckeye Breakdown:
The Buckeyes enter the game scoring 81 points a game, on the strength of 46.8% shooting. If there is a weakness though on this team, it's from deep, where the Buckeyes are hitting just 26% from the arc. They haven't relied on the deep shot as much, shooting 15 a game and they've countered it by going to the line 134 times in the first four games, making 92 of them (68.7%).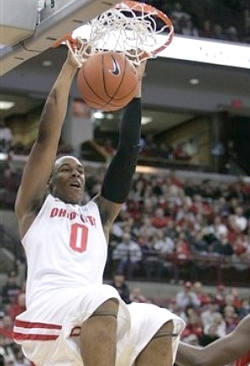 Only two Buckeyes are shooting above 30% from deep, Jordan Sibert(5/13) and Lenzelle Smith Jr.(2/5), hitting 39 and 40 percent respectively. The leading culprits for the slow start are the Big Four, Sullinger(1/4), Craft(1/5), Thomas(2/11) and Buford(4/14), which comes out to a 23.5% clip. If the trend comtinues, team would be smart to run zone against the Bucks and force them to win it from deep. 
One of the things to look for tonight is the battle for minutes off the bench. Five guys are vying for the spots right now and if it's true LaQuintin Ross is eligble, you can potentially throw his name to the top of the list. Everyone will get their chance to impress again tonight, but they'll have to be careful not to get caught sloppy with VMI's pace.
For my money, Ravenel and Weatherspoon have been the most impressive of the bunch. Ravenel has been a surprise on offense, hitting 8/10 shots and scoring almost 5 points in 11 minutes of play. Weatherspoon is pure energy coming off the pine and is scoring 6 points in 9 minutes, making 6/9 shots thus far.
You can see the athletic ability of Sam Thompson oozing from his pores, but his shots haven started to fall yet(5/13) and he needs to avoid the mental lapses on the floor.
Shannon Scott and Amir Williams both seem to be a little stiff yet. Scott is getting the most minutes of the group at 14.5 per game, but has the lowest shooting percentage on the team at 29. Williams has done a good job on the offensive glass, snagging 8 in 33 minutes. However he has hit just 3/7 from the floor and 2/7 from the line. With the lack of opposing size tonight, Williams needs to have a coming out party.
Ohio State needs to take the ball inside early and often in this game tonight. They've started a little slow Monday night and picked it up once they started feeding Sully on a consistent basis. With no player being over 6'7" for VMI, Sullinger should score at least 30 tonight, if he stays in the paint.
OSU also needs to guard against wasting possesions in what should be an up tempo affair. Thad always preaches the improtance of every possession in every game and VMI can cause teams to get out of control, take quick shots and make silly errors.
Though this will be more entertaining than Monday, the trend of OSU dominating these lesser opponents will continue tonight, as they score thier most points on the season and hold VMI well below thier average. Ohio State wins, 89-56.
Etc
William Buford needs 4 points to catch Jerry Francis for 18th all-time and 15 ties him with Troy Taylor.
The Buckeyes are 179-5 under Matta when leading with 5 minutes to play. Think about that for a second.