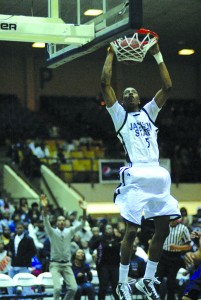 The Tigers of Jackson St. roll into the Schott tonight, looking for their first win on the season, but should be the first of four straight sacrificial lambs for Ohio State.
Ohio State will be the 3rd top 12 team Jackson St. has faced this young season, opening with trips to Florida, Baylor and Wright State.
The game is still part of the Global Sports Shootout and Jackson St. has lost to Florida by 40 and Wright St. by 17, so really the only question heading into tonight is how much OSU will win by.
| # | Name | PTS | REB | ASST | POS | # | Name | PTS | REB | ASST |
| --- | --- | --- | --- | --- | --- | --- | --- | --- | --- | --- |
| 4 | Aaron Craft | 11.5 | 3.0 | 5.0 | G | 13 | Christian Williams | 8.3 | 3.7 | 2.3 |
| 32 | Lenzelle Smith Jr. | 7.0 | 5.0 | 1.5 | G | 12 | Kelsey Howard | 10.3 | 4.7 | 1.3 |
| 44 | Willaim Buford | 17.0 | 4.0 | 3.5 | F | 2 | Derrel Taylor | 5.0 | 5.0 | 1.0 |
| 1 | DeShaun Thomas | 12.0 | 4.0 | 0.0 | F | 1 | Jenirro Bush | 14.7 | 5.0 | 0.7 |
| 0 | Jared Sullinger | 17.5 | 7.5 | 2.0 | C | 34 | Jamarious Sykes | 0.0 | 0.0 | 0.0 |
Opponent
Jackson St. hasn't scored more than 59 points in any game this season and only managed 39 in their loss to Wright St. the other night. Florida scored 99 and Baylor 92 against the Tiger Swiss cheese D, combining to make nearly 50% of their shots. The Tigers are shooting just 30% on the season, making a dismal 46 shots in 3 games, while commiting an average of 21 tunrovers against 8 assists.
Coach Tevester Anderson has a really green group and he's used a 10 man rotation to start the season. Jamarious Sykes is a 7'2" SO., who will start the game, but plays only about 6 minutes a contest and as you can see, he hasn't recorded a point, rebound or assist. Davon Jones, a 6'8" JR. will lead the group off the bench, averaging 15 minutes, 4 points and 3 boards.
Joining him will be 6'9" JR. Raymond Gregory and 6'7" FR. Sydney Coleman. Gregory plays 17 minutes a game and has only attempted 5 FG's on the season, while Coleman plays nearly 18 minutes and is 0/8 on the season. They do combine to grab about 6 boards a game.
Keeslee Stewart and Jonathan Lewis round out the rotation, going for a combined 6 points, 4 boards and 2 assists.
Buckeye Breakdown:
As you can see, the Buckeyes will have no trouble taking care of business tonight in their first ever meeting with Jackson State, let's just hope they keep up the intensity for a full 40 minutes. After expectedly shortening his bench in the win over Florida, Thad now gets 4 games to see what these young kids can do before Duke rolls into town.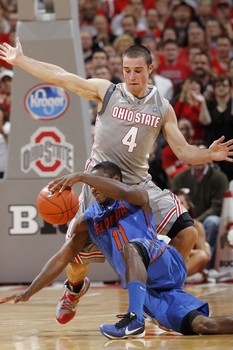 If there is any slight concern after 2 games, it would be shooting, especially from beyond the arc. The Buckeyes come into the game shooting at a 46% clip overall and just 31% from deep. With the loss of Diebler, OSU hasn't relied on the 3-ball as much this season, hitting only 9 of 29, but luckily they've combatted that by making 53/72 FT's.
Though Craft has excelled in all other aspects, he has hit only 5/14 shots thus far, including 1/3 from the arc. I don't think we should expect Craft to launch many threes this year, he gets his points in the paint and at the line, where he has hit 12/16 thus far.
DeShaun Thomas has made just 1/6 from deep and 7/17 overall, but I've liked his game so far, playing under control on offense, playing D and doing some work on the boards. He too has done a good job of getting to the line, hitting 9/11 FT's, including 6/6 Tuesday night.
Though his FG attempts per game is down thus far, Sullinger has gone to the line an average of 10 times a game and his 8/8 Tuesday night upped his percentage to 90 on the year. Florida did a good job of nuetralizing him in the second half, so it will be interesting to see if Thad and his staff do anything different to get him more looks.
As mentioned, these next four games are big for Scott, Weatherspoon, Thompson and Williams. Sibert and Ravenel are already in the roation, but if this team is going to reach New Orleans, at least 2 of these guys need to emerge. As of now, my money is on Thompson and Scott. Each received a little time Tuesday, but Scott didn't do anything in 3 minutes, while Thompson made a bonehead foul to help fuel the late Gator run.
The Buckeyes should have a balanced attack tonight and I have a feeling someone not named Buford or Sullinger is going to have a breakout game. The most impressive aspect of this team has been their defense and the challenge will be keeping it up for 40 minutes. If the subs can do this and the game doesn't get too sloppy towards the end, expect Ohio State to hit the century mark tonight and win 101-56.
Etc
Buford tied David Lighty for 20th all-time and now needs 28 to tie Jerry Francis.
Ohio State is 49-1 in their last 50 home games.