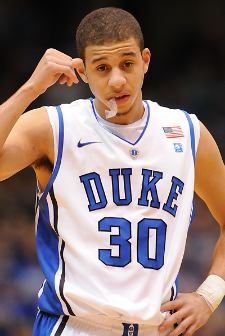 We pause all the Urban Meyer talk for a few hours Tuesday night and put the focus back on Thad's squad, as they take on the Duke Blue Devils in the marquee matchup of the ACC/Big Ten Challenge.
This is Ohio State's 10th time in the Challenge, entering the game at 4-5, but they have won their last 3. OSU and Duke faced off back in '02, where the Dukies took down a Brent Darby lead Buckeye group in Greensboro, 91-75.
Both these teams come in undefeated on the season and each received first-place votes in this week's AP poll. With UNC/Kentucky battling on Saturday, the winner of this game could find themselves atop the rankings come next week.
| # | Name | PTS | REB | ASST | POS | # | Name | PTS | REB | ASST |
| --- | --- | --- | --- | --- | --- | --- | --- | --- | --- | --- |
| 4 | Aaron Craft | 9.2 | 3.0 | 5.5 | G | 30 | Seth Curry | 15.1 | 3.3 | 3.1 |
| 32 | Lenzelle Smith Jr. | 5.8 | 4.8 | 3.0 | G | 0 | Austin Rivers | 14.4 | 2.4 | 2.1 |
| 44 | William Buford | 17.7 | 4.2 | 3.2 | F | 20 | Andre Dawkins | 10.1 | 1.4 | 0.4 |
| 1 | Deshaun Thomas | 12.3 | 3.7 | 0.7 | F | 5 | Mason Plumlee | 11.4 | 10.0 | 2.1 |
| 0 | Jared Sullinger | 18.8 | 10.7 | 1.8 | C | 34 | Ryan Kelly | 14.6 | 4.6 | 1.3 |
Opponent
Duke is a bit more tested this young season and is fresh off winning the Maui Invitational. Thad has always said he doesn't like the Maui trip, because it takes a team 2 weeks to recover from the games and travel, so it will be interesting to see if the are any adverse affects for the Blue Devils. Duke hasn't played since Wednesday, after taking down Tennessee, Michigan and Kansas in Hawaii. Coach K and his crew also defeated Michigan St., 74-69 in a Madison Square Garden tilt. 
The Blue Devils are a veteran group, but their best player may be a freshman. The starting lineup consist of 4 juniors and the freshman, Austin Rivers. Duke comes in scoring 79 PPG, on the strength of 49.4% shooting from the floor. As is the case with OSU, Duke hasn't relied on the 3-point shot as much this season, but unlike OSU, they are hitting at a 45.9% clip, which is good for 5th in the country. What's interesting with this squad is the lack of assist and rebounds per contest. Even though Mason Plumlee is 6'10" and Kelly is 6'11", the Dukies rank 248th in the country with 34 RPG and have been outboarded in 4 of their 7 games.
The lack of assists could mean plenty of one on one action tonight, which should give the advantage to Ohio State. Curry and Rivers are both scorers and only Rivers, against Presbyterian has had more than 4 assists in a game. The matchup of Smith Jr./Craft vs. Curry/Rivers is going to be fun to watch. If OSU's guards can pressure them, it could lead to some questionable shots and TO's, as Kansas showed last week.
Curry attempts almost half of his shots (28 of 62) from beyond the arc, where he is hitting an outstanding 57.1 percent(16/28). Rivers is more of a slasher, attempting just 24 of his 76 shots from deep. Rivers, the son of Doc, has hit 9/24 from deep, but is second on the team with 40 FT attempts. Andre Dawkins leads the team in both 3-point attempts and makes, with 38 and 17 respectively. Kelly will also step outside, hitting 11/27 thus far.
Coach K makes his first trip to Columbus, even though he has over 900 career wins and brings with him a short bench. All five starters average more than 28 minutes, with Miles Plumlee, Tyler Thorton and Quinn Cook coming in off the bench. Plumlee is a 6'10" SR. who plays about 15 MPG, going for 5.6 PPG and 5.3 RPG, but he only played 7 minutes against Kansas. Thorton, a 6'1" SO. plays just over 18 minutes a game, scoring 3.4 PPG and dishing out 1.6 APG. He hit a huge 3-pointer on Wednesday night, that helped lift Duke to the Maui title. Cook is a 6' FR., who may not see much, if any action tonight, averaging 8 minutes and 3 points.
Buckeye Breakdown:
This is the type of matchup Thad has been working towards since he arrived and the Blue Devils are the highest ranked team to visit Cbus since the #1 Tar Heels beat the '07 team, 66-55. There is no doubt Duke has a longer run of a winning tradition, but Thad has worked his Buckeyes into the same sentence in recent years and we can only hope he has a run similar to Coach K's here at Ohio State. It's too bad once again he will be overshadowed by all the football news and the hiring of Urban Meyer.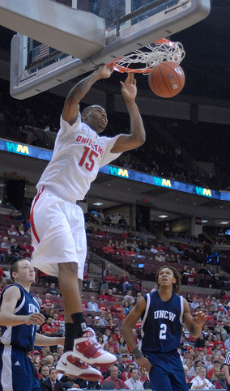 Last week was kind to Ohio State, as they saw their shooting average rise roughly 5 points and thier per game assists total now ranks 4th in the country. The Buckeyes come in shooting 51.5 percent, which puts them ninth in the NCAA and equates to 85.2 PPG, good for 12th nationally. Their assists are up to 20 a game, while the TO's are holding steady at 12 per contest. Though it was better last week, the 3-point shot is still incinsistent at 31 percent(27/87) and the FT's dipped a bit, now sitting at 66.3(114/172). After grabbing 38 more rebounds than their opponents last week, they are now grabbing 40 per game and only Florida has outboarded the Bucks.
William Buford found his groove last week, averaging 20 PPG and has hit his last 6 shots from deep. He now is up to 50% from the arc on the year (10/20), after starting the season 2/12. For me, there isn't a smoother stroke in the conference and if Ohio State is going to be a national force this year, Buford has to continue to get 13-16 shots a game, while continuing to improve his rebound and assists numbers, which are reaching career high status. 
Jared Sullinger is working on a streak of 4 straight double-doubles, which is a career high, but obviously the competition is much stiffer tonight. The Buckeyes haven't necessarilly gone early and often to Sully inside to start games, but I really think they need to get him going early tonight. Duke is tall, but thin across the front line and if Sully can get either Plumlee or Kelly in early foul trouble, it could opens things up for the Buckeye offense. Plus making FT's is one of Sully's strengths this year, where he has made 35 of his 41 attempts. 
Protecting the lane is key for OSU tonight, so Deshaun Thomas, along with Evan Ravenel and possibly J.D. Weatherspoon are going to have to step it up if the Bucks are to win. Thomas is still struggling with consistency on offense, but he is taking immense pride in his defense this year and will be guarding a taller player tonight, who can also step outside the arc. Ravenel has been getting the most minutes inside off the bench and has hit 14 of his first 19 shots, but J.D. Weatherspoon's energy and leaping ability could come in handy tonight. The buzz at the Schott is going to be unprecedented and a thunderous Weatherspoon rim-rattler could blow the roof off the place. J.D. has hit 11/14 shots and is scoring almost 6 PPG in just under 9 minutes.  
After attempting a combined 4 shots against JSU and North Florida, Aaron Craft has hit 9/16 in the last 2, setting season high marks with 13 and 15 points respectively against VMI and Valpo. He also has 8 assists in that span and leads the conference with 3.5 steals per game, which puts him fifth nationally. His peskiness on either Curry or Rivers will be entertaining.
After devouring some turkeys for the Thanksgiving week, Duke will be the first measuring stick game for the Buckeyes over the next three(@Kansas on 12/10). Ohio State controlled 75% of the Florida game and has won thier last 4 by at least 33 points, so there's no reason to think they can't win tonight. They are giving up 54.7 PPG, holding teams to 37.4 percent shooting and forcing 21 TO's a contest, while only giving up 7 offensive boards. If they can guard the perimeter and hold Duke to under 35% shooting form deep, they should come away with a win.
It's a great time to be a Buckeye, so sit back and enjoy this one, it doesn't get any better in the early season. I think Ohio State has the talent to win and the Schott is going to be LOUD tonight, which is going to be a difference maker. Hopefully the OSU guards can win the battle of the backcourts and the Bucks can take home a 78-73 win.
Etc
William Buford is now tied for 14th with Gary Bradds and needs 7 points to pass Jon Diebler on the career scoring list.
OSU is 164-20 under Matta when leading at the half.