So, Michigan can really beat Ohio, I guess. After getting great amusement out of Michigan's hilarious downfall over the years, it was kinda nice to see Ohio's disfigured step-brother get himself a little bit of glory after a seven consecutive unsuccessful attempts. Well played, disfigured little step-brother!
Though, it must be a tad bit disheartening for Michigan knowing their coach put in a year's effort to "beat Ohio", and yet he couldn't cover the spread against a (now) 6-6 Ohio State team at home. It also probably won't please them when Urban Meyer and his two national title rings are announced as Ohio State's next head football coach roughly 12 hours from now. And Michigan, was it sound policy to splurge your one-win-a-decade chip this early into the 2010's? Whatever, I'm over it. See you bums in 363 days on the banks of the Olentangy.
Regardless, I'm proud of the Buckeyes and how they battled in Ohio's name last Saturday. (Ryan Shazier, you sir, are a monster.) To Coach Fickell: Thank you for stepping into a no-win situation and refusing to make a single excuse -- even as Ohio State was finalizing the Urban Meyer deal in the week leading up to the biggest game of the season. Your honorable service shouldn't be forgotten by Buckeye fans.
THE RICH GET RICHER. Ohio State's men's basketball team will get a shot in the arm in the form of the 6'8" LaQuinton Ross returning to the team on December 9th. While the #2 team in the country won't have him for their clash against Duke on Tuesday (which students have been camping out for since last night), the versatile swingman will be a nice toy for Thad Matta as the season progresses. (Now, all Coach Matta has to do is find 38-minutes a game for him.)
BERNIE FINE WAXED. On the heels of Penn State's scandal comes Syracuse's apparent attempts to remix it. This one is getting just as ridiculous, too. First, the district attorney  "declared war" on Syracuse's campus police. Then, Fine's accuser released a tape of a phone call he had with Fine's wife in 2002 where Laurie Fine seems to admit to knowledge of the abuse. ESPN, who has had the tapes since 2003, must've consulted Joe Paterno's book of ethics by choosing to not go to police. The accuser (1 of 3) also claims he had sex with Laurie Fine after he turned 18. Syracuse has fired Fine as a result. (Still awaiting Jim Boheim's latest thoughts on the matter.)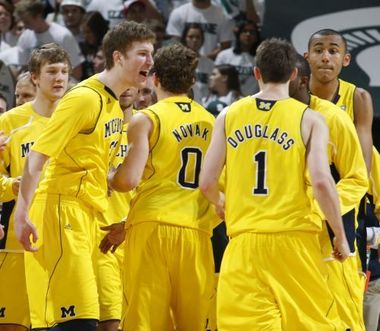 IT'S GOING TO BE AN ALL SEC TITLE GAME. Well, it's FINALLY going to happen! An SEC team is going to lose a national title game! Unfortunately for everybody outside of the Southeast, the loss is going to happen at the he hands of another SEC team.
Personally, I don't care. Alabama is the only team in the country that has a shot to beat LSU on a neutral field. My three loyal readers know I've been on the Les Miles swag-wagon since before the season started and have wanted them crowned since they whipped up on Oregon. I'll take an Alabama-LSU rematch over watching LSU destroy somebody like Stanford, Virginia Tech, or Oklahoma State. (Though I think Oklahoma State would have the best chance of beating the Tigers.) Since the BCS is all about not devaluing the regular season -- why should Alabama get the title over LSU if they barely beat LSU on a neutral field? Alas, such are the breaks in the wonderful system we live in.
DENNIS ERICKSON TO THE BREADLINES. As coaching heads roll across the country's landscape, Dennis Erickson, who marshalled over quite an impressive collapse this year at Arizona State, is reportedly going to be fired sometime later today. I'm sure Brett Bielema's eyebrows jumped up his fat forehead when he read about the opening and thought about all the beautiful co-eds he could ensare with rufilin in dive-bars as the frontman for the Sun Devils. (Speaking of ASU, feel free to read about Vontaze Burflict, the meanest man in college football. It's dated, but still an awesome read.)
THAT CRYSTAL. Chinese firm bans the hiring of Virgos and Scorpios... Unemployed British man has 15 children with 13 women (and two more on the way)... Good ball retention starts with the goalkeeper... An "uncontrollable" flow of e-waste into Ghana... Community made a Beetlejuice joke over the course of three seasons... Ohioans are hustling a free cell phone program... Just your typical drug smuggling tunnel that was chiseled through rock 20 feet underground... China's Undercover Internet Water Army is on the march...