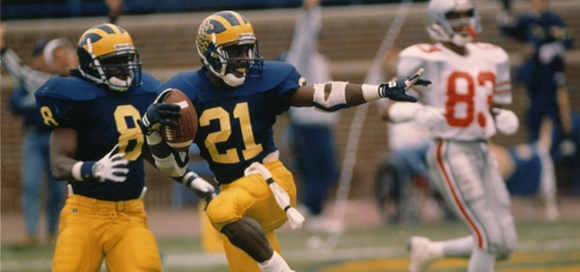 There are few memories greater than the ones created by the players on a sports fan's favorite team over the years. These memories coalesce over time, continuously evolving the very fabric of every individual football program across the country.
Texas was forever changed when Vince Young crossed the goal line in Pasadena, against USC, with 19 seconds left in the game.
Boise State was never the same after their Hook-and-Ladder and Statue of Liberty antics in the 2007 Fiesta Bowl against Oklahoma.
Auburn's narrative was forever rewritten the day Cam Newton led his team to a remarkable comeback at Alabama, after heading into halftime down 24-7.
These fleeting moments in time all leave memorable souvenirs in the minds and hearts of fans, reiterating why a fan's love for a team can reach unparalleled levels of passion. These moments, in their own way, last a lifetime because they continue to redefine the spirit of a program, something greater than the individual moments, that actually can live on forever.
But, if it is thrilling moments such as these that define a program, what defines a rivalry? The makeup of a rivalry is so much more complex than that of a single program. The barometer obviously considers the characterization of the two programs involved, but must also account for the unique chemistry that results when those two programs meet.
Much of one's love for a rivalry is directly derived from their hatred of the other side. What is a good guy, without a bad one? What is a novel, without an antagonist? What is a rivalry, if not for the bitter rival? Nothing. Certainly not as intense, without the worthy adversary. It is the gut wrenching moments that prove triumphant for the rival, that breed love for the rivalry game.
What is "The Game" to Wolverines if not for Woody's "because I couldn't go for three" comments in 1968? Where would it be, if not for Troy Smith to Anthony Gonzalez for an acrobatic 26 yard reception in Ann Arbor in 2005? Would it not be just "a game," if not for the Michigan seasons that were ruined by losses to Ohio State, during Archie Griffin's entire career as a Buckeye?
By that same token, what is "The Game" to Buckeyes, if not for the heartache Tim Biakabutuka caused Buckeye fans in 1995, racking up 313 rushing yards while tarnishing a perfect season? Where would it be, if not for the feeling of betrayal inspired by Bo Schembechler's move to the Michigan sideline in 1969, despite his status as an Ohio State alum and former assistant to Woody Hayes? Would it not be just "a game," if not for Jim Harbaugh guaranteeing a Wolverine victory, and delivering, in 1986, while stealing the Rose Bowl bid from the Buckeyes?
These individuals are all architects of the Ohio State-Michigan rivalry, as we know it today. They have all contributed to the ever-evolving list of reasons why it is known as "The Game."
On this day of the 108th chapter of this great rivalry, we look back at one of these icons of the game, Desmond Howard. He may not be an Ohio State fan favorite, but his Heisman pose in the end zone, on Michigan's way to a 31-3 victory over the Buckeyes, was an iconic moment that is forever included in the history of the rivalry. It further fueled the Ohio State loathing of Michigan, and in turn, obsession with "The Game." I had an opportunity to talk to Desmond about growing up in Cleveland, playing for Michigan and in "The Game," and the current state of both programs.
ON THE ROAD TO ANN ARBOR
The story behind the vocal disdain many Ohio State fans have for Desmond Howard, in a way, began long before he ever even stepped foot onto a football field. Howard was born in 1970 in Cleveland, Ohio, and few things have the ability to irk Buckeye fans like an in-state product crossing the border to play for that team up north. Thus, the seeds were planted.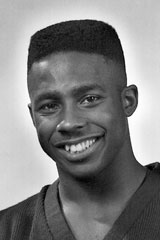 Oddly enough, Howard wasn't even much of a college football fan during his formative years, spent on the border of the heated rivalry. "When I grew up in Cleveland... I wasn't really a huge college football fan. I watched college football, but my preference was pro football... I had a deep passion for [it] as I was watching the Cowboys and Tony Dorsett, because he was my favorite player." He explains that while he was aware of the rivalry, and the players involved, it was really on a surface level. "So, I didn't have strong feelings towards one team or the other, when I was a kid," he says.
Howard eventually played his high school football just 150 miles from Ohio Stadium, at St. Joseph High School in Cleveland1. While Michigan wasn't exactly a plane ride away from Cleveland either, it's always fueled the anger a bit for Buckeye fans that Desmond would leave his home state to play for their most hated rival. So, why wasn't a national powerhouse like Ohio State able to keep one of it's own, especially considering that Howard didn't grow up with a dog in the Ohio State-Michigan fight?
Ironically, Howard's reasoning had very much to do with not being sold on a man that many Buckeyes themselves still have mixed feelings about, John Cooper.
"My senior year in high school, at St. Joe's in Cleveland, was the same year they fired Earle Bruce," he tells me. "When they fired [him], I told my dad that Ohio State was off the table. I said I didn't want to be a part of a rebuilding program. I didn't know this guy they were bringing in, we weren't familiar with him and didn't know what he was going to bring to Columbus. So I told my dad Ohio State is off the table. I didn't even take a trip down there."
This may be hard for any fanatical observer of the sport to truly understand, but it really was, for Desmond Howard, a business decision. In fact, and not surprising for a guy who didn't grow up with an intense, at times illogical passion for college football, he tells me "The first time I stepped foot on the Ohio State campus was in a maize and blue uniform. I never even took an unofficial trip down there."
ON MICHIGAN AND "THE GAME"
Desmond's career at Michigan was certainly a memorable one. In addition to winning the 1991 Heisman Trophy (with the third highest margin of victory in Heisman Trophy history), The Walter Camp Trophy, and the Maxwell Award, he was one of the most thrilling players, ever, to play the game. Though only 5'9', Howard became the first receiver in Big Ten history to lead the conference in scoring.
While setting or tying five NCAA records and 12 Michigan records in a single season, it should come as no surprise that Howard was voted Most Valuable Player by his Wolverine teammates. Heisman.com refers to him as "the heart and soul of the 1991 Maize and Blue."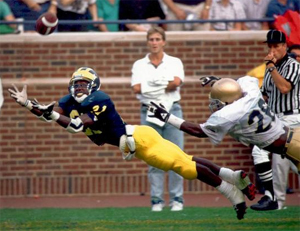 So, now that Desmond Howard was well on his way to being forever known as a "Michigan Man," how did he come to realize the true magnitude of "The Game," seeing that it wasn't instilled in him during childhood?
"Well," he says, "I was very fortunate and blessed to have played for one of the architects of the rivalry, Coach Schembechler. He really made sure you understood the importance of this game, and knew all about it. There was no, 'Oh, it's just a regular game like the rest of the games.' And that's one thing I loved about Bo, he was a guy who would look you in the eye and tell you the truth, and then it was up to you to deal with it the best way you can."
Howard went on further to describe the mood surrounding the team, and the difference for Michigan when playing against Ohio State. "This was a special week, this was a different team. This game has a totally different feel. We understood that. Practices were different. The atmosphere in meetings were different... more intense, more focused. Around the weight room, working out… everything was always very different. I understood that when that week came, it was a totally different week. It was unlike any other week you have had up [in Ann Arbor] throughout the season."
So as that week arrived in 1991, and Howard was on his way to winning the Heisman, he would end up making a quick decision that would forever cement his standing as a college football icon.
When asked about his flashing of the Heisman pose against Ohio State, after scoring a touchdown on a 93-yard punt return and extending Michigan's lead over the Buckeyes to 21, Howard admits that he had originally intended to do something else, should he have scored in that particular game, "but as I crossed the line of scrimmage, I was like 'you know what…?'" Howard's audible delight as he relives the story for me may have gotten the best of him, as I never got to hear the originally planned celebration for that day.
Howard gets back to the anticipation of "The Game" that year and explains, "If you watched me during that whole season, any time I scored a touchdown, the first thing I did was hand the ball to one of the officials, and then I would turn around and celebrate with my teammates. That's just the way I did it. But, I knew that, because I'm from Cleveland, I grew up knowing about the rivalry, I understood it, and once I got there in '89 I really, really understood it. I wanted to do something special. It was against Ohio State, and I thought, 'I'm from the state of Ohio. If I get into the endzone today, I've got to do something special.' And then, I ended up doing that."
What Howard ended up doing, created an iconic moment that would still be talked about over two decades later. One that would grace the cover of a video game2, in a departure from EA's tradition of featuring recent NFL draftees. Did the 21 year old Desmond Howard at the time, who by now understood the rivalry, really grasp the significance of what he was doing?
"No, not at all. If you actually look at the play, and then look at the pose, I don't even know if I held that pose for a whole second. It was really quick, but that one snapshot seems to have frozen in time. Until I saw the tape, I didn't think anything of it. It happened so quick that, had that snapshot not been taken, maybe it wouldn't have [been so iconic]. Even once I saw it, in the papers and everything, I still never thought that it would be what it is today."
On the current state of ohio state
When someone like Desmond Howard discusses allegations against Ohio State, it doesn't exactly fly under the radar. Earlier this year, he was pretty outspoken on his feelings regarding Ohio State's NCAA situation. Five months later, I revisited the issue with him, particularly his thoughts that the self-imposed punishment by Ohio State, wasn't drastic enough.
Howard goes back to his mindset at the time, and explains, "There was so much floating around with Ohio State, and it's hard to remember exactly what was fact and what was fiction. There was so much going on, so much coming out, that it seemed like a blatant example of lack of institutional control, at one point." Howard goes on to discuss the various, current players involved, some of the former players who had come forward3, and the story about the photographer, who claimed to have set up paid signings for Terrelle Pryor.
It seems that now, at least, Howard is waiting for the final decision to pass judgment. "I don't know, at this point, what they're even going to find them guilty of," he tells me. "There were so many allegations and accusations. I don't know what came of it. We'll let the NCAA figure out what was fact and what was fiction. It's tough to say what the punishment will be, until we really realize what they're being punished for."
Jim Tressel's resignation was obviously a result of that entire scenario, but recent news has brought about rumors that Urban Meyer could be announced as Ohio State's new head coach as early as this coming week. Howard mentioned that his arrival seems likely, and that while there are so many different rumors going around, it seems inevitable.
"Obviously Urban has a history there, he's really familiar with Ohio State," Howard says. "It's been awhile since he's been there, obviously, but I think that he's a very good coach. It'll be very interesting. He's got the ability to recruit, he's got a track record that proves he can go out there and get some talent and that he can put together the staff to coach them up and get the most out of the talent that they bring in."
In regards to what he'd be looking forward to seeing, should Meyer take on the Ohio State job, Howard said, "I will be curious to see what kind of offense he tries to run. Would he try to run a similar type of offense that he ran at Utah and Florida, or would he try to do something more suitable for the Big Ten Conference? I would assume that he would try to run the spread, but probably recruit guys like a 'Tim Tebow type', who are pretty much runners that can throw the ball some, who are more physical. Tim Tebow, for example, didn't run the spread like Pat White. He's much more of a physical runner than Pat White. So we'll see if he'll bring in more quarterbacks like that, it'll be interesting."
on Michigan's turnaround and the 2011 edition of "the game"
A far cry from the Dallas Cowboys fan growing up in Cleveland, who didn't have much interest in college football, Howard is now no stranger to the sport, working as a College Football Analyst for ESPN. I asked him what his thoughts are on the turnaround that Michigan has had, under new Head Coach Brady Hoke.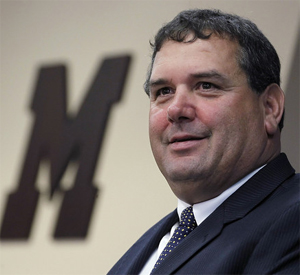 "I think that the two best hires, this offseason, have been Michigan's Athletic Director Dave Brandon hiring Brady Hoke, and Brady Hoke hiring Greg Mattison4," Howard says. "The results bear witness to what I'm saying. He has the potential, if they beat Ohio State, to have a 10 win season and potentially make it to a BCS bowl game. To me, that's outstanding for a first year coach. You look at where they were5, you look at where they are, and in my opinion, for them to have a 10 win season and potentially go to a BCS bowl game, that's an outstanding turnaround in year one."
In terms of why Howard feels Hoke has been a great fit for Michigan, he mentions something that may resonate with Ohio State fans, who may have felt their own skepticism a decade ago, upon the hiring of former Head Coach Jim Tressel.
"He was the right guy for the job, and you have to give Dave Brandon a lot of credit. At the end of the day, often times, you don't need that big name or a hot coach. You need that guy who is hot on you, who this is his dream job and he's been talking about coming to coach at your program... This was Hoke's dream job, that's how passionate he is about the program. Then, you have Greg Mattison who said there was only one job he was leaving the NFL for, and that was Michigan, so he comes on board. So you've got two guys who have coached in Ann Arbor before, who understand the Michigan tradition, who are both very, very passionate about Michigan football. That's what you want, at this level."
When discussing the various factors that have contributed to this turnaround, under the coaching of Hoke and Mattison, Howard had a glowing review for the changes the coaching duo has overseen on the defensive side of the ball. "[Michigan, in recent years] had some very talented skill position players on offense, and, obviously, with Denard being one of the most explosive and exciting players in the country, you knew that they were going to score points on people. But, they couldn't stop anybody. That was the issue, they couldn't stop anyone."
So, what has Howard noticed as the key adjustments in the Michigan defense, that has risen nearly 100 spots in national rankings for scoring defense since last year? "They were playing some garbage defense the past two to three years that kept the players out of position, first and foremost," he explains.
"But, eventually, when Greg Mattison came in, it's been different. The players are in position and guys are hustling. They look more sound on defense. They look like they're more comfortable with the scheme, and they knew where they belong in [it], and that wasn't the case the past couple years. That's what I saw which gave me hope that they would be better than they did the previous years. Now, they have a defense that could step up and stop people."
Howard goes on to note some of the players on defense that Ohio State fans should look out for. "[Defensive lineman] Mike Martin's name comes to mind instantly. He's one of the guys that can be disruptive at the line of scrimmage. He requires extra attention and draws double teams. He can also be pretty good against the run."
When discussing the Michigan linebackers this year, he refers to the situation as "linebacker by committee." Adding that, "It seems like a different guy has stepped up in different games. It's not just one guy, that I've noticed, that you could say, 'Ok, this is the guy at the linebacker position that you have to know where he is at all times.' I don't think they have that player yet at that position, but they have a number of good players that are playing very hard, giving great effort, and as a result making plays out there."
To round it all out, Howard adds cornerback J.T. Floyd to the mix, emphasizing that he, "is playing very well right now. He's been able to make some plays on the ball. Very good pass defense."
Enough about Michigan, though. What does Desmond Howard think about the Buckeyes, and why they might pull off the upset over the 7 point favorite Wolverines?
"I've thought, and I've said this consistently, that [Ohio State has] one of the better defenses in the Big Ten. And I've said early on that they're better than Michigan State's defense, because of the way they've been able to keep their team in the game, despite the lack of productivity on the offensive side of the ball. If you have an offense that is consistently going three and out, it puts a lot of pressure on your defense. So I've thought that, in spite of that, they've been playing very well and have given their team a fighting chance in most games."
He switches his praise over to the offensive side of the ball, adding, "I think Boom Herron runs the ball extremely hard, he's a physical runner who just runs hard. And, they've got those nice offensive lineman who have been blocking up front."
He credits Braxton's potential, as well. "I think Braxton Miller has the potential to be an X-factor, though I don't think he is just yet, because he is still very young," he says. "As a true freshman, though, he's shown the potential to be that guy who could be an X-factor."
So, does the Michigan Man, turned ESPN Analyst have a score prediction to share? In true ESPN fashion, he laughs and tells me we'll have to tune in Saturday morning for that.
---
Big thanks to Desmond Howard, for graciously offering his time and insights to a Buckeye and an Ohio State site, in the name of Big Ten camaraderie. You can check out Desmond's site by clicking the link here: DesmondHoward.com or follow him on Twitter at: @DesmondHoward.
1 St. Joseph High School in Cleveland is also the alma mater of Bob and Mike Golic, David Lighty and Clark Kellogg.
3 Howard even describes one of Pryor's accusers as looking for his "15 minutes of fame"
4 Michigan's defensive coordinator, a hire from the Baltimore Ravens.
5 Michigan was 7-6 in 2010.