My darling, fellow Buckeye fans,
Do you know what today is? I hope you haven't forgotten... it's our anniversary!
Before you scramble to find something you can pass off as a gift you've had waiting for me in your closet for weeks, don't worry... you didn't have to buy me anything. The everlasting memory of this glorious day, five years ago, is good enough for me! Even jewelry can't come close to this.
To celebrate all the wonderful times we've spent together, here's a video of November 18, 2006... a day I will never forget. I just wish it could fully capture the highs and the lows (you didn't really want a link here, did you?) we've shared together over the past five years. Even the memories that are, apparently, just a figment of our imaginations... are just so, incredibly, magical.
Even though we've had our doubters, and those haughty Southerners down the street think what they share is so much more special, I'll never forget the gorgeous autumn days we've spent together... or those scantily clad nights at the lake.
Thank you, for all the memories. Here's to making more!
Love,
Elika
URBAN PLANNING. I never understood the fascination that so many women have with soap operas. Between conference realignment, playoff debates, heated rivalries and coaching changes... the drama in sports isn't enough? If only General Hospital addicts knew what they were missing, the entertainment provided by past and present SEC coaches alone could be Daytime Emmy worthy.
The Urban Meyer saga further developed this week. When we left off, last week, Meyer had released a statement saying "I am very happy with my role at ESPN. I have no plans to return to coaching at this time."
Monday brought us news that Urban met with Arizona AD, Greg Byrne, and declined the Wildcats' head coaching position. Wednesday brought us Plane-gate, with rumors swirling that Meyer may have been on this private plane from Gainesville to OSU Airport. And finally, Thursday... the Twitter world went crazy with multiple Urban Meyer rumors. One stated that Meyer had signed a 7 year, $35 million deal to be the next coach at OSU. Another, that Scout.com was reporting Urban to Columbus is a done deal.
Finally, your often reliable Eleven Warriors tweeted Thursday night, "We are 99.7% sure Urban Meyer has agreed to a deal to become the next coach of Ohio State. Solid sources. Plural. Just to clarify: We were being serious. No timetable for announcement yet, obviously." Obviously, 99.7% isn't a done deal, but it was the highlight of my day, at least.
PENN STATE GAME UPDATES. Am I the only one surprised by the realization that tomorrow is Senior Day? It feels like just yesterday I was buying into the whole "Shock the World" campaign. Oh, how wonderful those days were!
Anyway, enough of my ramblings. Coach Fickell spoke to the media Thursday and discussed some injury updates, Senior Day and the Nittany Lions. Here are some bullet points covering his press conference:
Sweat: Fickell said that he wouldn't necessarily say that Sweat is definitely out for Saturday, at this point, but his demeanor definitely indicated that we won't be seeing him on the field against Penn State. He mentioned it's a priority to the coaching staff to make sure they are making this decision in Andrew's best interest.
Shazier: Fickell briefly discussed the great job Shazier did last Saturday, stepping in and doing a good job when called upon.
Hankins, Shugarts and "Philly" Brown: In typical Fickell fashion, he mentioned that we will have to wait and see about the status of these three, mentioning it's the job of the coaches to be smart and figure out what these guys can handle on gameday.
Brewster: Fickell talked a bit about Mike Brewster (who will be making his last start at Ohio Stadium on Saturday) and what he's meant to the OSU football program during his time in Columbus. Fickell mentioned what an unbelievable job Brewster has done, even as a senior in high school, acting as a leader during the recruiting process, and working hard to bring other valuable players to the program. He also discussed his "natural personality" and the way he's picked up a lot of slack for the team this year.
Posey: Fickell mentioned that the team still has another day of practice, that could influence whether or not Posey will be starting on Saturday. He mentioned the coaching staff, and the team, are confident in what Posey can do and the way he can handle the situations, also saying that the other guys have a lot of respect for him. He mentioned the boost Boom's return gave to the team, when asked about what Posey's return could mean, mentioning that the emotion, energy and confidence boosts, in the huddle and the locker room, are just as important as the on field production for these players, when they return to the field.
Penn State: When asked about Penn State's visit to the Shoe, and any gestures that are planned given recent events, Fickell (several times) tried to reiterate that "it's about a football game" and that they are all "focused on the football game." He did mention there would be a pregame handshake, but at the end of the day... "it's about a football game."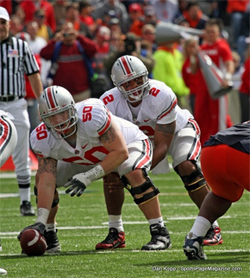 BUCKEYE BASKETBALL. The Ohio State Basketball team looks to go 3-0 tonight, hosting the Jackson State Tigers in Columbus. The Tigers (0-3) seem to be traveling around the country looking for butt-whippings, having already lost at #10 Florida and #12 Baylor. Ohio State, off an impressive win over the Gators, should have no problems with Jackson State. If you're looking for a Jackson State player to watch out for, Jenirro Bush is their leading scorer, averaging 14.5 points and 4 rebounds per game.
THE (SYR)ACCUSED. Just when headlines of the Penn State scandal weren't quite dominating like last week, it was reported on Thursday that Syracuse Basketball assistant, Bernie Fine is being accused of molesting a former ball boy for the team.
Bobby Davis, the accuser, said the alleged abuse began in 1983, and continued for over ten years. Syracuse Coach Jim Boeheim firmly defended Fine in a telephone interview Thursday night, pointing out several fishy aspects to this whole story. In fairness, this story still has a way to go before reaching Sandusky-level proportions. For one, the other alleged victim that has come forward, happens to be the stepbrother of Bobby Davis. Secondly, Davis claims the child abuse continued until he was 27 years old. Finally, it appears that Davis had given Syracuse four people he claimed would corroborate his story, and none have. You can read more about this case here.
YOUR TIME SUCK FOR THE DAY. Keep a tissue handy when you read this one.... Even this story managed to have a sexual harassment reference... Don't piss off Jim Boeheim... Have you prayed to Tim Tebow today? Any parent should be able to appreciate this... How awkward does Urban look?