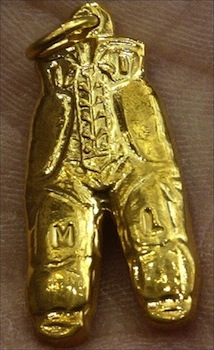 Iran. North Korea. The whole state of Michigan. These are our united foes and when the odds stack up most prohibitively, surely collecitvely we're at our best. In order to help defeat one of history's greatest monsters, we prefer to leave nothing to chance. In doing so, we welcome in ESPN First Take's (and huge Buckeye fan) Jay Crawford.
Unlike the traditional Dubcast format of recap->guest->preview, to ensure the highest probability for victory, we hit the ground running with our guest and don't stop until 8 in the morning p.m. Jay, Johnny, and myself address the following:
-The general disjointedness of Ohio State's 2011 football season and how we reflect on it as a whole.
-Has there been an edition of The Game with as much attention away from the field as on it in recent memory?
-The Meyer hoopla in general and whether or not he's as ideal of a fit as he seems on paper.
-We get the details on Jay's most memorable Michigan game (and a few others that stand out in his mind).
-Finally, we talk about his long history of bets with colleague (and terrorist Wolverine sympathizer) Dana Jacobsen and whether or not he's worried about this year's version of their wager.
Johnny and I wrap giving our brief feelings on The Game and then make fun of Michigan. Be sure to make the whole family listen to this one.
Right click save as here if you want to hear the only voices smoother than cranberry sauce. Check out the iTunes Store if that's your jazz or just hit play below and live the dream:
The music on this edition comes courtesy of the Dead Schembechlers. If you truly want to embrace the hate, let it build in your heart, soul, minds, and ears.