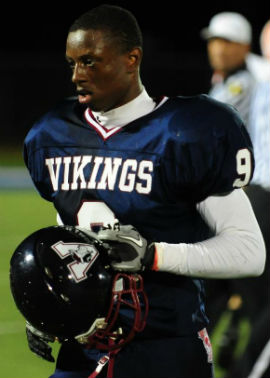 Coming into last weekend we knew a big recruiting weekend was on tap for Ohio State. The highly ranked Badgers were coming into Ohio Stadium for an 8 PM kickoff, it was homecoming, Eddie George was being honored at half time, and of course it was Drink Too, Brutus and Eat Too, Brutus.
The coaching staff hosted some of the top players both in the class of 2012 and the class of 2013 and the list of visitors was everything you could hope for from a recruiting perspective. While the Bucks only came away with one commitment this past weekend, in the form of Mike Thomas taking the silent out of his verbal, the atmosphere in the 'Shoe definitely helped OSU's cause with many of the players on hand to witness the victory.
Some players weren't able to make it to the game last week, but have been keeping close tabs on Ohio State and what they have been doing this season. One of those players is Eli Woodard of Voorhees, New Jersey, who many of you should now know after we've featured him not once, but twice in our "Catching Up" segments. 
Woodard has been a Buckeye fan since he was younger and now, as one of the top juniors in the entire country, has Ohio State's eye as he approaches the heat of his recruitment. Eli was nice enough to sit down with us once again to talk about how his senior season is going, his thoughts on Ohio State's season, when his next visit to Columbus will be, and much more. Join us after the jump to find out the latest on Eli Woodard.
How are things going with your senior season? What's your team's record and how have you been performing as an individual thus far?                                                                                 It's been an interesting season. We're currently 3-5 with one more game to go. We lost 3 games by 6 points or less and have played the second hardest schedule in the state (based on power rankings). A lot of time you will hear a team say they "could be 5-2 or 6-1" to try and make excuses or explain things away, but honestly we could be. No team came away from a game saying they weren't lucky to pull off a win and knew they had to bring their 'A-game' to do so.
As for myself, I put together a solid junior year campaign. I didn't have too many plays go to my side of the field in the passing or run game, but made the most of making plays when they came my way. I was able to contribute to the offense at WR and Wildcat QB this year and impacted special teams with 5 blocks.
What's going on with your recruitment? Do you have a better idea of where things stand and what teams stand out to you?                                                                                     Recruitment-wise, before the day of September 1 [first day juniors can be officially offered] ended, I think I heard from just about every school you can think of. It was a very humbling experience and everything about my recruiting experience and opportunities are a blessing that I don't take for granted for a second. It really makes me work harder and harder because I know in order for me to have an impact at the next level that I have a lot more work to do.
What visits have you taken this season?                                                                                    I attended the Ohio State game on Opening Day against Akron. I really wanted to be there for the first game of the season and show my support for the coaches. I also attended the Pitt at Rutgers game and had a very nice experience there. I haven't had time to make it to any other games this year and even had to cancel my trip to USC at Notre Dame last minute due to a change in schedule of my high school game.
When is your next trip to OSU? What are you looking forward to while you're there?              I plan on getting back out to Ohio State for the last home game of the season against Penn State. I'm really looking forward to seeing where things are at in general, and, overall, what type of direction can be expected with the future of the program. I also look forward to seeing the players and coaches who have been working hard all season, which is really all starting to show. 
Have you been following the Buckeyes this season? What are your thoughts on the team this year and do they have an impact on your decision?
This team and this coaching staff have a lot of fight in them. They have had to overcome one set back after another and a lot of players have had to step up to fill the needs of the team and represent the history of the program they are playing for. Having seen things over the past year, I can see the energy of a team that has everything to prove and everything to win for. If you don't like that then you must not like football!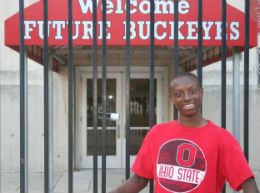 Are the Buckeyes still the favorite to land your services?                                                             I have a ton of respect for all the schools that have offered me to date and that are taking the time to let me know what their schools and programs are about. It's no secret Ohio State is up there at the top for me and I certainly hope the future clears its self up in a timely manner so everything can be properly evaluated.                                                                                                                                                                 
If OSU were to hire a new coach at season's end, would that impact your feelings on Ohio State? Would you have a preference of who that coach would be?                                          All I know is that the entire coaching staff starting with Coach Fickell deserves to keep the ship moving forward above anything else and they are doing a great job. The energy of the program under their leadership is special and I could see myself playing for all of them anytime, anywhere. So I hope the powers that be get it right and everyone knows what's going on when it comes to the future, sooner rather than later. 
Do you keep in contact with any recruits from your class?                                                          This is a very busy time of the year for all of us between the academics of the junior year and being in season, so contact with anyone has been limited. Cam Burrows and I were introduced to each other on opening day and he seems real cool and it was nice getting to kick it. I see our names mentioned a lot together along with some other special 2013 guys out there and look forward to connecting with them all as things start to move forward. 
Do you have a timetable for your decision yet?                                                                           I'm still on schedule for it to be sooner rather than later and certainly well before the start of my senior season. It will definitely be early, especially if I can become eligible for early enrollment, which I am working on accomplishing with my high school. I am just happy, thankful and very appreciative I have a decision to make to begin with and have a lot of people in my life to thank for that from my parents, coaches, teammates, and friends.