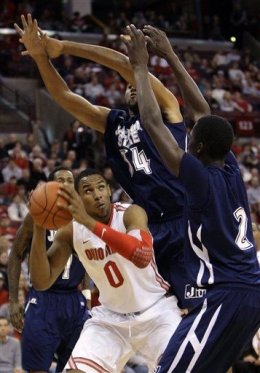 Props to Jackson State as they hung in there for exactly six minutes longer than I thought they would. 
The Tigers actually held an 11-10 lead over Ohio State at the 14:03 mark of the 1st half but the Buckeyes responded with a 32-4 blitzkrieg over an 11 minute span before coasting into the locker room with a 46-17 cushion.
The stripping of manhood would continue in the 2nd half as the Buckeyes cruised to an 85-41 victory, improving to 3-0 on the young season and running their homecourt winning streak to 25.
Jared Sullinger led four Buckeyes in double figures with his first dub-dub of the season, a 20 point, 11 board performance in just 21 minutes of action. Sully dropped 6/7 from the stripe, improving to 24/27 on the young season. 
William Buford, DeShaun Thomas and Jordan Sibert all chipped in 11 points apiece. 
Buford was far from sharp shooting a so-so 4/10 coupled with four turnovers while Thomas fared better hitting 5/10 with three boards and zero turnovers in 17 controlled minutes. 
Sibert was the bigger story as he hit 4/9 from the floor including 3/7 from distance with two just rimming out. His three triples represented the total team output as the Buckeyes shot just 3/15 from beyond the arc (20%) despite shooting 48% overall. 
Ohio State scored 41 points off 26 Jackson State turnovers. 
As expected, OSU controlled the windows 41-25 posting an impressive 22 offensive caroms including five from Amir Williams. The 6'11" freshman finished with seven boards and five points to go along with a blocked shot. It was a nice stepping stone for the kid but I still don't see him on the floor unless foul trouble forces him into action against marquee opponents. 
Conversely, fellow freshman Shannon Scott will likely see minutes in almost every game this season and he was active in this one with six assists and three boards in 23 minutes. He paired with Craft midway through the first half and showed some growth despite five turnovers. 
Sixth man Evan Ravenel saw just 11 minutes but was productive posting six points, three assists and two boards. 
Eleven Buckeyes recorded at least 11 minutes of action including JD Weatherspoon, who showed no ill effects from an ankle and Sam Thompson was active with six points on 3/6 from the floor. 
Looking sleepy following the decisive win over the 8th ranked Gators on Tuesday, the Buckeyes started this one shooting 4/11 with three turnovers before awaking from their slumber.
I'm 99.7% sure eleven Buckeyes scored in the first half led by 16 from Sullinger and seven from Buford. Despite those two combining for half of OSU's 1st half point total, Craft stole the show, literally, recording four steals in 13 minutes to go along with four assists.
After a Sully putback started the 32-4 frenzy, Craft unleashed his full repertoire including one sequence in which he recorded a steal (Sully miss), took a charge in the lane leading to a Sibert bucket, picked up a loose ball and found Ravenel for a layup, and forced a shot clock violation before hitting a layup in transition - all in about 2:14 of game time.
Besides all the dominance you'd expect from Sully and Craft's ridiculous end to end impact, Sibert and Scott also impressed.
Sibert again showed how dangerous a shooter he can be if found in rhythm as Scott located him twice, once at the top of the key for a deuce and later on the right wing for three extending the Buckeye lead to 26-11 with 9:54 left in the half. Scott's more settled approach to offense was good to see, as was he and Craft on the floor at the same time for a decent stretch.
For the half, the Buckeyes picked up nine steals and scored 23 points of 15 Tiger turnovers. OSU also controlled the glass 25-12 behind 10 rips from Sully and shot 51% while holding Jackson State to 32%. 
Kelsey Howard paced the Tigers with 17 points. 
Next up for the Buckeyes is a date with North Florida at 8:30pm Monday night. The game will be televised by the BTN and is the first of three games during the holiday week.