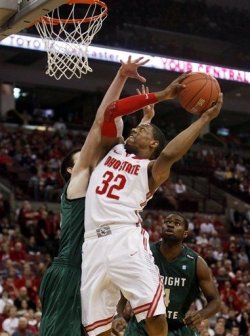 It wasn't pretty thanks to 14 Buckeye turnovers, 23 by Wright State and 45 combined fouls whistled by the always awful Mike Sanzere and crew but Ohio State got 19 points and nine boards from Jared Sullinger, 13 points from William Buford and 10 from Aaron Craft as the Buckeyes outlasted the Raiders 73-42 tonight in the season opener tonight in the Schott.  
The tempo was stuck in the mud throughout but particularly early as the zebras sought the cameras dialing up 16 fouls in the first 13 minutes of a non-conference November mismatch. 
To their credit, Wright State took advantage of the snails pace and undisciplined play from the Buckeyes as they trailed just 19-14 with 8:20 left in the first half. 
Busting out of their doldrums following a tongue lashing from Matta, the Buckeyes closed the half on a 15-6 run highlighted by a Lenzelle Smith triple, an alley oop to JD Weatherspoon and a Sullinger layup to take a 34-20 lead at the break. 
The ridiculously officiated first half saw the Buckeyes drain 16 of 21 free throws (76%) while shooting just 8/20 from the floor (40%). Meanwhile the Raiders hit just 7/17 shots (41%) but outrebounded the Buckeyes 14-12 and hit 4/7 from deep to remain within pseudo striking distance. 
After a gut check at the half, Ohio State stormed out of the locker room scoring the first 10 points of the 2nd half stretching the lead to 44-20 with roughly 15 minutes to play. 
Despite a rough first half riddled with poor shot selection (1/4) and decision making, Buford fueled the run hitting a leaner to start it before back to back baskets to finish it via a nifty scoop in the lane followed by a patented pull up jumper in traffic. Sully contributed a putback jam during the decisive blitz. 
The game was never close from there as Thad substituted freely. 
For the game, the Buckeyes shot just 44% from the floor and 46% from deep (5/14). They also struggled at the line despite a hefty dose of opportunites hitting just 26/38 (68%) though Sully (10/12) and Craft (7/8) combined to drain 17/20. Ohio State did manage to own the glass in the 2nd half resulting in a 33-24 edge on the night. 
Through the small sample size of two games (one exhibition), there are more than a few storylines emerging.
First, Lenzelle Smith looks damn good. Focused on being a defensive stopper, he recorded seven boards and two steals in 20 minutes. Clearly, he knows Matta is looking for a lean, versatile defender to complement Craft's stifling on-ball defense out top and so far Thad has found his man. Smith is also playing a controlled offense to dat and hit 3/6 including 2/3 from distance to add eight points in 20 minutes of well rounded effort. 
Second, Deshaun Thomas looks to be struggling a bit with his evolution into a multi-dimensional player. He was awful early before picking it up late. In total he scored nine points on 3/7 shooting with five boards but he turned it over four times and got beat defensively on a few occasions of lackluster effort. I have full confidence he'll continue to evolve but so far he looks like he's still finding his way as the starter at the wing-slanted four spot. 
Third, I get that Matta is trying to help Sully's NBA stock by allowing him to roam away from the basket, face up and either shoot or look for open cutters but I can't help but feel this strategy might not be the best thing for Ohio State in 2011-12. With all the talent on the perimeter, Sully is so much more needed, and valuable, on the low block than he is wandering outside. My opinion might change if Amir Williams turns into a dependable big man or Evan Ravenel proves he can effectively bang down low once conference play begins but for now, I struggle with seeing Sully at the top of the key when the roster is loaded with guys more suited to face the basket from 17+ feet but deficient in guys who can rebound and score in the paint. 
Now, don't get me wrong, I'm not hating on the idea (yet), I'm just saying we need to keep perspective on how OSU is best suited to win not on how Sully is best suited to improve his draft stock. 
The key to Matta being able to keep allowing Sully to roam is Ravenel. I've seen flashes in the short sample size to see a poor man's Othello Hunter, I just need to see more. This is especially true if Thomas doesn't prove capable of eating glass against the big boys on the schedule in games played in the halfcourt. So, the jury's still out but I think it's definitely something to keep an eye on. 
Scanning more of the reserves, I thought Shannon Scott looked a little more comfortable but still not as comfortable as I expected. I'm anxious to see how he fares Tuesday against the Gators. He's got talent but he seems like a freshman QB in that the game looks to be going a little too fast for him so far. He'll get there, I'm just waiting for the bulb to go off. 
Jordan Sibert was the seventh man tonight but didn't show much other than rushed shots off the pass after looking really good against Walsh. Bottom line offensively, he's probably going to be a streak shooter so Buckeye fans will have to get used to it. He's certainly capable of filling it but considering he's not looking to drive much, prepare yourself for feast or famine on most nights. Thad clearly has plans for him to play situationally so it's up to Sibert to capitalize. 
Sam Thompson wasn't as electric tonight but I was glad to see him get so much time (14 min). Thad appears to know what he has in 'Spoon so he's smartly seeing if Thompson could play his way onto the court as a 9th man. The way it looks, you've got your starters (Sully, Thomas, Smith, WB, Craft) then Ravenel as the first big man off the pine and Sibert as the first guard. Shannon Scott is going to get every opportunity as the 8th man leaving Thompson starving for perimeter minutes and Williams looking for the same as he backs up bigs Sully, Thomas and Ravenel. Thad won't go deeper than than eight real games unless he's forced to so Spoon and Thompson need to dazzle if they want t see any action when it counts. 
Speaking of when it counts, the Buckeyes welcome the 8th ranked Florida Gators to the Schott on Tuesday night for an early litmus test. ESPN has the tip at 8pm.