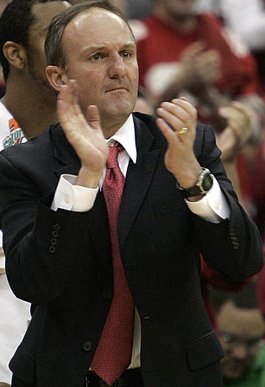 Ohio State used a 19-2 run midway through the first half and a 12-2 blitz opening the second to build a 60-30 lead before cruising to a 95-49 blowout of Walsh this afternoon in their one and only exhibition game this afternoon in the Schott. 
The Buckeyes placed four in double figures led by 17 from William Buford (5/11 FG, 3/6 from deep), who also dished out five dimes with two steals in just 21 minutes of action. Dude looks to be in mid-season form as he showed no ill effects from his crushing off night as OSU was bounced from the NCAA tourney by Kentucky last March. 
Jared Sullinger poured in 15 on 7/9 shooting including 1/3 from distance while adding six boards in 23 minutes. As expected, the new look, super svelte Sully roamed a little further from the basket to showcase an expanded offensive game though he did start the game as the five man. Personally, based on what we saw from Evan Ravenel and more importantly what we didn't see from true frosh Amir Williams, I am not yet a believer that Sully will be able to roam as far from the basket as he might like as he looks to show the NBA his full repetoire. 
Aaron Craft was his usual demonic self on the defensive end as he constantly frustrated Walsh ball handlers, often not allowing them to even initiate the offense before someone jacked up a triple. In just 22 minutes, Craft had four steals and six floor burns to go with three assists and four points. As most fans already know, his numbers don't typically tell the whole story as he is without a doubt the best on ball defender from the guard spot in college basketball. 
DeShaun Thomas, assuming his new role as a starter at the four spot, somehow took only seven shots in 18 minutes totaling seven points. What I liked about Thomas this afternoon was what he was did well last year when focused and that is hitting the offensive glass. He grabbed three of his four boards at the offensive end putting one back to give OSU a 46-28 lead late in the half. 
Rounding out the starting lineup was sophomore Lenzelle Smith Jr. The 6'4" guard was incredibly active on the glass hauling in eight boards in 23 minutes to go along with six points (3/5) and three assists. Clearly, he's improved tremendously from a season ago. Beyond the rebounds, Smith came to play defensively applying good ball pressure and no doubt that, combined with his athletic willingness to rebound, has gotten Matta's attention. 
After a Kenny Kornowski trey tied the game at five, the Buckeyes went on a 19-2 run to take a 24-7 lead at the 11:38 mark. 
Sully scored four during the run including a step back 17 footer and a putback of a missed Buford triple try while the WB added six points of his own including a dribble drive from the top of the key, another from the baseline and finally two free throws. Typically more than willing to punish teams with his deadly midrange game, Buford seemed more intent on getting to the hole in the early going. 
A Thomas leaner pushed the Buckeye lead to 26-7 before Matta installed three freshmen and two sophomores to see what they could do. Thomas immediately took two bad shots, airballing one, and Shannon Scott got off to a sluggish start with a couple turnovers and a brick from downtown allowing Walsh a modest 8-2 run trimming the lead to 28-17 with 7:46 left in the half. 
With Matta substituting freely, Jordan Sibert responded with a quick release triple, Williams registered a swat at the other end and J.D. Weatherspoon capitalized with a driving layup off a nice feed from Scott to make it 33-17 Buckeyes. In between a Walsh turnover and a three point play from Ryan Burrell, 'Spoon kept slashing through defenders with a layup and monster jam via a nice look from Buford and eventually added another bucket in traffic putting OSU up 41-25 at the 2:54 mark. It's hard to tell against such soft competition but Weatherspoon was very impressive scoring 13 points on 6/7 shooting in just 11 minutes of action. Dude is a high flyer, a trait this team possesses in abundance. 
With OSU leading 41-28 around the two minute mark, Matta reinserted the starters and they responded closing the half on a 7-0 run to take a 48-28 lead into the locker room. 
Buford drained a triple, Thomas recorded a putback of a Smith miss and was hacked in the act for a conventional three point play and Sully putback a Thomas miss to round out the scoring. For the half, OSU shot a blistering 60% from the floor, held Walsh to 41%, owned the boards 23-9 (10-4 off) and built a 34-16 edge on points in the paint. 
The order of subs off the bench looked like this: Scott, Ravenel, Siebert, Sam Thompson, Williams and Weatherspoon. Trey McDonald was the lone Buckeye that didn't play in the first 20 minutes and could eventually be a redshirt candidate. 
The offense showed more pick and roll than you are used to while the defense was a tough and extended as you've come to expect when Matta has the horses to not save energy in zone. 
The 2nd half was more of the same as OSU started on a 26-7 run pushing the lead to 74-35 with 11:04 left. 
Buford started it with an excellent post feed to Sully for two before Craft drove baseline for an easy layup then found Thomas on the fast break for another layup. Following what might have been Walsh's eighth airball of the night, Sully splashed a triple giving the Buckeyes a 57-30 lead and forcing Walsh to call timeout. 
That didn't slow the bleeding as Sully swatted Cameron Mitchell (that's his name, I swear) leading to a Smith thunder dunk. Walsh did then put together a couple successful trips but it didn't last long as Buford hit two free throws and bottomed a triple before Scott started to show some flashes finding Sibert for three then hitting his own driving layup to make it 70-35 good guys. 
Speaking of Sibert, he played exceptionally well in the three point specialist role scoring 15 points on 5/6 shooting including a scorching 4/5 from distance in 16 minutes. He's got that same lightning quick release we saw a few times last year and looked very comfortable out there, even playing some solid D. 
For the game, Ohio State shot 61% from the floor and 47% from beyond the arc (9/19) but hit just 12/24 free throws. I know, you were hoping for better with Dallas no longer eligible but apparently Ravenel is willing to take his throne as his 2/6 masonry illustrates. Thomas was just 1/3 and Sam Thompson 1/4 while Scott hit 2/4.
The Buckeyes won the glass 46-22 and forced 19 turnovers against 13 of their own. Scott was the prime suspect here with five miscues. I have little to zero doubt Scott won't be a legit contributor this year but he looked very shaky for most of his 20 minutes tonight including his 1/5 from the floor and three fouls. He did add three boards and two assists. It looked like maybe a case of trying to do too much. 
As for the glass advantage, Ravenel was a chief contributor with a team high eight rips in just 11 minutes (Smith also had 8 in 23 min). He isn't going to score a ton of points unless they are off putbacks but he was active on the defensive end which is all Thad needs from him. Being able to count on Ravenel means less pressure on Sully to do everything down low and though it was a small sample size, Williams showed he's got plenty to improve upon before he can be of legit help in the paint. He's got a shot blocker's mentality but he needs to put on weight before he can likely add much more than a few minutes and a couple blocks in games against solid opponents. I'm not sure if he's got the offensive game for it but maybe Ravenel can mature into a poor man's Othello Hunter. Maybe. 
Quickly touching on a few other guys, Sam Thompson is athletic a player as you will see. He was very active in 17 minutes recording nine points on 4/4 shooting, five boards, four steals and three assists. The 6'7" freshman out of Chicago also had two blocks, blowing me away with his athleticism. He could develop into a ridiculously well rounded player for the Buckeyes in the mold of Evan Turner. Though I'm writing probably the least about him, he excited me the most out of all the freshmen. Keep your eyes on this kid. 
The real season starts Friday night as the Buckeyes welcome Wright State to the Schott for a 9pm tip that can be seen on the Big Ten Network. Don't get swallowed up in the "it's still football season" crap. This team has a legit chance to cut down the nets so get on the bus early. I'll be driving.