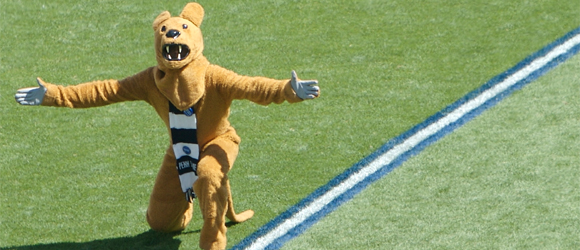 One year and three days ago, Ohio State and Penn State met in Columbus, with the Buckeyes defeating the Nittany Lions, 38-14.
It's stunning to think about how things have changed since then, not only for these two programs, but for the sports world in general. The two legendary head coaches that shook hands that day combined for 502 wins. The two that will meet at midfield Saturday, combine for 6.
Both programs' fanbases that watched that day took pride in their program doing things "the right way," and that their coaches were, each in his own way, unbreakable. While the scandals these two programs face are of wildly different natures, it's greatly apparent that things will not be the same for either, for the time being.
In this moment in time, that has taught us just how much certain things are bigger than football, we are also reminded that football can be the escape that is so desperately needed. As both universities and athletic departments look to see what lies ahead for their future of their programs, both teams look ahead to Saturday's game, providing fans a three hour escape.
Penn State alum Ty Hildenbrandt, of The Solid Verbal, and I look ahead to Saturday's game as well. Thanks to Ty for his inside look at Happy Valley, and the Penn State football team.
Penn State is 8-2 thus far, with their only losses coming to #3 Alabama and #16 Nebraska. How does this differ, if at all, from what your preseason predictions were for the Nittany Lions this year?
It's funny, because after Penn State's ugly win against Illinois, I found myself looking at the newspaper and asking whether an 8-1 record and No. 12 ranking was accurate or a typo.  There's no doubt this season has been under whelming in many regards, but actually, at the start of the season, the general consensus was that Penn State could be 8-1 headed into the Nebraska game given its back loaded schedule.  So, it's not entirely unforeseen, it's just been so unspectacular that it kind of feels as if each win has been stolen off the back of a truck.
There are have been numerous stories coming out of Happy Valley recently, describing various reactions to the news that broke. Having been there yourself last weekend, how would you describe the mood and attitude that most accurately represents the majority of Penn State fans now?
Penn Staters are inconsolable and disgusted after the news of Jerry Sandusky's actions and the alleged cover-up by university officials.  And regardless of what you might think, I spoke to exactly zero people last weekend who thought that Joe Paterno and Mike McQueary should still be involved with the football program.  The community hates that such hasty coaching moves had to be made, but certainly understands and supports the underlying logic.
To an extent, I think the Penn State community also feels misunderstood.  People see images on television—rallies on Paterno's front lawn and "riots" in downtown State College—and are outraged.  The popular question has been "how can you support a man like Paterno after all this?"  Perhaps you need to be plugged into the culture to fully grasp it, but I think it's possible for people to both love and hate Paterno at the exact same time.  I'd compare it to someone close to you committing a crime; you could still probably find it within yourself to love that person while hating what he or she had done.  We actually heard this kind of sentiment from Bernie Madoff's son.  Suffice to say, Paterno doesn't appear to be a legal target, but I think it's an apt comparison.  The Penn State community will never hate Paterno, but very much disapproves of any role he may have had in this mess.
Oh, and in regards to the idiots who tipped over a news van on Wednesday night, they should be kicked out of school.
How would you rate the coaching staff's performance on Saturday, given the changes in personnel, and the distractions they have had to deal with?
All in all, I think a B is reasonable.  Simply being competitive against a team of Nebraska's caliber was an impressive feat given all the off-field distractions.  As expected, Penn State played well defensively, and its defense remains the biggest reason why it has eight wins.  But, offensively, the Nittany Lions were a mess.  With Mike McQueary not on the sidelines, Jay Paterno was forced to step into the role of signaling plays to Matt McGloin, and it took a full half to get oriented.  Penn State is always conservative, but on Saturday it was also disorganized, which made matters worse.
Stephfon Green, who has had some off field issues this year, helped Penn State climb out of a 17 point deficit with two 2nd half touchdowns. Do you think Green felt a need to prove himself in this game, after the way his season has gone, that ultimately led to his performance?
There was a time when Penn State thought Stephfon Green could be the next big thing.  Obviously, that never happened, and I feel like Green still wants to prove his merits.  So, when Silas Redd got injured, Green hit the ground running.  To be honest, though, the entire team was being fueled by emotion throughout the second half, and my hunch is that Green fed off that.  This is a team that wanted to win for Penn State and the community.  They almost pulled it off.
Can you talk a bit about Penn State's slow start against Nebraska, and what some of the contributing factors were to that deficit? Do you think some of the off field distractions leading up to the game may have played a role in that?
Absolutely.  I can't stress enough how huge of a distraction this scandal has been.  I've been getting e-mails from people with desk jobs who said they couldn't focus at all last week, and these people weren't even Penn Staters.  So you can only imagine what kind of effect this all had on the program, which was essentially put in a no-win situation.
I'd also point to the fact that Nebraska just played a solid game across the board.  Rex Burkhead is a man among boys and Taylor Martinez showed me a lot on third down.  Factor in Penn State's lingering problems on offense in addition to being shorthanded on the coaching front, and it's pretty easy to understand the deficit.
Who are some of Penn State's key players, on both sides of the ball, that OSU fans should look out for this Saturday?
If he's healthy, Silas Redd should be the focal point of Ohio State's defense.  Redd is one of only four Big Ten running backs averaging over 100 yards per game, and one of only three averaging more than 20 attempts.  Also, Derek Moye is worth mentioning as Penn State's main receiving threat.  Moye wasn't a highly-touted prospect out of high school, but has emerged as Penn State's leading receiving threat, mainly due to his 6'5" frame.  Moye had a huge play on an deep ball against Nebraska which set up Penn State's first scoring drive.
Defensively, Penn State is solid across the board.  One name that you won't hear is that of junior Michael Mauti who went down earlier this season with a knee injury.  But linebacker Nathan Stupar has stepped up in a big way, helping lead this defense the rest of the way.  Factor in Gerald Hodges at the other outside linebacker position and Penn State remains stout on the edges.  Also, tackle Devon Still continues to be great up front and made his presence felt last weekend against Nebraska in a big way and continues to be a disruptive force.
Penn State ranks 102nd in the country in scoring offense. What have been PSU's glaring weaknesses this year, as it relates to getting points on the board?
I'm resisting the urge to just answer this with "offense" and move to the next question…
If you're forcing me to be specific, then the obvious answer is the quarterback position.  Despite Matt McGloin's grit and determination, he is, at best, a very good intramural quarterback.  There's a reason he was a walk-on, and though he's been the lesser of two evils this season, I still don't think he's the long-term solution if Penn State wants to become a more consistent and potent threat over the next two seasons.  In fact, one of the more popular jokes floating around the web last week was that McGloin wanted to throw Paterno a retirement party, that but that it sailed out of bounds.  We all know it's inappropriate to say something like that.  He would've thrown it five yards short.
With better quarterback play, this could've been a much better team.  Even on Saturday, fans in the crowd were wondering if we might see a move to sophomore Rob Bolden.
Conversely, Penn State ranks 5th in the country in Pass Defense. Ohio State hasn't had much of a passing game to speak of, ranking 118th nationally in Passing Offense. Do you have any doubts that the reinstatement of WR DeVier Posey won't be an issue for your coaching staff to prepare the defense for?
Posey is a baller, and I expect Ohio State to find some way to get him the football.  If the Buckeyes are unable to do so with quick passes, they should just resort to handoffs.  Quite honestly, passing the football to anyone this season has been a big issue for Ohio State, and if you and I know it, so does Tom Bradley.  Look for Penn State to load up the box and force Braxton Miller to throw the ball in order to win.
With this in mind, Posey could well find himself in single coverage and in a spot where he's able to make a big play.  But what is your expectation for someone who hasn't been on the field all season?  I expect Penn State to pay more attention to Posey, but not to make him the focal point of its defensive game plan.  That still needs to be the Buckeye ground game.
How do you think being another week removed from the breaking news of the scandal will affect the team, and what are your thoughts and predictions for the game?
Normally, playing a road game in Columbus wouldn't be the most favorable of situations.  However, for this Penn State team, I think it will be beneficial to get out of the bubble of State College.  It also helps that, for all intents and purposes, this game is completely meaningless in Penn State's quest to reach the Big Ten Championship Game.  I expect the coaching staff to work out any lingering issues with the communications system this week and for the Nittany Lions to look more together on Saturday.  Plus, Ohio State is similar, offensively, to Nebraska in the sense that it relies almost exclusively on a mobile quarterback and a power running game.
But so much is still unknown about Penn State and how it will fare moving forward that it's hard for me to hitch my wagon to the Nittany Lions in any of its remaining games.  Emotion or not, this is reality.  I'll be rooting for them, but it's still going to be tough to play football.
It's also worth mentioning that Ohio State isn't exactly setting the world on fire, coming off a week in which it lost, in overtime, to Purdue.  Apologies in advance if that does not put the fear of God into me as a football fan.
This is going to be an ugly football game.
Prediction: Ohio State 13, Penn State 10.
---
Thanks again to Ty for joining us this week on Across the Field. To read more from Ty, please check out the following:
Ty's Twitter: @tyhildenbrandt
The Solid Verbal's Twitter: @SolidVerbal
The Solid Verbal podcast, featuring Ty and his cohost Dan Rubenstein, can be found at SolidVerbal.com and Grantland Network.
I'd also like to encourage all Ohio State fans attending the game on Saturday, to show respect to all visiting fans. The Ohio State students and student athletes request the same.
Last, but certainly not least, PLEASE do not let child abuse go unreported. The hotline # is 1-800-4-A-CHILD.