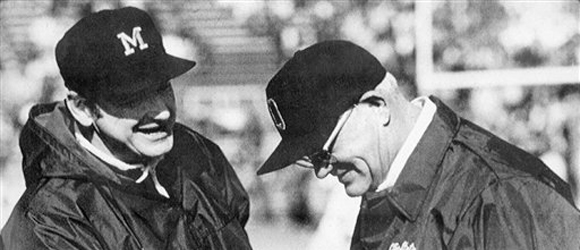 It's Beat Michigan Week, and what can one say that hasn't already been said many times over since 1897? Sometimes the legends, the triumphs, the upsets and the iconic moments that this rivalry has brought to the world of sports, just need to speak for themselves.
Despite claims from other fanbases that The Game has lost it's luster over the years, it is still the greatest rivalry in all of sports, and anything is possible on game day.
This week, Brian of MGoBlog joined me to discuss Michigan's turnaround this year under new head coach Brady Hoke, the incredible improvements of the Wolverine defense, and his short and sweet thoughts on Urban Meyer taking the reigns at Ohio State. Read on, and tune in this Saturday at 12:00 PM ET on ABC... as it is always has been, and always will be, history in the making.
Michigan started their last two seasons 4-0 and 5-0 with disappointing results by seasons end. During what game this year did you see something in this Michigan team that you thought might provide better final results this time around, and why?
It really wasn't until the Illinois game that it seemed like Michigan had definitely turned a corner. Their previous road games against decent teams had been debacles and it was still uncertain how for real the defense was. Throttling Illinois in that fashion was an "oh thank God" moment.
Even if it was Illinois, the total destruction of their offense and a quietly excellent offensive performance against a D that looks like one of the Big Ten's best was enough to say "not again."

Fans on a national level are obviously familiar with Denard Robinson. Who are some other Michigan players, on both sides of the ball, that may have gone unnoticed to non-Michigan fans, in terms of what they've provided to Michigan's success this year?
Center David Molk is the heart of the line, a guy with the quickness to seal most DTs and the power to maul the ones he can't.
Literally half the defense could be put in this category: freshmen Jake Ryan and Blake Countess have played older than their years and Jordan Kovacs has emerged into a legitimately good safety. But the two guys who don't get enough respect are SDE Ryan Van Bergen and CB JT Floyd.
Floyd was a tire fire last year who everyone wrote off after his awful Penn State game. This year he is at least an average Big Ten corner and he's played much better than that recently, long Nebraska TD notwithstanding. He won a one on one battle with AJ Jenkins two weeks ago and the screwup last week was the first time he'd been beaten deep all season.
Van Bergen is a plugger with only moderate explosion but he is impossible to cut, never busts an assignment, and works his way into the backfield with surprising regularity. He's totally reliable.
How would you grade the job Brady Hoke has done thus far, and what do you think are some of the changes Hoke has made, aside from the defense, that have been critical to this Michigan team's success?
Overall he gets an A. The defensive makeover is the A+++++ that makes up for a couple of extremely poor offensive gameplans against MSU and Iowa.
Other than the D, Hoke has brought an aggressive mindset that has helped Michigan put games away early. Michigan hasn't backslid into a close game this year after jumping out to a big lead because he keeps the pedal down until huge variance is the only thing that can cause Michigan to lose.
He has also magically turned Brendan Gibbons into a mediocre kicker and put fumble magnets in everyone's gloves.
After finishing 2010 ranked 108th nationally in scoring defense, Michigan currently sits at 8th in the country in that same category. Clearly, Greg Mattison has been a vast improvement over Greg Robinson. Can you discuss some of the reasons why you think the defense has been so much more successful this year?
Every reason you can think of.
1. Pace. Michigan operates more slowly now so games are effectively shorter. This is not a real reason but it helps the scoring D.
2. Turnovers. Michigan has acquired massive numbers of them, so many that they can expect to regress next year.
3. They are running a defense the coordinator knows. This radical innovation is something Rich Rodriguez is looking into.
4. Returning starters. There were about nine, depending on how you judge these things.
5. Injury fortune. Last year they lost Woolfolk, and Martin was effectively shelved after the MSU game. This year Woolfolk's been in and out of the lineup but no one else has suffered.
6. Greg Mattison is really that good. His array of blitzes frequently gets Michigan free rushers with seven in coverage.
7. Massive improvement from unexpected sources. Floyd, walk-on DT Will Heininger, freshman SLB Jake Ryan, and freshman CB Blake Countess have all played much better than expected.

Michigan is favored in this game for the first time in awhile, and looks to be the better team; but, are there any OSU strengths that you feel matchup well against Michigan... and that make you nervous OSU could pull off the upset?
John Simon and Braxton Miller. Simon will probably be matched up with Michigan's dodgy RT Mark Huyge on passing downs and it's easy to see that going poorly to the tune of sacks and bad Denard INTs.
Miller is a huge wildcard. I remember mocking Troy Smith before the 2004 game. I fear mobile QB death butterfly emergence. He's a guy who can take your well-laid plans and obliterate them in a 60-yard burst.
What are your thoughts and prediction for the game?
This is deeply bizarre to say, but after the last two weeks it's hard to see Ohio State moving the ball consistently against a defense that's shut off two option run attacks, one of them a powerful outfit, in the last two weeks. OSU has better personnel than those two teams and will launch a couple drives that frustrate because Martin isn't completely dominating the interior OL and Miller/Herron/Hall are exposing some of the weaknesses Michigan has at linebacker. But one of the secrets of Michigan's improvement has been an awesome third and short defense. I don't think we're going to see more than a couple sustained drives from OSU.
Michigan will do a bit better than that and should have a yardage advantage. Turning that into points will be the difference. How many turnovers does Denard cough up, how many goal-to-go situations does Michigan fail to convert, etc.
As far as a prediction, I've been saying 24-14.
It's looking more and more likely by the day that Urban Meyer will be the next coach at Ohio State. As a Michigan supporter, what are your thoughts on the hire, and the impact it could have on Ohio State, and the rivalry?
Is he not Jim Tressel? If so, okay by me.
---
Thanks again to Brian for sharing his Wolverine insight with us this week. To read more from Brian on THE GAME and That Team Up North, check out the following links:
MGoBlog: mgoblog.com
Twitter: @mgoblog