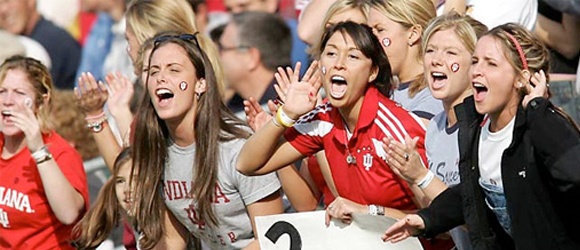 At the risk of jinxing the Buckeyes in their quest to roll to a 4 game winning streak this Saturday (yes, I'm counting that unbelievable upset over BYE two weeks ago), I thought I would entertain you all with a few fun facts about the Indiana Hoosiers.
In 1976, Indiana Head Coach Lee Corso called a timeout while the team was up 7-6, so they could take a picture in front of the scoreboard after grabbing their first lead on Ohio State in 25 years. Indiana eventually lost the game, 47-7.
In 1988, the last time the Hoosiers beat the Buckeyes, a gallon of gas cost 91 cents.
There's a joke to be made here, I'm sure, but some comments don't even need punch lines. Crack made it's debut in many US cities the last year that Indiana beat Ohio State.
And, because I always like to end on a good note... the Indiana Hoosiers have won more games this year than the Indianapolis Colts. I can't even imagine the impact this has had on their bandwagon.
Jokes aside, I'd like to thank John M. of The Crimson Quarry for joining Across the Field this week and telling us more about the Indiana Hoosiers.
The Hoosiers are 1-8 so far this year, with a win over South Carolina State. Four of those losses, however, were by a single score. Are there any bright spots of this Indiana team that make you optimistic for some late season improvement, or to build on for next year?
The biggest bright spot on this team recently has been the performance of true freshman quarterback Tre Roberson, who has been a reasonably proficient passer, particularly given his inexperience, and adds a running dimension that neither Edward Wright-Baker nor Dusty Kiel has provided.  Also, sophomore junior college transfer Stephen Houston has been reasonably effective at RB of late. 
I don't know that there is much optimism for this season.  The next two games, road trips to OSU and Michigan State, are among the toughest games on our schedule, so the home finale against Purdue probably is our only legitimate shot at a win, and we probably will be double digit underdogs even in that one.  Still, I am interested to see how Roberson plays against the tough defenses that he will face in the next two games.
The record aside, how would you grade the job 1st year Coach Kevin Wilson has done thus far? What do you believe should be the top priorities of the team, in order to turn things around?
The only grade I can give Wilson at this point is an incomplete.  There are plenty of successful coaches who have begun their careers with bad seasons, so there's really no way to know what we have yet.  I liked Wilson's resume when he was hired and the qualifications of his staff, and that hasn't changed.  There has been some troubling player attrition, with the latest being Damarlo Belcher's removal from the team for "violation of team rules," but some of that is inevitable during a transition. 
The top priorities should be some infusion of juco talent at key positions and finding some sort of solution to defensive problems.  The talent and experience levels (and injuries, namely to LB Jeff Thomas) are part of the issue, but don't fully explain just how lost the defense has been over the last few games 
While OSU has shown some weak spots throughout the year, they seem to be working out the kinks and improving. What are some things about this Ohio State team that make you nervous for Saturday?
I haven't watched the Buckeyes much this year, but obviously, even when OSU was playing poorly earlier in the season, I knew that the Buckeyes would have a decided talent advantage.  Also, the offense seems to be coming together a bit.  That rollout TD pass that Miller threw to take the lead against Wisconsin was incredible. 
My main fear is that the defense will completely shut down IU's running game and that OSU will take the opportunity to let Miller air it out.
Indiana was able to end last season on a high note, with a win at Purdue. Any optimism that there could be a repeat of that this year? And, if so, would that redeem the rest of the season?
I don't think it would redeem the entire season, but it would be better than the alternative.  It's a rivalry game, IU hasn't won two in a row in the series since 1994 and 1995, and I would think it would help in-state recruiting if a team that has had such a bad season could win that game.  I wouldn't say that I'm optimistic about the game, but Purdue has been all over the map this year, so I'm certainly not ruling it out.  As I said, IU's offense is getting better while the defense is getting worse.  If IU can make any progress defensively, then I do think that beating Purdue is possible.
Are you mad you're not playing Minnesota this year?
I don't know.  I think that it might be better to argue that IU would beat Minnesota than to find out on the field.  A month ago I would have bet on IU in that matchup.  Right now, my guess is that the Gophers would be favored.
What are your thoughts and predictions for the game on Saturday?
I think this will be a sadly typical IU-OSU game.  Ohio State 45, Indiana 10.
Thanks again to John for sharing his insights with us. To read more from John, and other writers at The Crimson Quarry, check out the links below.
The Crimson Quarry: http://www.crimsonquarry.com/
Twitter: @crimsonquarry
Facebook: The Crimon Quarry