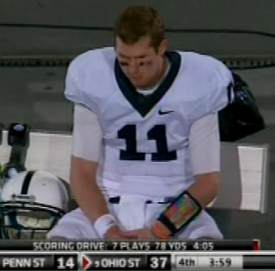 Well, it's Ohio State versus Penn State and for the first time in a long time, most of the nation gives nay damns. Hell, most OSU/PSU fans are struggling to avoid going through the motions. 
Hopefully senior day will be enough to keep some of the players from encoutering the same doldrums. Surely Brewster, Boom, Posey and the rest the last-timers will be on an emotional high in search of a memorable 'Shoe swan song. But will that be enough to overcome glaring issues in the passing game and back seven? 
I guess we'll find out saturday afternoon. Here's to hoping it doesn't play out with the backdrop of the usually stellar crew of Nessler/Blackledge spending too much time talking about off-field drama that we'd all rather ignore for a few hours. 
Before we jump into today's session - one last reminder to submit your score prediction and browse the store in prep for claiming your booty. 
Whoever is now coaching PSU noted Matt McGloin will be the starter this Saturday. How many points is his moxie worth? If McGloin's moxie were to meet Tim Tebow's intangibles in a steel cage match, which would escape victorious and why?
Joe: Add 6 points for moxie, but then subtract 14 for poor decisions and no poise under pressure. Tim Tebow would bend the steel in the cage and wrap it around McGloin's neck to force his submission. Then he would phone his old coach and give his blessing to come to Columbus for his next job. 
Sarah: A Penn State QB vs. Ohio State is like Newton's third law of motion, and as such, McGloin's moxie is a zero-sum game. Whatever he contributes positively to his team, it will cost him just as much. Tebow Intangibles vs. McGloin Moxie sounds like my own private hyperbole hell, so I can only hope for a Reservoir Dogs-esque ending.
Johnny: His moxie is probably worth about as far as he can throw the ball, which is generally about five yards away from where he intends it to go. To continue this convoluted analogy further, if his moxie and Tebow's intangibles met in a cage match, the resulting video of the fight would inspire Aaron Craft's grit to team up with Ray Lewis' intensity to make sure that anyway the point I'm making is that intangibles of any sort are dumb.
Silas Redd has battled injuries but also projects to start on Saturday. Most folks say Redd and Montee Ball are the top two RB's in conference? Who are your top two and why?
Luke: Ball is the sort of running back who while aggregates a monster figure of rushing yards never really leaves your jaw agape the way even a Ron Dayne (much less Michael Bennett) did before him. Then again, it's awfully tough to argue with the matter of fact that he's the nation's 4th leading rusher and has accumulated over 1200 yards to date. While Marcus Coker deserves strong consideration, I'd have to default to what we saw take over in the 4th quarter in Lincoln in the form of Rex Burkhead. I'm not sure there's a more professional ranks ready running backs amongst their ranks than he.
Joe: I can't argue with Ball, but right now I'd take Fitz Toussaint of The Enemy for my second pick. Rex Burkhead would be my third, followed by Redd. If Dan Herron had been able to go the whole season, this would be a completely different conversation. 
Corey: I think Ball is without a doubt the best back this year, but I would put Coker ahead of Redd and Burkhead. Coker goes for 115/game and has 13 TD's. I thought he was the best back Iowa had last year against OSU, but thankfully they didn't use him as much as they should've. It's too bad Boom didn't get a full shot this year, I think he could have been in the discussion with Ball. 
Sarah: Last weekend, Montee Ball set the season TD record for the B1G and there are still two games remaining. Sure, many of those 27 came against the likes of Shady Pines Retirement home, and Bielema destroying his karma against inferior competition, but the numbers don't lie: over 1200 yards, 6.7 ypc, no fumbles. He's also a threat in the passing game: 4 TD passes and almost as many receiving yards as Ohio State's leader (Devin Smith) in that category. Even though he might not have the consistency of Burkhead, I'll go with Marcus Coker as the #2 RB. If Ball leaves early for the NFL, Coker has the potential to become the B1G's premier back next season. Last year, I remember him being a monster against Ohio State and was surprised, albeit grateful, that Ferentz didn't use him more. Despite a subpar outing against Sparty last week, Coker has the tools to dominate. His best game was a 250-yard effort against Minnesota (yes, I know, Minnesota, but still impressive). Only a sophomore, he's totaled over 1100 yards and averages 5.5 yards/carry, good for second in the conference behind Ball.
It looks like Sweat won't play this week while Hankins is probable yet not 100%. Assuming Sweat doesn't play and Hank is potentially limited, what kind of success will the Buckeyes have at stopping the run without a 100% Hankins and their most adequate seasoned linebacker?
Corey: I think the Bucks get an upgrade with Shazier playing instead of Sweat. It may have taken Shazier a little longer to grasp the schemes, but his athletic ability and potential really stood out in the second half against Purdue. I expect him to lead the team in tackles tomorrow. Hankins has been playing 90% of the snaps this year, so if that gets reduced to 50% and Michael Bennett fills in, I think PSU will have difficulty running the ball. 
Luke: Is paltry success a thing? I think Ohio State will have their hands full based on last week's showing. If Penn State can even come remotely close to balance, the lack of depth in the front seven will become glaringly obvious.
Johnny: Not a lot of it. PSU is going to be hell-bent on running right at the Buckeyes, and unless OSU can stop that, this will be an extremely long game. A limited Hankins leaves OSU with limited options at tackle, and forces Simon to the center of the line even more than usual. It hurts.
Shazier was very active as Sweat's injury replacement in the 2nd half and clearly he's been a site favorite all year. What do you see in his game that excites you the most? 
Danny: The thing that impresses me the most with Shazier is how quick and physical he is. His ability to get into the backfield and fall back in coverage is what makes him an exciting player to watch.
Joe: The guy brings a fierce hitting style to the defense and that gets everyone else fired up. I think the swarming will be better with Shazier in the game due to the intensity and how infectious it can be.
Luke: At the risk of sounding like Kirk Herbstreit, his football IQ is off the charts, particularly for someone so young and relatively inexperience. It also doesn't hurt that his lateral speed compares favorably to the talent on some of the nation's premiere teams.
Though Penn State prefers to run the ball, one school of thought says they might be licking their chops watching the Buckeye pass defense on film. You think the Lions attempt to – and have – much success throwing the ball?
Sarah: After two weeks of watching the secondary get shredded on third and whatever, I'm not terribly confident in OSU's pass defense. First it was an Indiana freshman QB—never mind the freshman part, but for Woody's sake, an Indiana QB—in just his third start. Then it was the two-headed mediocre monster of one QB who doesn't understand the proper rules of capitalization and another who was ousted from the starting role by Jacory Harris. So yes, I think Penn State can have success through the air. Ohio State will need to zero in on Derek Moye, by far McGloin's favorite target. If Howard chooses to reclaim his birthright, or if Roby or Barnett accepts his destiny, a pick six is waiting for one of them.
Corey: PSU always seems to run a vanilla game plan against OSU, but I think they pass a bit more this week with Redd hurting and OSU's secondary a bit suspect right now. I don't think they can beat OSU by leaning heavily on the pass though.
Johnny: Tom Bradley might just say the hell with it and go for broke, but honestly I don't see PSU deviating too far away from their bread and butter. Last week the Lions were forced to lean on McGloin pretty heavily, and it ended up biting them on the ass. If PSU has to throw, they might be able to keep things interesting, but ultimately that won't win them the game.
Joe: They might be licking their chops, but McGloin has been rather toothless this season. It looks like the moxie is wearing off. I think he will have some success initially but after the OSU defense adjusts his reads will get tougher and he will revert to form. 
The Buckeyes get Devier Posey back this week. Considering the state of both the offensive line and the passing game, do you see Posey's presence having any measureable positive impact on the offense as a whole?
Danny: Yes I do. Posey still has the ability to be a decoy and is an excellent blocker for a receiver. Both of these qualities will only help the Buckeyes' ground game. Also, this will probably be the first time all season that Braxton Miller has a go-to receiver. Posey's experience and talent can only benefit this team. 
Luke: I think Posey will make every other wide receiver down better for the attention he'll require. This talk of "Posey may not start" is precisely why Luke Fickell should garner precisely zero consideration for the job long term. If he cares about winning the least, recognize that he's paid his price and put your best players on the field who give you the highest probability of winning.
Joe: No doubt about it, he will add a lot to the passing game. Receivers have had a hard time catching the ball this season, and Posey will help with that. He also gives Miller a bigger target to shoot at versus either Devin Smith or Philly Brown.
The seniors will be playing their last game in the 'Shoe though not all of them will be remembered fondly. Which senior do you hold in the highest regard and why? Which senior will you miss the least?
Danny: The senior I hold in highest regard in Mike Brewster. From day one, Brewster has had to deal and adapt with constant change, whether it was the quarterback switches or the constant shuffling of offensive lineman. His ability to adapt and adjust is what makes him one of the best centers in the nation. The senior I will miss the least is DeVier Posey. This hurts to say because I've loved watching Posey make unbelievable catches and accumulate yard after yard through the air. But the constant suspensions and inability of him to learn from his mistakes set this team back this season. His talent will be missed, but one thing that I will never miss is his poor judgment. Hopefully, he ends his career on a positive note in his final two games.
Sarah: Mike Brewster hasn't had the All-American caliber season I expected from him, due in large part to the instability of the past year, but I'd be terrified to think of this team without him. He's been a leader since before he even enrolled, and he's exactly the kind of player you want on your team: hard-working, well-spoken, motivating, and eventually, a permanent captain. This guy encompasses what it means to be a Buckeye. I don't want to pile on Bauserman, who seems like a decent enough fellow. However, I'm still upset about the Nebraska game, and while I know he wasn't the one calling plays, launching bombs to 80-year-old Cornhusker fans sitting in the stands will be his legacy. Wait, he is finally a senior right?
Johnny: Tyler Moeller I will miss the most. Yes, he's had an extremely disappointing season, and no, he isn't going to dazzle us in the NFL or anything. But for all the talk about Brewster doing things the right way, or Sweat patiently waiting to get his shot, Moeller damn near died and came back to play a sport he loves despite a huge amount of skepticism surrounding his return. Brave is probably the right word here.
Luke: It's almost crazy to think what high regard I held the Brew Crew in when they first committed (and I say this as someone generally agnostic about recruiting as a whole). I met Michael in person his first quarter on campus and came away really impressed with him as an individual. It's not often that you have a Nick Mangold or a Mike Brewster, and while his senior year hasn't been everything it could've (likely in large part to the inconsistency surrounding him), it's not unreasonable to expect a drop off to even sub-Jim Cordle levels following his departure. In terms of which guy I'll miss the least, I'm not going to crucify J.B. Shugarts. I think he deserves every bit the scathing he gets for his poor timing and presence of mind on the line, but his play has been solid enough as a whole to not merit a kick on the rear as he goes out the door. Nate Oliver is a name I see on the roster and can't fathom him still being in school. He never quite made the impact anyone thought he did and I'm amazed at this point anyone even notices he's still around.
This game also represents Bollman's last dance in the 'Shoe. Should that fact be enough reason to alert the police in your neighborhood?
Luke: Let's not jump the gun here. Urban Meyer (or whomever) could be a totally cruel, miserable troll and keep him just to spite us. But speaking of a senior I won't miss in the least...
Sarah: Considering the hissy fit I threw after Basil's blocked XP, I think the neighbors are immune to me.
Corey: I don't think you need to alert the police in my neighborhood, but Bollman's. He might wonder why Buckeye fans marched on his house after the game, packed up his stuff, loaded it into the moving van and handed him the keys. 
Johnny: Watch him go five wide and air it out 50 times, just to mess with us.
Don't cheat. Off the top of your head, in what city is the Meineke Car Care Bowl held? What about the Insight? 
Joe: Rapid City, SD and Kalamazoo, MI? Pismo Beach? Gallifrey?
Sarah: Houston and Tempe, respectively. The only reason I know this is that before I booked my Christmas flight the other day, my sports fan duty required me to research possible bowl games in which Ohio State could play, however foreign they may be. I also checked the basketball schedule, found out they're playing on the 20th and 22nd, and went with an outgoing flight on the 21st. Because that's what the holidays are really about: making sure I can spend time with the sports that I love.
Johnny: Oh God. Uh. San Diego for the Insight and Memphis for Meineke? I know there's a bowl in Memphis, and that it's usually very sad because the producers insist on showing shots of the surrounding area. And the surrounding area is Memphis. Memphis, Tennessee
Bonus: On what channel can you find the TicketCity bowl? (Hint: It's not Lifetime)
Sarah: One that Comcast doesn't have an HD version of, so probably Reelz, the channel of hand-me-down programming no one else dares to air.
Danny: B.E.T.? 
Johnny: TicketCity Bowl is on TBS, sandwiched in between a ten hour Elf marathon and a rerun of Meet the Browns.
Joe: I'm going with Bravo for the win.
Luke: That only leaves ESPNU. Big money, big money, no whammies, STOP.