Good morning Buckeye faithful and welcome to your Tuesday Skull Session.
Friendship and family are things that I value as important in my life. At a very obsessive level, I also value sports and rooting on my teams as a fan in the same light. Both of these things separately have a large influence on my life. But when you mix the two together, that's when things can get tricky.
Whether physically going to or just watching a game on the tube, I love yelling and cheering at the top of my lungs beside my friends. Coming from Cleveland, I'm loyal to all my respective greater Cleveland area teams and so are all my close friends. But one of my friends has a particularly nasty habit: He's a Michigan fan.
Just as some people prefer not to talk about politics to avoid arguments, my friend and I choose to put our allegiances aside to avoid conflict. But that doesn't mean he doesn't have ways of trying to get under my skin about it. He tweets about the Buckeyes' blunders this season and updates the rest of his social networking tools to praise Michigan.
It's tough for me this season because, for the first time in forever, the Buckeyes are no longer the team to beat in the Big Ten, while Michigan may finally start to be turning things around from the horrid Rich Rod era. The last few years, I've always had a secret smirk on my face every time I saw my friend, knowing OSU was superior to Michigan in every conceivable way. But this year, he's rocking the secret smirk on his face. His Wolverines are considered the superior squad after seven games in 2011.
That's why I relished this past weekend's slate of games. Seeing his Michigan team fall to Michigan State, the same team that handed OSU a silencing loss in Ohio Stadium, lifted my spirit. Then the Bucks knocked off undefeated Illinois and everything felt right again. Maybe the next time I see my friend I'll be the one with the smirk on my face because this season still has promise. Friendships come and go, but my faith in this team is forever. Did I mention my love for sports is highly obsessive before?
YOU WIN THIS TIME, BOLLMAN. It was incredibly ugly, but a win's a win. OSU's offense completed one single pass in its win over Illinois. Out of the 55 plays ran, only four were pass plays. It was pretty clear what OSU's plan of attack was: "Run, Forrest Herron, run!"
While Jim Bollman has taken so much criticism, with a lot of it being well deserved, he certainly got it right last Saturday. With terrible wind conditions, the Buckeyes came out and played to their strengths. Dan "Boom" Herron was returning with, well, a boom, the offensive line played four quarters with a nasty streak, and the team played conservative as could be to protect a freshman quarterback in harsh weather conditions. 
Braxton Miller, coming off of an injury last week, basically just had to not turn the ball over in his extremely limited chances. And wouldn't you know it, his only completion of the game was a touchdown pass. The defense certainly deserves the majority of the credit for the win, but Bollman finally came up with a game plan that fit the opponent and the circumstances.
Make no mistake about it, I can't stand Bollman and his predictable, vanilla play calling but I have to give credit where credit is due. I thought his calls on Saturday were the perfect way to go, but he's going to need to mix things up for the rest of the season if the Bucks want to climb higher mountains, such as beating Wisconsin.
EL GUAPO IS EL NOT HAPPY. The only one not smiling after OSU's trouncing of Illinois was running back Carlos Hyde. Hyde, who started off the season as the starter due to Dan Herron and Jordan Hall's suspensions, was limited to only three carries for eight yards, making his first appearance of the game in the fourth quarter.
Hyde has been a pleasant surprise thus far this season, as it was thought Rod Smith would be the young back to break into the spotlight. In the week before this past one, Hyde ran for a career high 104 yards on just 13 carries against Nebraska on the road. Despite senior Dan Herron returning this week, Hyde was obviously expecting a performance like that to be rewarded, but that was not the case against the Illini.
Out of frustration following the victory in Champaign, Hyde took his concerns to Twitter and tweeted: "Guess I'm not good enough. Take myself elsewhere."
Hyde later deleted the tweet and announced he has no intentions of leaving. While short lived, this was an immature move by a young player and he will learn from this. Voicing something controversial like this onto Twitter will never end well and Hyde needs to understand that playing Dan Herron is crucial to the team's performance going forward. Herron, in his first game this season, ran for 114 yards and a touchdown. The guy can produce, as he's scored in 13 straight games, and can be a leader for this team down the stretch.
Hyde will be the featured back one day if he keeps working hard, but he needs to realize the importance of the team before the individual, as well as how vital Herron will be going forward. Herron is the veteran, and Hyde will know the significance of that one day. For now, Hyde needs to watch and learn from one of the conference's best backs.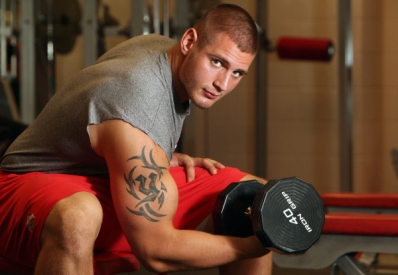 SIMON SAYS. Defensive lineman John Simon has won the Big Ten Defensive Player of the Week Award after a more than stellar performance against Illinois.
Simon, who had eight tackles, with four tackles for a loss and two sacks, was an instrumental component of the Buckeyes' destruction of Illinois's offense. U of I was averaging 34 points per game prior to this matchup, but Luke Fickell's defense limited them to just one touchdown on the afternoon.
However, Simon was just one player who had a huge impact for the defense. Johnathan Hankins had nine tackles, while Travis Howard and Bradley Roby both had interceptions. The defense has carried the offense so far this season and will need a similar performance against undefeated Wisconsin on Oct. 29 to expect a victory.
SLIMMER SULLY. According to Marla Ridenour of Ohio.com, Jared Sullinger has lost 28 pounds this offseason. His playing weight last season was roughly 292 pounds, but he reportedly weighed around 264 pounds at OSU's basketball media day.
Ridenour highlights that Sullinger gave up frequent trips to the burger restaurant Five Guys and also ditched his traditional eating habits of having three large meals a day. Instead, Sullinger ate five to six smaller meals and dedicated himself to working hard in OSU's offseason program.
This is why I love Jared Sullinger. First, he gave up being a top ten draft pick in the NBA to come back to school, and now he's pushing himself towards being a winner this season. It's pretty reasonable to believe Sullinger will be gone after this upcoming season, which is why he is taking this year's run so seriously. This could be his only chance to win a championship for OSU and there's no question that he's putting it all on the line.
It's not like he's slacking off in school, either. It turns out he's in my Biology class and I literally see him in class every time class is in session. I'm glad to see he's representing the Buckeyes in such a positive light, but I'm even more excited to see his dedication to winning.
LOS LINKS. Guess what other OSU player received an honorable mention this week... William Buford may be a little lonely this season... The ruling is in for Tubby Smith... If you ever considered trying to play college basketball, St. Johns needs about five to six walk ons for the season... Dan Herron back in the day.