Good morning Buckeye faithful and welcome to your Tuesday Skull Session. Things did not go as planned last Saturday. In fact, beyond Carlos Hyde's 6.6 yards per carry, positive offensive statistics were hard to come by.
This was no electrifying offensive matchup, as OSU and Michigan State finished with a thrilling score of 10-7. This offensive unit for the Buckeyes is the worst I've ever seen. There are no standouts or play makers whatsoever. With the game on the line, who's Fickell's go-to guy when OSU needs a score?
It's understandable to say this team is young and inexperienced, but this team can do better. If OSU can't win a game where their opponent scores 10 points, what should we expect moving forward? Only time will tell how this team responds to adversity, and the reality that no game is a guaranteed win going forward.
But enough moping around, let's get started:
DID I MENTION THE OFFENSE DIDN'T LOOK WELL. Matt Markey of the Toledo Blade wrote an article on Sunday about how how OSU nearly had a historical showing against MSU. Markey writes about how OSU hasn't been shutout at home in nearly three decades.
If you could actually stand watching Saturday's matchup until the bitter end, you would know that the Buckeyes were 10 seconds and a wobbly Joe Bauserman touchdown pass away from achieving this historic low. The last time OSU has been shutout at home was in 1982, when 6-0 Wisconsin emerged victorious at Ohio Stadium.
Many analysts at the beginning of the NCAA season said OSU's only challenge would come against the Miami Hurricanes before their talented group of suspended players would return. Joe Bauserman was supposed to hold the position until the crucial game this weekend in Lincoln, Nebraska. But of course, we don't live in this perfect-scenario world that many believed Buckeye fans would be citizens of by this week.
The Buckeyes will once again be without arguably their best offensive threat in DeVier Posey and veteran running back Dan Herron, who were suspended an additional game. Additionally, right guard Marcus Hall will be out as well. OSU's offense is going to have to hope they're playing with a short field in front of them versus this Nebraska defense. Special teams and the defense are going to have to make this offense look like functioning unit.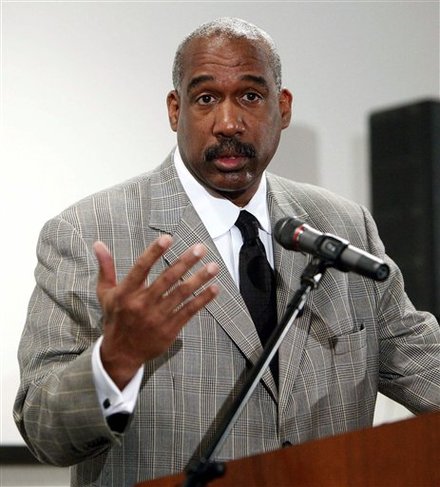 DOWN WITH THE SYSTEM. ESPN's Adam Rittenberg wrote an article Monday, wondering if OSU perhaps has a systematic problem with monitoring their student athletes. Rittenberg writes about how OSU athletic director, Gene Smith, has failed to acknowledge that OSU has a problem with its system of protecting their student athletes from NCAA violations.
The fact that Smith has failed to notice Bobby DiGeronimo, an OSU booster who has apparently been secretly paying OSU athletes for years, or Edward Rife, the architect of the tat-gate scandal, to communicate with its athletes is embarrassing. Even after all that has ensued this offseason with the punishments and sanctions, athletes are still finding ways to get in trouble. For Smith to say OSU doesn't have a problem with their "system," is a joke. 
Boosters, agents, coaches, and players are not easy to deal with, especially for OSU which is home to roughly 1,090 student athletes. But these suspensions and violations have to stop. The pride of OSU will always be its football team, but no one wins, especially the football team, if key players are suspended or in trouble. Smith has a lot of work to do before he can truly say OSU doesn't have a problem with its "system."
HOW ABOUT SOME GOOD NEWS? Anyone else looking forward to basketball season? Me too. Ohio State had three players named to the Wooden Award Watch List, consisting of Jared Sullinger, Aaron Craft, and William Buford. However, the current success of OSU's program hasn't halted their recruiting efforts for the future.
Two high-profile recruits came in for a visit to Ohio State last weekend. Class of 2012 prospect, Amile Jefferson, out of Philadelphia and class of 2014 prospect, Jahlil Okafor, were in town to check out the school where the two of them could one day be teammates.
Jefferson, a 6-7 forward, was reported as looking skinny, and it was suggested this might make him a fit on the perimeter in the college game. But the real attention should be on Jahlil Okafor, a 6-9 high school sophomore out of Whitney Young high school in Chicago. Okafor has already received offers from Ohio State, Illinois, DePaul, Michigan State, and Arkansas. Yeah, he's kind of a big deal, literally. 
Okafor and Jefferson unfortunately were subjected to watching the OSU-MSU matchup, but hopefully all the negativity from that game will be forgotten once Sullinger, Craft, Buford, and a talented freshman class take the hardwood this season. But back to Okafor, who could this kid possibly be compared to? "He's Sullinger as a sophomore," according to a program source.
While Okafor's visit wasn't an official one, hopefully Thad Matta can convince the wunderkind high school star to take his abilities to Ohio State.
SHARING, CARING, AND EQUAL REVENUE. The mess that was the Big 12 conference appears to be off life support and in stable condition. The nine-remaining schools in the conference are discussing the possibility of creating a system to provide equal revenue sharing from T.V. deals for the conference. Once all nine teams sign a six-year grant, the new deal will go into effect.
This will hopefully put an end to all the talk about super conferences and Texas possibly playing in the PAC-12, which was never a good fit. Yes, Texas A&M is a casualty of this rebuilding stage for the Big 12, but if all goes according to plan, it appears the conference will live to fight another day. Additionally, the Big 12 should look to go on the offensive and pick up some teams who can help restore the conference's legitimacy.
LOS LINKS. Ohio State has already lost one game to a Michigan team, will there be another loss... For any Buckeye fans going to Lincoln... The Big East is trying to pull a Big 12 and stay afloat... Jahlil Okafor in action... Checking in with Nebraska quarterback Taylor Martinez.