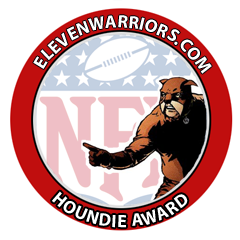 At one point in time, this award was known as the Buckeye NFLer of the Week. Thanks to a typo and the ensuing LOLsession from the commentariat, it was renamed as the Houndie. Same intent, but now with a better name.
Seven weeks are now in the books and Green Bay keeps chugging along as the best team in the league. All other divisions, except the NFC West, are wide open and it will be fun to watch them shake out over the next few weeks.
The NFC West is so bad, the 49ers, aka OSU West, actually improved their lead by having a bye week. At this rate, San Fran will have the division clinched by week 10.
Besides San Fransisco; New England, Cincinnati, Buffalo, NYG and Philly were all off, which significantly reduced the amount of Buckeyes playing on Sunday and as you'll see, of those who did play, it was a stark contrast to last week's Houndie.
Staying with the NFC West theme, Seattle came to Cleveland to play in the Holmgren Bowl and quite possibly the worst football game played all year, as the Browns got their second win, 6-3.
Brian Roboskie continues to be a non-factor for the Browns, although they seem to have a different leading receiver each week, as Colt McCoy is content dinking and dumping all day. Robo had 2 of McCoy's 35 passes thrown his way, but he wasn't able to haul either one of them in. Robo still sits on 3 catches for the season, all coming in week 4.
You'll never believe what happened out in Arizona, Beanie Wells went down, this time with a knee injury. He left the game in the second quarter with swelling on the same knee he had surgery on last year and at one point, the Cardinals thought he might be done for the year. However, it looks like surgery won't be needed and Wells is now week-to-week.
Since the Steelers are so bad at running the ball, Wells still lead both teams with 42 yards on 12 carries. For the Steelers, Cam Heyward didn't record any stats and Will Allen had a special teams stop, as the Steelers cruised to the 32-20 win.
As for the Rams, they remained winless after hanging tough with the Cowboys in Dallas for a couple of quarters, but eventually falling 34-7. James Laurinaitis was second on the team with 4 solo stops and another 4 assists, as the Rams sorely miss Sam Bradford. It looks like the Rams will be 0-7 to start the season, hosting New Orleans this weekend, but hopefully can score a win when they take on Arizona (twice), Seattle and Cleveland in week's 9-12.
A storyline to watch over the next few weeks is if the Detroit Lions are for real or not. They lost their second straight at home, this time to Atlanta, 23-16. Detroit has trouble stopping the run and with Jahved Best out, can't run the ball themselves. Bobby Carpenter registered just 2 tackles in the loss, but now has a chance to travel to Denver and put to rest all this damn Tebow talk.
Luckily for Tebow, his first start came against the Dolphins, who are scooting closer to Andrew Luck each week, after letting another win slip away. Brian Hartline had 2 catches for 29 yards, as new QB Matt Moore looked to Brandon Marshall and Devon Bess a total of 21 times in the 18-15 OT loss. Hartline has just 8 catches in the last 3 games.
As for other wide receivers, you'll see a trend here. The Great Dane traveled to London with the Bears, as they held on to win 24-18 over Tampa Bay. Dane had 2 catches for 13 yards, as the Bears relied heavily on their run game once again and are now just a game behind the Lions in the Norris Division.
Santonio Holmes had yep, 2 catches for 24 yards, as the Jets rallied to beat the Chargers at home, 27-21. I know the Jets are 4-3 now and seem to be playing better football, but Santonio has to be fuming right now and it could boil over in the next couple of weeks. Na'il Diggs had 3 tackles for the Chargers.
Holmes has just 22 catches for 311 yards through 7 games and had to watch Plax catch 3 TD's from Sanchez on Sunday, Holmes has 3 TD's all season. The Jets paid big money to steal Holmes from the Steelers and since he has arrived, his production has been the lowest of his career.
Another WR, who was given serious consideration to this week's award was Michael Jenkins, who captured the hearts of Vikings fans when he took Christian Ponder's first pass and raced 72 yards down the sidelines. Unfortunately, the refs didn't give him the TD and the Vikings fell to the Packers, 33-27, but they did show some life and it looks like the McNabb era is officially over.
Jenkins finished the day with 3 catches for 111 yards and a 24-yard TD midway through the 4th, to bring the Vikes within the final margin. For the Pack, A.J. Hawk had 6 total tackles, including one for a loss, while Ryan Pickett chipped in with 3 solo stops. Antoine Winfield was still out with an injury for the Vikes.
On Sunday night, Gonzo wasn't active for the Colts, as they remained winless after a complete manhandling by the Saints, 62-7. Malcolm Jenkins and Will Smith each had quiet nights, recording a combined 3 solo stops between them. BTW, obvioulsy people are freaking out in Indy and want to fire Jim Caldwell and a name that could pop up as a replacement is Tressel, who sat in the booth as a consultant for his first game Sunday.
In Oakland, a crazy week ended in a horrible 28-0 loss to the Chiefs. I don't know exactly what the Raiders plans are for TP, but he can't be catching on too quickly out there or they are going to use him for specific packages this season and didn't want to tip their hand.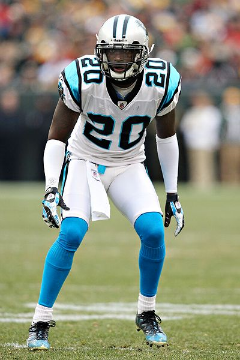 We all knew Kyle Boller would suck this week and TP might get to see his first action, which he did, one play, trick formation, false start on Pyror. But after Boller threw 3 picks, Hue Jackson inserted Palmer, who admittedly knew "about 10%" of the plays and "3 or 4 coverage schemes", which translated into another 3 picks for him.
If there was ever a game TP could have played significant minutes to see what he could do, this was the game, especially since Darren McFadden went down with an injury as well. TP has been receiving more snaps in parcatice and this is another storyline to watch after the Raiders get back from their bye this week.
Chimdi Chekwa is still out with an injury for the Raiders and Donald Washington returned to the lineup to contribute 3 solo stops for the Chiefs.
This week's Houndie though, goes to a guy we haven't heard from in quite some time and statistically speaking may not have had the best game, but helped his team secure a much needed win.
Chris Gamble had disappeared since the middle of last season, after he fell into John Fox's doghouse and was very close to leaving Carolina. However, the new coaching staff gave him new life this year and though they are just 2-5, the addition of Cam Newton has made the Panthers a team to watch on Sundays.
Gamble didn't have any tackles this week, but he defended 3 passes and picked off John Beck late in the 4th quarter, to help secure the 33-20 home win. Even though he got a second chance, Gamble has been battling injuries all year and it was a perfect week to have a mediocre game win the Houndie. Ben Hartstock still hasn't caught a pass all year, but fell on a fumble to help keep the ball for the Panthers, while Jermale Hines had a special teams assist.
This is Gamble's first Houndie since the 2009 season and we can only hope he contiues to get healthier and finish off the season strong. If you've seen Carolina play, you know they are probably going to be in every game and could play the spoiler role as the season progresses.