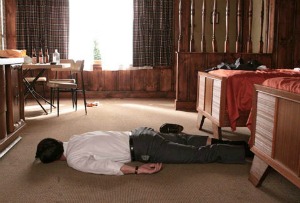 Welcome to the Big Ten Recap, Week 9: Insurrection. Eat Too, Brutus was as successful and insane as the football team, and perhaps, if possible, more so. 
At least, that's what I'm assuming due to the fact that I woke up this morning on a park bench in Rochester, NY wearing a t-shirt that reads, "The Abernathy Family Reunion of 1999" and sporting a bruise on the side of my face that looks like Gorbachev's birthmark.
In my purse, among the items I found were the following: an iguana, the Professor Plum card from Clue, a lock of someone else's hair, a wad of cash, a VHS tape of Mrs. Doubtfire, a flashlight filled with jelly beans, and thankfully, above all else, my Droid Bionic.
I hate to be a negative stereotype of my gender, but I possess a terrible sense of direction, and the GPS included on the Droid allowed me to find a Greyhound station with ease. Thanks to that, and the wad of cash, I am now headed back to the Midwest, piecing together the events from the weekend with the aid of this phone. 
No matter what mental or physical state someone is in, the camera is simple to operate, so I'm not surprised that I took plenty of pictures. I won't share all the photos publicly, though. Some were immediately deleted and some will now serve as fantastic blackmail material of both writers and readers from this very site. 
More importantly, the Verizon gods1 have blessed me with the ability to write this recap even as I travel along I-90 W. The Droid can be used as a mobile hotspot2, so I bartered with a scholarly young gentleman and borrowed his laptop in exchange for a bag of unidentified pills that I discovered on my person. I also had to go halfsies on the jelly beans with him. 
As such, I was able to catch up on all the B1G action. All 12 teams took the field yesterday, and each received the memo that the Big Ten was going to go balls-to-the-wall crazy this weekend. Minnesota miracled their way to a win! Sparty Spartyed! Northwestern and Indiana faced off and one of them probably won! A Michigan player not named Denard ran the ball for positive yards! Penn State, who would finish in a fourth-place tie in the Sun Belt, is the only undefeated team in conference play!
I love you forever, Big Ten football.  
PENN STATE 10, ILLINOIS 7
Gradually moving to their season-long destiny of a 6-3 final score, Penn State escaped with a 10-7 victory over Illinois3. Joe Paterno, watching from the press box, became the winningest college football coach in Division I history when Silas Redd (137 yards on 30 carries) ran in the go-ahead touchdown with just over a minute remaining. Right before that, Illini CB Justin Green was questionably flagged for pass interference on fourth down.
Still, Illinois had a chance to tie the game. Kicker Derek Dimke's 42-yard try hit the upright as the clock expired, one of many lucky breaks for the inexplicably 8-1 Nittany Lions. The two Penn State QBs continued their awfulness. Matt McGloin went 9/24 for 98 yards and an interception while Rob Bolden did not complete one of his four pass attempts.
PSU also fumbled the ball six times, losing two of those. Because of their stout defense and an Illinois offense that lost its will to live after getting beat by Ohio State, the Illini failed to capitalize, and infuriatingly, Penn State is 5-0 in the Big Ten and headed into a bye week before playing Nebraska.
Black Shoe Diaries, perfectly described their season: "Penn State should have lost. But they didn't. And that's the story of Penn State football 2011...so far."
A Lion Eye, who would like this to finally mean the end of the cockroach-like Ron Zook, lamented, "We don't just lose.  We lose excruciatingly.  We lose in a way that delivers a simultaneous punch to the gut and kick to the boys." However, with a week off, they will be spared a Saturday of getting Zooked.
MINNESOTA 22, IOWA 21
Jerry Kill proved worthy of his new contract when Minnesota beat Iowa for their first B1G win since, I'm guessing, Glen Mason was their coach3. Minnesota QB MarQueis Gray converted two key fourth down conversions in the final quarter, the first of which led to a successful onside kick and the second of which gave the Golden Gophers the lead for good with two minutes and change left.
Accounting for 193 yards in the air and 62 on the ground, Gray came up huge for his team, who had been down 21-10. The Daily Gopher called it "his most complete game as a Gopher QB."
Minnesota's defense decided to play for the first time in weeks and harassed Iowa QB James Vandenberg in the latter stage of the game. RB Marcus Coker, even in a losing effort, put up an impressive 252 yards and two TDs, and WR Marvin McNutt hauled in seven catches for 101 yards and a score.
Next up for Iowa is at home vs. Michigan, and Minnesota will try to ride their winning streak in a meeting with Michigan State.
NEBRASKA 24, MICHIGAN STATE 3
After last week's emotional Hail Mary win against Wisconsin, Michigan State5 could not keep the momentum going and lost to Nebraska.  Seven days ago a hero, Kirk Cousins fell to earth hard, throwing for 86 yards and a pick on 11/27 passing. He was also sacked four times.
Nebraska's defense, failing to live up to its expectations all season, finally played as many thought they could. Linebacker Lavonte David especially played well and finished with 13 tackles. For the Cornhusker offense, RB Rex Burkhead once again ran for over 100 yards (130, officially) and two scores.
According to Husker Mike, "Burkhead cemented his place in Nebraska football lore with a gritty, gutty 35 carry performance. The 3.7 yard average won't impress people...but the heart he showed in grinding out extra yard after extra yard all day was memorable."
Big Ten Standings
Legends
Nebraska
3-1
7-1
Michigan State
3-1
6-2
Michigan 
3-1
7-1
Iowa
2-2
5-3
Minnesota
1-3
2-6
Northwestern
1-4
3-5
Leaders
Penn State
5-0
8-1
Ohio State
2-2
5-3
Purdue
2-2
4-4
Wisconsin
2-2
6-2
Illinois
2-3
6-3
Indiana
0-5
1-8
The NU victory created a three-way tie atop the standings in the Legends division between the two schools and Michigan, just as November is about to begin. Nebraska will look to stay in the driver's seat when they go against the other NU next Saturday.
NORTHWESTERN 59, INDIANA 38
Snapping a five-game losing streak, Northwestern dialed up its offense for a win over the hapless Hoosiers. Not far off from its program record of 674 yards, the Wildcats racked up 612 yards of total offense.
NU QB Dan Persa was nearly flawless (16/20, 261 yards, 3 TDs), and Kain Colter continued to line up at every offensive position. Despite only attempting three passes, two of them were completed, both for TDs. He was the leading receiver with six catches for 115 yards and added 38 yards rushing. Of the team's five TDs through the air, tight end Drake Dunsmore was the recipient of four, which was a school record. 
Indiana found some offense, too, mostly from freshman QB Tre Roberson and RB Stephen Houston. Roberson threw for 163 yards and a TD and ran for 121 yards and another TD. Houston notched two TDs of his own and toted the rock to the tune of 151 yards. Nine different Hoosiers recorded at least one catch. 
Both of these defenses suck, and fans of each team will admit it. Lake The Posts said, "our defense was as bad as our offense was good" and acknowledged a tough task ahead against Nebraska.
The Crimson Quarry, hoping that the Buckeyes will Sparty, wrote, "perhaps we can hope for a bit of a letdown, and it will be interesting to see how IU's offense and defense measure up against a team that is definitely a defensive-oriented team whose offense has been spotty."
MICHIGAN 36, PURDUE 14
Down 7-0 early, Michigan reeled off 36 straight points, defeating Purdue 36-14. The afternoon belonged not to a man named Shoelace, but to Fitzgerald Toussaint, who rushed for a personal best of 170 yards and two TDs. Denard Robinson and Michael Shaw scored the other two UM TDs, both of which came via the run. Robinson and his back-up, Devin Gardner, each threw an interception. 
That didn't matter, because the Michigan defense was able to contain the prolific passing abilities of Purdue's QB tandem extraordinare, Caleb TerBush and Robert Marve. With 38 yards on the ground, TerBush was the leading rusher for the Boilermakers, though Mike Martin brought him down in the end zone for a safety in the second quarter.
Boiled Sports summed up the game for both sides: "And that was kind of the deal on the day- Purdue's execution, especially when it was really needed was atrocious. Conversely, UM shored-up the issues that had been exposed v. MSU following their bye week...and played soundly all game."
Next Saturday, Purdue will try to bounce back against an awesomely-trying-to-rebound-lol Wisconsin. 
1 In accordance with the FTC dogma, let it be known that Verizon passed along the phone to 11W, and I am testing it out. It should be obvious, though, that all words are my own. And seriously, it was a godsend this weekend.
2 Just in case you are in the market for a new smartphone and were wondering, you do have to subscribe to this feature, so it's not free. But for an emergency situation like this one, it does come in handy. 
3 Also, it snowed, which I boo. I'm not ready for that.
4 Apparently, Minnesota defeated Iowa last year too. And they're rivals who play for something called the Floyd of Rosedale? Is that for real?
5 Sometimes, Sparty's just gotta be Sparty.