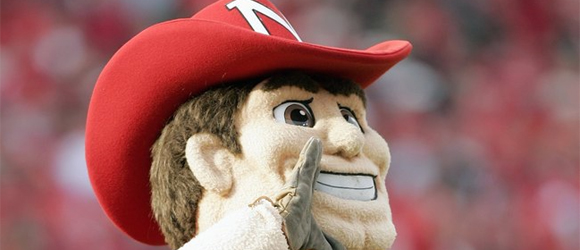 Good afternoon, sports fans! I'm glad to see you're all still alive and back after another disappointing loss this season. Unfortunately, it doesn't seem the bleeding is going to stop any time soon, as it seems doubtful we'll get to Halloween with another W. In light of that, I'd just like to remind you all... unless you're younger than Justin Bieber, you survived 1999. We will prevail.
Next up on this gauntlet of a schedule, that didn't seem quite so gauntlety until we saw how atrocious we are, is the Nebraska Cornhuskers. Nebraska comes off of a disappointing loss of their own, has an offensive coordinator they're rather frustrated with as well and also has a passing attack that leaves much to be desired. I'd mention the storyline of Pelini's ties to Ohio State (he played free safety under Bruce and Cooper) but, let's be honest, which coach today doesn't have ties to Ohio State? So, we'll move on.
This week on Across the Field, I'd like to welcome Brian Towle of Husker Locker to give us an inside look at the Cornhuskers. I'm surprised we were both able to pull ourselves out of Saturday's depression to do this, but we couldn't possibly deprive you and kick you while you're down. So let's get started...
Our readers are aware of the Huskers' disappointing loss at Camp Randall on Saturday, but for those that weren't able to watch closely, can you describe some of the issues Nebraska faced on Saturday against Wisconsin?
Man.... where oh where do we start?? Defensively, it was probably a game that was on par with the 2008 Oklahoma debacle. Nebraska is very thin talent wise right now in the secondary, and it showed tremendously as Russell Wilson diced up the likes of Andrew Green, Damian Stafford, and Austin Cassidy with some great passing. The front 7 played alright, especially against the run. However, with the graduation of players like Prince Amukumara, Dejon Gomes, and Matt O'Hanlon, the Blackshirt defense is very green aside from Alfonso Dennard.
Offensively, it was really the first time that Nebraska struggled. Many fingers are being pointed at both Taylor Martinez for his passing skills (or lack thereof) and OC Tim Beck for putting Martinez in those types of situations. Nebraska has a plethora of talent at skill positions this year, but Taylor has not seemed to realize that he does not need to win the game for us by himself. Of 65 snaps in the Wisconsin game, Taylor either ran with it or passed 44 of those plays. With the surprising development of the offensive line and the talent of a Rex Burkhead and Ameer Abdullah, as well as Jamal Turner begging to be unleashed, a lot of heads are being scratched about all of this.
There are few teams that happen to rank lower than Nebraska in overall passing yards, and Ohio State just happens to be one of them. What are some of the OSU weaknesses you've noticed that present a matchup favorable to Nebraska's strengths, and you'd like to see them exploit on Saturday?
When Ohio State has the football, the one thing that needs to happen for Nebraska to win this game is that the linebacker corps need to have a great day. With Braxton Miller starting, LaVonte David will need to be the presence that he didn't seem to have against Wisconsin. LaVonte is really the only LB that can cover the speed of Braxton, and with how the secondary has been confused so much this week, he needs to step up. Bo Pelini has been harsh on David, especially when the local media has been praising him. David can be a guy that can put up massive numbers (19 tackles in one game), and yet when asked, Bo will flat out tell you that he didn't make a lot of good decisions.
The D line has come together stopping the run the last few weeks, however the pass rush has not picked up as much. Nebraska has had to blitz a lot to get to the quarterback, and even then has not done well getting the stop in the backfield. Watch that, and if Nebraska can't get in the backfield and at least worry Miller or even Bauserman, there is a chance that OSU can move the ball in the air, even with the bad stats.
QB Taylor Martinez seems to be having a bit more difficulty handling the pressure than he did last year. Can you elaborate a bit on the QB situation? How do Husker fans feel about it?
Taylor is being quickly turned into the poster child of the issues with the whole team, fair or not. Taylor has done well at times this year with better decision making, but at the same time the way the Wisconsin game went down, it just reminded people of the transgression he showed last year in the last 2 games against Oklahoma and Washington. Right now, there's a pretty black/white feeling about Taylor in that you either love him and want him in there no matter what, or you want him out and have Brion Carnes in to test the waters. Brion did show flashes of greatness in the Spring Game last year, but has only seen the field twice in mop up situations.
The last few days, Taylor has not done himself any favors with the fans or media with some ill-timed statements. In the post game presser, Taylor was overheard saying "Why are people so mad, it's only just a loss". Then to make matters worse, in Monday's press conference, Taylor was very short and abrupt to the media, telling them "you are going to rip me anyways." This was after Bo took the time and gave people a very honest, calm critique about his play this year. And Bo was right, that Taylor has played well for the better part of the year so far, but he does not have to win the game every single time.
Many people loathe a lot of things about Taylor; the throwing motion (he's called Uncle Rico by a few people), the fumbles, the seemingly immature things he has said and done. Without Cody Green and with us being told Brion isn't at Taylor's level right now, it's what we have to live with, for better or worse.
Who are some players on both sides of the ball that our readers should watch out for on Saturday?
On offense, Jamal Turner is a player that should have had a big coming out party for Nebraska against Wisconsin. For those that keep hoping so, we were pleased with what we saw but scratched our heads wondering why he didn't see the ball more. Think Percy Harvin in both speed and agility, and you have a good idea of what Jamal has done. Ameer Abdullah is the #2 behind Rex Burkhead at RB, but has become a dynamic kickoff and punt returner for the Huskers. He has already hit one home run against Fresno State, and had several good returns against the Badgers.
On defense, keep an eye out on who plays opposite Dennard at cornerback. It's been a game of musical chairs with Andrew Green, Ciante Evans, and even Corey Cooper starting at times. Dennard has been good but not great, but he's not been thrown at much in the 2 games he has been in. Evans started a couple games last year in place of Dennard, but none of the three really has stood out. As this position goes, so goes the rest of the secondary it seems like.
With both teams coming off disappointing losses last week, what are your thoughts and predictions for the game?
This is a make or break game for Nebraska. There are some people (me included) that know that going into a bye week, the Huskers need this one to calm the choppy waters in the press and the fanbase. But Ohio State will not be taken lightly, because there is a small faction that sees this year as Bo's make or break year. It is, for all intensive purposes, his program finally. His players, his coaches, his rules and procedures. Bo has been given the reins fully to the horse, it's up to him to either ride him or get bucked off.
I do think both teams need this game just as bad as the other. I think both teams will play better offensively than last week, and I honestly couldn't tell you a winner right now. I know that Bo always seems to get a lot out of his team after he's been embarrassed, but at the same time, I don't know if they have the talent to completely shut down the Ohio State offense. Also, as Tim Beck goes and gives or takes the reins on Taylor, so will go the Nebraska offense. However, Ohio State's D is nothing to laugh at, and there will be times that they will look good.
Now that we're in October, what are your expectations and predictions for the Huskers the rest of the year? Has the loss to Wisconsin affected this at all?
My expectations for this team have not changed at all. Nebraska still has the most talent in the Legends division. Whether we can outplay a Michigan State or even an Iowa, however, remains to be seen. If people knew that the loss to Wisconsin would be replaced with the chance to get at them in Indianapolis, they would more than likely take that in a nanosecond. The Huskers have lost one inter-division game in the last two years. It's still a simple process and target for this football team: win the division, get to Indy and give yourself the opportunity to win the conference. Anything less will be considered a disappointment.
When Nebraska's switch from the BigXII to the B1G was announced, how did Husker fans feel about the change? Though their conference play didn't start out as hoped, have those feelings changed at all since the beginning?
Nebraska fans have been, are, and always be happy and excited now about being in the Big 10. It wasn't about just not being able to beat Texas, it was the fact that a lot of things that Tom Osborne and President Harvey Perlman stated last year have come to fruition in the Big 12. No matter how many concessions are made to every and any school, Texas will be the one who wants more. More money, more visibility, more popularity.
The Big 10 gives Nebraska stability and a fair voice to everything. Seemingly a lot of people still blame things like Texas A&M leaving and Mizzou's flirting with the SEC to Nebraska. For those in Lincoln, it's seen as sour grapes and finger pointing. I will say that if Nebraska and the B12 wanted it to work, it could have. However, there were too many things that separated Nebraska and several other schools. The last season is used as an example: the loss of Eric Martin and critique of Courtney Osborne against Missouri, and the Texas A&M debacle. A lot of fans want to say " I told you so" at what's going on now, and they have a fair reason to. Is it necessary? That depends on who you ask.
Any interest in trading Offensive Coordinators for the game on Saturday? You never know... it could be fun!
Ha! It would be fun. One thing to watch is Seung Hoon-Choi, who should start at Right Guard. He's a walk-on that has become a monster run blocker. Maybe your OC could start him instead of Andrew Rodriguez....
I can guarantee you, if it should be done, Jim Bollman wouldn't start him either. For any of our readers that may be heading to Lincoln for the game, any tips on things to see, restaurants to try or any other things to do while they're there?
Make sure you hit up the original Misty's on Havelock Blvd. on Friday night, A great atmosphere, where most of the alumni go to converse. The NU Marching Band comes by to give a mini pep rally, and the prime rib is the best you will find in the state of Nebraska (and that is saying something).
On gameday, for visitors, it will seem like there is not a good tailgating scene, however there is as long as you look for it. Walk under the I-180 bridge and head over to the big parking lot. You will be able to walk around and more than likely be welcomed to hang, eat, and drink with several Nebraska tailgate parties. As you get close to the stadium, there are great scenes and tailgates to visit, including the Husker Nation Pavilion on the north side of Memorial Stadium.
Also, realize that most Nebraska fans will be very kind to the opposing team and fans. They applaud the visitors as they leave the field, win or lose. I remember in 1998 on Halloween night, Ricky Williams ran roughshod over us on the way to the Heisman trophy. Texas broke Nebraska's home winning streak that started in 1991, a 47 game winning streak. As Williams left the field, he and Mack Brown were cheered as they were members of the team. Loud yelling, clapping, fans chanting "Ric-ky" as he walked off. You think that would happen against Oklahoma State or Michigan? Not a chance.
Looking forward to Saturday, thanks!
Thanks again to Brian of Husker Locker for joining us this week and sharing his insight. You can read more from Brian, and the other Husker Locker writers, by checking out the links below. Go Bucks!
Brian Towle Twitter: @btbowling
Husker Locker Twitter: @HuskerLocker