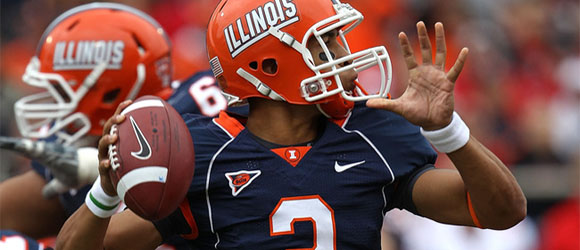 Many things in life are cyclical, and college football likely epitomizes this better than most of those things. All winning programs have certain torches they need to pass off to others, even if just for a year or two.
Despite the offseason drama we all had to witness, I couldn't have imagined then that my pregame interview with an Illini writer would follow three Ohio State losses, and Illinois clinching a bowl berth. But, such is life, and I guess they can carry that bowl-eligible-in-October torch for now. And... a little cleansing of the bandwagon never killed anybody.
This week I welcome Robert, of A Lion Eye, as our uber-giddy, bowl eligible guest on Across the Field who gives us great insight on our opponent this Saturday. We discuss Illinois' strengths and weakness, unsold tickets, why (despite the fact that I ate it last night) you should boycott Chipotle in Champaign, and their player that might pull a reverse Woody Hayes at any given moment. If that's not something to watch for, then I don't know what is.
Illinois has gotten off to a 6-0 start and is ranked 16th in the country. How has the first half of the season compared to your preseason expectations?
Given that I predicted 6 wins, I'd say this team has done a good job of exceeding everyone's expectations, including my own. The main reason our preseason expectations were so low was the departure of the "Big Three" to the NFL - tailback Mikel Leshoure, linebacker Martez Wilson, and the greatest second team All Big Ten defensive tackle in the history of All Big Ten lists, Corey Liuget.  I went as far as setting an alarm in my phone last January after the Big Three declared that would give me an alert in August - it simply said "whatever you think this team looks like in camp, decrease your prediction by 2 wins due to the early departure of Leshoure, Wilson, and Liuget."  Most every Illini fan felt that those three were the straw that stirred our drink, and without them, we were in trouble.
But that said, many still looked at our schedule before the season and said that a 6-0 start was possible.  5 games at home, the only road game at Indiana, and probably only one ranked team (Arizona State).  As it turned out, we played several fairly decent teams (Arizona State probably wins the Pac 12 south, Western Michigan might win the MAC west, Arkansas State might win the Sun Belt), so it looks like our streak is intact: we haven't played an FBS non-conference opponent with a losing record since Syracuse in 2007.  Because if there's one team that should schedule like they're a BCS mainstay, it's Illinois.
Sorry - nearly every question someone asks me eventually turns to "our non-conference opponents finished 80-28 over the last three seasons". But hey, I can bring that back to your question.  6-0 certainly looked possible.  But we've finished above .500 in the non-conference only once in the last 10 years.  We've simply come to expect a 2-2 start. Or at least one loss in the first 4 games - the last time we started 4-0 was 1951.
Illinois ranks 33rd nationally in total offense. What's been the secret to their success? (Think they would mind loaning it to the Buckeyes?) Other than Nathan Scheelhaase, who are some major contributors to watch this weekend?
The list of major contributors has to start with wide receiver AJ Jenkins.  He currently has more receiving yards than any other college football wide receiver.  And we're a running team.
Jenkins looked very promising as a freshman in 2008, completely disappeared in our disaster of a season in 2009, and cleaned out his locker, told Ron Zook he was transferring, and moved back home to Florida.  Thankfully for us, Zook and newly-hired offensive coordinator Paul Petrino talked him into returning to school after break, and he was our leading receiver last year with 56 catches for 746 yards and 7 touchdowns.  This year, he's already passed those numbers.  46 catches for 815 yards and 7 touchdowns.  At this point, he's probably an All American.
At tailback, it's been a combination of 3 guys - little-used senior Troy Pollard, who is now leading us in rushing, heavily-used senior Jason Ford who has been the team's biggest disappointment (not a single run over 10 yards the last 5 games; averaging only 3.3 yards per carry), and true freshman Donovonn Young, who probably has the best balance of any Illini tailback not named Pierre Thomas in the last 25 years.  But Young has a fumbling problem, so he's probably not ready yet to be the feature back.
You mentioned Scheelhaase, who makes everything go.  He's certainly the guy who makes our offense.  Somewhat incredibly, he's 5th in the nation in passing efficiency.  And he's a running QB.  So he's far and away exceeded our expectations.
But there's a catch (and promise me you won't tell anyone).  We haven't played a decent defense yet.  Statistically, Arkansas State and Western Michigan were the top two defenses we've played so far.  Arizona State was decent on D, but Northwestern and Indiana are awful.  The question that every Illini fan is asking this week: what happens when we play a defense that actually knows what they're doing?
Even more impressive, Illinois ranks 15th in total defense and leads the B1G in sacks and tackles for loss. Who are some of the key players on the defense that Buckeye fans should look out for?
This one is easy: junior defensive end Whitney the Mercilus.  Mercilus was a decent back-up defensive end last year, with a couple forced fumbles and a sack.  This year, he's come out of nowhere to lead all of college football in sacks with 8.5 in 6 games.  Mercilus and junior bandit (defensive coordinator Vic Koenning's name for his hybrid defensive end/linebacker) Michael Buchanan have gotten consistent pressure on quarterbacks in every game.  I can say without reservation that if Mercilus and Buchanan were not suiting up for the orange and blue, we'd be 3-3 instead of 6-0.  Their ability to get pressure on ASU's Brock Osweiler, WMU's Alex Carder, and Northwestern's Dan Persa = the single reason we pulled out three consecutive 3-point victories.
I guess I can't give credit to them without pointing out the secondary.  Several of these sacks have been coverage sacks, and that's mostly thanks to our 3 cornerbacks - Tavon Wilson, Terry Hawthorne, and former tOSU commit Justin Green (we, like, totally stole him from you on signing day in 2009 because we promised him carries at tailback - he spent one season there before moving to corner last summer).  I'd say 70% of the time we have all three corners on the field in a hybrid 3-2-6 defense.
At linebacker, watch out for true sophomore Jonathan Brown (can't tell you how long I've wanted to write one of these previews for another site and include the words "watch out for").  Brown was suspended for the Indiana game because he kneed one of the Northwestern offensive linemen in the marbles.  He returns for this game to unleash his special brand of crazy on the Buckeyes.  He might be Big Ten Defensive Player of the Week (like he was after the Arizona State game), he might punch a coach.
Ohio State, as I'm sure you're aware, has a 2 game losing streak and is coming off a heartbreaking meltdown in Lincoln. What are some of the matchups you're hoping to see the Illini exploit?
Well, I'm obviously hoping for Joe Bauserman.  Partly because he looked so bad against Nebraska - partly because he played in the Illinois/Ohio State game last year and threw his first pass to safety Trulon Henry.  The key to our defense is getting to the quarterback to rattle him, and Bauserman appears to be rattle-able.
But even if it's Braxton Miller, I'm still hoping we can rattle.  Ohio State obviously has the best offensive line we've faced this season, but if we can apply pressure with our defensive ends and confuse him with different coverage looks from our corners, I think we can force Ohio State into a one-dimensional, run-only offense.
When we have the ball, I'm hoping to wear down the Ohio State defense with a clock-eating, ball-possession offense.  It appeared to me that Nebraska was patient - their run game didn't work the whole first half, but they kept going to it until they wore down your D in the second half.  I'd like to see some of the same.  Keep pounding, keep moving the chains, and hope for a second half where we can really get the run game going.
What are some of the major weaknesses of the Illini our readers can hope to see Ohio State take advantage of?
Promise not to tell your coaches?  OK - thanks.
I'm not sure if we can stop the run.  Sure, we're #9 nationally against the run, but that's mostly because we've played a passing team, a passing team, a passing team, a passing team, a passing team, and Indiana. To tell you how much of an unknown it is, the best running team we've faced is probably Northwestern.  And they're an awful running team.
So I'm frightened that you'll get the run game going and we won't be able to stop it.  We're pretty thin on the defensive line, especially at defensive tackle, so if Ohio State controls the clock, we might be in trouble.
There are two other weaknesses, but I'm not saying what they are.  If I did, you could forward this to Luke Fickell and guarantee victory.
OK, I'll tell you one.  We have the worst special teams in the entire country.  That's not hyperbole - the worst in the country.  Net punting, punt return, kickoff coverage, kickoff return - we're ranked in the 100's in every single category.  Indiana's average starting field position last Saturday was the 36 - ours was the 23.  Indiana!
We do have a great kicker, and our freshman punter has been getting better.  But if Indiana can run back the opening kickoff for a touchdown, you should probably run two back.
What have you heard about the team's attitude about the 6 wins behind them and the 6 games ahead? How are they preparing this week? Has the appeal of beating Ohio State lost it's luster already, or not yet?
It definitely hasn't lost it's luster.  We haven't beaten Ohio State in Champaign in 20 years. The players know this, the coaches have been preaching this, and this team is prepared to break that streak.  Since the coaching changes in Champaign in December of 2009, this team has been prepared for every single game.  We were 7-6 last year, but had a chance in the 4th quarter of every single loss, including Ohio State (when we inexplicably kicked a field goal from the Ohio State 13 trailing by seven with 4 minutes left).  This team is as focused and on-point as any Illini team I can remember.  They'll be ready.
What are your thoughts and predictions for the game?
I have this dumb personal policy of no predictions until the Friday night before the game.  I evaluate everything all week, analyze the data, and make the call when my nerves are at their highest.  So I can't break that policy and give you a prediction.
But I will say this: right now, I'm leaning towards an Illini loss.  Mostly for two reasons: 1) I can't picture a world where Ohio State is 0-3 in the Big Ten and Illinois is 7-0 (3-0).  I just can't.  If we win, I might have to start evaluating the path we would need to take to get to the BCS Championship game, and if that happens, my brain might fall out. And 2) I'm not sure we can run on Ohio State, and I'm not sure we can stop the run.
Now that we're 6 weeks in, what are your expectations and predictions for the Illini the rest of the year? What bowl game do you see them going to?
For starters, your second question there makes me giddy.  What bowl game do I see them going to?  Wait, that's right, WE'RE ALREADY BOWL ELIGIBLE.  LIFE IS THE GREATEST THING EVER.
We've only been to 5 bowls in the last 16 years, so just getting to a bowl is parade-worthy in Champaign.  The fact that I get to answer your question with statements like "well, if we have a disastrous 2-4 finish, we're probably only going to the Gator Bowl" makes me dizzy.  2010-2011 will be our first back-to-back bowl seasons since 1991-1992.  It's like Christmas up in here.
My prediction would be a 3-3 finish.  The odds of beating Wisconsin at home are probably the same as losing at Minnesota, so I'll say we're 1-1 in those games.  Same with losing to Purdue or beating Michigan - 1-1 in those games.  And then I'll pair Ohio State at home and Penn State on the road.  One of those two defenses will shut us down and we'll lose, one of those two offenses won't be able to score any points and we'll win.  9-3 playing Arkansas in the Outback Bowl.
Pinch me.
For any of our readers that may be heading to Champaign for the game, any tips on things to see, places to eat or any other things to do while they're there?
Well, if some of your readers wanted to come to Champaign and purchase tickets, they're still available.  Yes, that's right, we're #15 in the country, we're undefeated, we have Ohio State coming to Champaign, and there are still 5,000 tickets unsold.  We're the postseason Atlanta Braves of college football.  So at this point, just to avoid the embarrassment of having to say "yes, we couldn't even sell out the Ohio State game", I'm open to tOSU fans gobbling up some of those tickets.  Sacrificing home field advantage just to avoid national embarrassment of your stay-at-home fanbase - THIS is Illinois Football.
As to what to do in Champaign, my list will be SO 1993.  I still live in a world where everyone leaves the bars and heads to La Bamba for a burrito - the fact that Chipotle and Qdoba moved in and La Bamba closed in Campustown makes me weep for America.  So I'd tell any visitors to drive out to the remaining La Bamba at Mattis and Glenn Park Drive for a burrito as big as their head.  Go with the Super Steak with everything and sour cream.
Everything else can be found in Campustown - Green Street between 1st and Wright Street.  Go get a burger at Murphy's, maybe a fish sandwich at Legend's, or, better yet, wait in line an hour for a Papa Del's pizza.
And please boycott Chipotle.
Thanks again to Robert for joining me this week and getting us more familiar with the Illini. You can read more from Robert at ALionEye.com and follow him on Twitter at @alioneye.
Go Bucks!