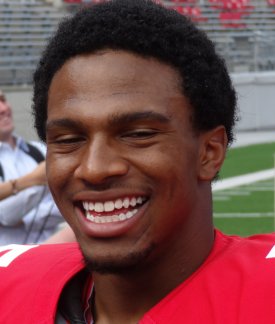 I refuse to start this post with anything negative so how about this Columbus weather? Too bad the game isn't at the 'Shoe on Saturday night. 
So, it is highly possible it's just the Buckeye fan in me but I'm starting to think Ohio State can keep this thing close.
IF any resemblence of a dink/dunk passing game emerges on just enough of a level to keep the Huskers from stacking the box and blitzing on 95% of the snaps allowing the running game to get going, accompanied by the defense either scoring or creating some short fields by making Martinez try to beat them through the air then maybe, just maybe, an upset could be in the works. Wow. That was a long sentence befitting the long odds it'll actually materialize. 
I may not be ready to predict a win just yet but dammit, we aren't going to get ran off the field. Now, if I was in the prediction game I'd go with something safer, like saying Lawrence Phillips definitely will not assault anyone on the sidelines either by fist or by car. 
With that, let's see what some of the staff thinks about things surrounding the program and Saturday's matchup at Nebraska. 
The struggling offense needs something to cling to and the fact Nebraska is ranked just 73rd in scoring defense (27.2) might be that thing. How might OSU conjure up some offensive success against the Husker D?
Johnny: My brain says that the OSU offense would look a lot better if they would only do a couple of relatively simple things to keep the opposing defense honest, like utilizing the running backs in the short passing game or actually allowing the Shifty Running QB to roll out in playaction. However, my other, smarter brain tells me that Jim Bollman is just gonna run right at Jared Crick and the Husker d-line. Because he hates us.
Luke: How I miss the glory days of "Boom & Saine and pray for rain". Unless Ohio State identifies someone new to play quarterback or Nebraska is just completely shell shocked from getting #AllRussellWilsonEverything'd, I can't imagine a circumstance where Ohio State has much success at all moving the ball. Punt on 3rd down maybe?
Corey: They have to be able to pass the ball. Not 20 yard routes, but quick slants, outs and comebacks, along with a few screens. Nebraska's corners have been suspect this year and I'm sure Bo will use the same blueprint as Dantonio in terms of stacking the box and bringing the heat.
Sarah: Every defense Ohio State faces will load the box against them and blitz. They have to start completing passes, especially quick ones. Screens would be nice. Maybe a slant here or there. Anything to mix it up with the Dave/draw/QB sack offensive plan that slowly murders our souls.
With Mike Adams back at LT, it looks like Norwell will move to LG, pushing Mewhort to RG in place of suspended Marcus Hall. I think this might be the best lineup the Buckeyes can throw out there. What's your take? How would you line them up?
Danny: I'm very excited about this line up for Nebraska. Mewhort has impressed this season and I bet he'll be an upgrade over Hall who has struggled to gel with the rest of the line. The line will not have a shaky performance like last week and will be much more cohesive.  
Sarah: After giving up nine sacks, I welcome any new combination, especially one that involves the return of Mike Adams at LT. This sounds like the best possible lineup. 
Luke: This is Ohio State's best 5. It's not a great core, but it's 2 NFL linemen and some guys who by all accords should be viable big time college football foot soldiers. Adams should provide immediate peace of mind for whoever's under center and getting Norwell back to his more natural position of guard should also serve as a net improvement.
I was a very surprised to see Devin Smith not listed as a starting receiver especially with Reed out for the year. I almost have to believe there's something non-football related at play. I mean, T.Y. Williams? Philly Brown? C'mon. Who would you start at the 2 wideout spots and why?
Sarah: I'm actually kind of angry about this. I've been on the Devin Smith bandwagon since before the season began, and more than the other guys listed above him on the depth chart, he's earned the starting position. He's also got the best chemistry with Miller.
Corey:  If Philly is available, I would have him opposite of Devin Smith, but I also think we need to have a few more 3, 4 and 5 receiver sets. Smith leads this team in reception yards and averages 22.9 YPC, so it's hard to understand why he wouldn't be one of the top 2. Plus what happened to splitting Stoneburner out more this season? You have to believe putting Brown, Smith, Spencer, Fields and Stoney on the field at the same time will allow Miller to hit some short, quick passes to help get him going. Unfortunately, Luke says himself he has nothing to do with the offense, so this move reeks of Bollman and Co.
Johnny: Honestly I don't think any of these guys have shown us much of anything so far. That's not really their fault, but truthfully nobody is going to come out of nowhere and light up an opposing defense for 120 yards or something. What I'm saying is that nothing matters, entropy will eventually set in and the heat death of the universe will be complete.
Fickell noted in his presser that he wants Miller to be confident and therefore won't have a quick hook. Based on getting yanked last week coupled with limited success, what's your take on Miller's state of mind and do you get the impression the team is behind Miller as the starting quarterback?
Johnny: If I'm Miller I'm probably pretty furious that I've been given basically nothing to work with throughout the entire season. He's been left out on a limb by a coaching staff that doesn't seem to have even a general idea of how to develop a young QB; I can't speak for what kind of locker room support Braxton has, but I know all the friends in the world isn't going to help him if the coaches don't know what to make of his abilities.
Luke: I don't think the team is firmly behind either guy. If Fickell and/or Bollman and/or whoever the hell is being accountable for the terrible decisions being made by this leadership core continue to give him a short leash, it's going to be really hard for him to gain confidence this season. For a kid a year removed from High School the fragile psyche thing is always a worry, though I suspect Miller will have every opportunity over a long enough timeline to work his way out of any potential funks should musical quarterbacks continue.
Sarah: Miller's been in tough football situations before, albeit at the high school level. I'm not too worried about him taking every criticism personally. Hopefully he'll just channel it into an improved performance on the field, and if Doc Tressel is to be believed, he's been practicing better than ever this week.
Whatever issues are going on in the locker room, I don't think Miller starting is one of them. As far as I can tell, he doesn't have the divisive personality that Pryor had, and the other players have to know that for a freshman QB, he's not in the most ideal circumstance.
Danny: They definitely see him as the starter, but as a team leader, not so much. It's hard to ignore that the guy is versatile and loaded with talent, but he's still learning the game. He's been the starter for a total of two games, and we all knew there were going to be hiccups during his development. I think he understands why Fickell yanked him against Michigan State and that he isn't any less confident than he was going into the game. Miller will use this loss and awful performance as motivation to get better. 
 
Moving on to the drama real quickly, Chris Spielman basically said earlier this week that Posey and Boom should be released from the team. I personally agree. Where do you stand on the issue – Should those two be booted? Why or why not?
Danny: No I do not. I really don't know enough about the improper benefits they received over the summer or why they did what they did. They also both returned to school to serve their NCAA suspension instead of bolting to the NFL like that Pryor guy did. To face their punishment instead of running is very honorable. They deserve to play the rest of the year because they have been positive influences to this program, despite some mistakes along the way. 
Johnny: They're done. Some of the guys in this latest embarrassment theoretically might have an excuse, but Posey and Boom both knew exactly what was going on and what they were doing. A long time ago I posted on 11W that I can forgive a lot of things, but one thing that's hard for me to abide is arrogance. And what these guys did, months after being busted by the NCAA, is the height of arrogance.
Luke: It's not a completely open and shut case in my mind and probably has a rather strong element of complexity to it. If the governing body/powers that be rule that a set punishment affords the (now) crimes, I'm not opposed to them sitting further and then letting them finish their careers. It seems mighty hypocritical to praise Posey the entirety of his sophomore season, ride Boom to a 12-1 season, and then dismiss them just as quickly for taking advantage of an unjust system. Two strikes and you're out so we can all feel better about ourselves? If the NCAA doesn't rule them permanently ineligible, what does Ohio State gain in anyone's eyes by dismissing them other than (slightly) appeasing the sanctimonious blow hard columnists puffing their chests in mock outrage? Calling the school's reputation in grave need of repair is an understatement but I think we're well beyond strategic crisis communication plans at this point.
Corey:I don't think they should get booted, but the NCAA might make that decision for them. I'm just as pissed as everyone else that these kids knowingly broke the rules once again, but I want nothing more than to watch an Ohio State win each and every Saturday and when it comes down to it, Posey and Herron can help us win. I would rather have them play, while this topic is debated for the entire season and watch OSU win, than to have them done and watch a 6-6 or 7-5 season.
Looking at Nebraska's offense, they've got their own one-dimensional issues. They are 9th in rushing but 103rd in passing with Taylor Martinez. As such, how do you expect Heacock and Fickell to strategize to stop the Husker attack?
Sarah: Just do what the Michigan State defense did against Ohio State: stack the box, blitz, and keep a spy on the QB. Martinez is quick and is a much better runner than passer. He's only completing 50.5% of his passes and he can be baited into making mistakes, as evidenced by his INTs (5) to TD passes (4). Whether this will matter or not, he's been pretty feisty this week after dealing with a lot of complaints from fans. That can either motivate a player or it can get in his head even more and mentally paralyze him. The defense has to try to make it the latter.
Johnny: Load the box, put a spy on Martinez (probably the Star), and let him try and beat him with his arm. The great thing about Taylor is that he will force the issue no matter what and could easily account for 2-3 interceptions. The other great thing about Taylor is that him channeling his inner Sexy Rexy leads to a possible hilarious blowup on the sidelines between him and Pelini, which could account for the only enjoyment I'll get from this game.
Based on your predicted defensive gameplan, talk about a player or two that might have a big game this week.
Sarah: I'm going with Christian Bryant, who has played well lately. I think he'll spy on Martinez and I'll even predict that he'll grab an interception.
Johnny: Barnett or Bryant might step up big and house an INT or two. Other than that I'll most likely just be staring at my television and shaking my head like Bill Cosby reading Theo's report card.
Corey: I have to think Roby is going to make another play this week. He is going to be special and I think his man cover ability, allows Heacock to bring the blitz, if he chooses to. I'm hoping this is the game Ryan Shazier makes a huge impact play and starts to see more PT. 
Do you buy Fickell's comment that there's "no fragmentation" in the locker room despite the comments from Hyde and Bryant last week? Either way, what do you see as the state of the locker room if the Buckeyes lose ugly again this week?
Danny: To be honest, I think the locker room morale is incredibly low. Many thought the Buckeyes were still going to be a Big Ten title contender this year, so it can't be easy coming to terms with the fact that they're struggling. Fickell has got to win this week or risk losing faith from a lot of his players.
Luke: There may not be fragmentation in that everyone's still on the same page, but it doesn't mean an element of quit hasn't begun to creep into each and every players' minds. Ultimately if things continue to play out as they have, it's going to be harder and harder for the guys to not let that voice in the back of their minds get louder and louder.
Johnny: I would have to imagine that it's bad and going to get worse the more we lose. With reports of a dust up between the offense and the defense staffs, that kind of thing is definitely going to filter down to the players. And frankly, who can really blame the defense for being angry? They're getting no help.
Let me try to brighten the mood a bit. If you could pimp slap just one of following dudes and get away with it which would you chose and why? Desmond Howard, Mike Hart, Brady Hoke, Charles Woodson or Tshimanga Biakabutuka?
Johnny: There has been only one OSU game in my life that caused me to regress into a tantrum where I crossed my arms and pouted like a toddler who had just been denied his Juicy Juice. "THIS IS UNFAIR," ten year old me yelled at the television as I watched Tshimanga Biakabutuka rumble for over 300 yards one cold November day. For ruining my childhood, he deserves all my slaps.
Luke: I can and did slap Mike Hart 4 times and if you count the Texans' one victory over the Colts that one time, let's call it a clean 5. But no, Desmond Howard singing Hail to the Victors on top of Ohio Stadium with Nick Lachey remains the single most egregious thing I've ever bore witness to in person in my entire life (and I saw a man die on the corner of 14th and Summit). I'm a pretty easy going person naturally, but I was ready to prepare a kill room in the Drinko Room at the Ohio State Alumni Association given the chance that fateful Saturday (I'm still convinced on some level that's the reason Ohio State lost to Texas then).