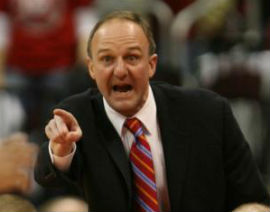 If there was ever a time for the Buckeyes to land a big recruit, it would be now. Unfortunately with the team 3-3, the NCAA ruling still not out, and the coaching future uncertain, any big time commitments are unlikely to happen until December.
For now, all you OSU recruitniks can do is sit and wait things out. The staff is doing its best job in trying to bring top notch talent in for the 2012 season, but even they were not prepared for the snowball effect Tatgate and the ensuing results would have on the program. It hurts to say this, but we may have to brace ourselves for an average to above average class this upcoming Signing Day, with the big splash coming the year after once everything is back to normal (hopefully) and the dust settles on this entire mess.
Until then all we can do is keep up with the times, starting with another edition of the 11W Recruiting Notebook. Join us after the jump to catch the latest on future Buckeyes in action, how Wisconsin is capitalizing off momentum, and what Thad Matta and the hoops coaching staff is doing to prepare for the next few seasons.
Friday Night Lights
Thanks once again to my correspondents out in Ohio, as well as Matt Hager's FNL segment on BSB to keep me in the loop on Ohio high school football while I'm out here on the east coast.
We start this week with Jacoby Boren and Roger Lewis, as the two future Buckeyes led Pickerington Central to a 35-0 win over Groveport Madison. The Tigers compiled 260 yards on the ground, rushing behind Boren and the rest of the offensive line all night, while Lewis had a couple of nice runs and returns as well as hauled in a long reception in double coverage to keep a drive rolling.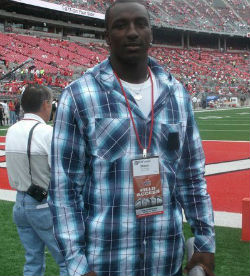 Bri'onte Dunn was held to just 89 yards on 25 carries, but his Canton Glen Oak team moved to 7-0 on the season with a 22-16 win over Uniontown Lake. While Lake stacked the box against Dunn, 2013 quarterback prospect Reid Worstell stole the show. Worstell, someone the Buckeyes are very aware of, threw for 192 yards and 3 TDs on 13/16 with passing, including the game winning touchdown as time expired.
Cleveland Glenville improved to 3-3 on the season, dominating Cleveland JFK 40-0. The win was the 101st straight in the Senate League for the Tarblooders, who are lead by Buckeye commit De'van Boggard. Boggard has been stellar on both offense and defense for Glenville, but his presence in the locker room has been praised by all, including head coach Ted Ginn Sr., who made his return to the sidelines after having to take a few weeks off to tend to personal matters.
Patrick Elflein did all he could, but it wasn't enough as Pickerington North fell to Gahanna 24-14. Elflein and his defensive teammates were not able to stop Gahanna QB Tyler Grassman, who completed 21 of 31 passing attempts for 236 yards and 2 TDs. Grassman is a solid high school quarterback but has been looked at by a number of schools, including Ohio State, as a kicker at the collegiate level. For Pickerington North, 2013 TE/DE Jake Butt hauled in a 25 yard touchdown catch.
The return of Frank Epitropoulos could not be going any better for Upper Arlington. The Golden Bears held Central Crossing to 3 yards of total offense in a crushing 76-0 win to improve to 6-1 (4-0) on the season. Epitropoulos caught a 45 yard touchdown pass in the first quarter and helped a dominant defensive unit keep the Comets at bay for the entire evening.
Josh Perry starred at both linebacker and running back once again for Olentangy who took down Dublin Jerome 42-17. Perry rushed for 148 yards and 2 touchdowns while also catching a touchdown pass and returning an interception 22 yards for a score. Perry continues to prove himself as a super-athlete, something the Bucks will need on defense as they look to improve their pass rush next season.
Najee Murray caught 4 passes for 66 yards, while notching 10 tackles and 2 pass break-ups in a 35-20 win over Baltimore (MD) Mt. Saint Joseph. Steubenville improved to 7-0 on the season.
Luke Roberts and his Lancaster teammates had a night to forget. The Golden Gales fell to Reynoldsburg 13-2, continually shooting themselves in the foot all night with turnovers. Roberts had a great night on defense with 16 tackles (3 for loss), but it wasn't enough to prevent his team from falling to 3-4 (1-3) on the season.
Cleveland St. Ignatius rolled to a 42-7 win against Erie (PA) Cathedral Prep. With a big lead, Blake Thomas didn't play much, but did notch 1 catch for 35 yards in the win. Ignatius improves to 6-1 on the 2011 campaign.
Finally, Tyvis Powell and Bedford fell to 4-3 on the year with a 23-20 loss to Lorain. Powell was solid in coverage all night and had 3 tackles on the defensive side of the ball from his cornerback position.
Wisconsin Capitalizing On Big Season
Earning the Big Ten's bid to the Rose Bowl last season and starting off to a hot 5-0 start have certainly gotten Wisconsin a ton of national attention.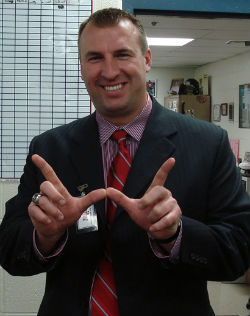 That attention hasn't just stayed in the media, as recruits are starting to take notice as well. Bret Bielema has done an excellent job capitalizing on his team's recent success and has already put together a nice start to his 2012 recruiting class with players from all across the country (only 2 out of 10 commits from Wisconsin). In addition to what they already have, Wisconsin is also on the short of the list for top 2012 prospects such as OT Jordan Diamond of Chicago, CB Yuri Wright of New Jersey, LB Daysean Rippy and DB Demetrious Cox of the Pittsburgh area, and many other players who any program would be lucky to have.
Bielema also has the attention of the 2013 class and some players 'The Jacket' is reaching out to are also on the Buckeye radar. While Kyle Dodson is the only UW committed player the Badgers have stolen from OSU, expect the Wisconsin staff to try to come in and invade Ohio much hard from here on out. The Badgers have already offered ATH Jalin Marshall, QB Malik Zaire, DB Cameron Burrows, and WR Rob Wheelwright, with a bunch of other Ohioans on their radar. In addition, the Badgers have also offered out of staters in CB Eli Woodard of New Jersey and RB Derrick Green of Virginia, both of whom have been thought to be Buckeye leans.
Obviously, if everything goes back to normal this year, there's not much to worry about as Ohio State should always be able to out recruit Wisconsin. For now though, at least until the NCAA and coaching situation in Columbus are settled, things are definitely trending upward for the Badgers and downward for the Buckeyes in regards to the program in the Midwest that national type recruits are paying attention to.
Hoops Outlook
As of now, the Ohio State basketball team only has one scholarship to give out for the class of 2012, with William Buford being the lone scholarship player set to graduate the program after this season. They also only have one scholarship to give out for 2013, with Evan Ravenel as the lone junior on scholarship currently on the roster
Obviously that can change, as many expect Jared Sullinger to bolt for the NBA after his sophomore season, and it wouldn't be surprising to see DeShaun Thomas leave either if he has the type of year many are expecting out of him. Keep Thomas at OSU for at least another year and that likely leaves the Buckeyes with three total scholarship availabilities for both the 2012 and 2013 recruiting classes. With Marc Loving already committed for the latter class, that means there will only be two spots on the OSU roster up for grabs.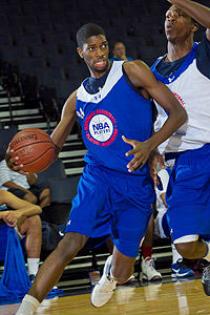 In past editions of the 11W Recruiting Notebook we've mentioned 2012 big man Tony Parker of Georgia as a big possibility to join the fold and follow in Sullinger's footsteps. Parker's finalists include OSU, Duke, UCLA, and Kansas, but it looks like the Bucks are in the lead for now.
Other candidates to fill the one or two spots in the 2012 class include F Amile Jefferson of Pennsylvania, C Dajuan Coleman of New York, and C AJ Hammons, originally of Indiana and now of Oak Hill Academy in Virginia. All three have visited OSU at least once and there is definitely a possibility of one of these top players landing in Columbus. That being said, I think it would be Jefferson, if any, that would join Parker (wishful thinking) in Columbus at this point in time.
Candidates to join Loving in the 2013 class if the staff chooses to use the extra scholarship in that year are the nation's top player in SF Jabari Parker of Chicago, the nation's #2 player in PF Julius Randle of Texas, PF Chris Walker and PF Malik Price-Martin of Florida, SF Brannen Greene of Georgia, and many other prospects of elite caliber.
Of those players, I am hearing it is most likely that the Bucks would land either Parker or Price-Martin. Parker is the least likely of the two, as he has offers from nearly everyone in the country and seems to really be taking a liking to Illinois, Duke, Michigan State, BYU (he's a Mormon), Washington, and Kansas, in addition to the Buckeyes. Price-Martin, on the other hand, is very familiar with Ohio State and Columbus, as his half brother is Jeremy Cash, a freshman on the football team.
No matter who the Buckeyes land for 2012 and 2013, one thing that is for certain is that Thad Matta and his staff have done an excellent job selling themselves and the brand of OSU basketball on the national level. With Thad in charge, expect Buckeye hoops to be on the elite level for years to come.