As it's now Thursday, the majority of the tried and true Buckeye fans that you know have hopefully turned their attention towards Colorado and away from last weekend's 60 minute long "emotional cramp" suffered by Ohio State's quarterbacks and offensive coaching staff. With that redirection of attention hopefully comes calm and perspective, a knowledge that will help put sports in their proper place, as an escape from real life, not a matter of life, death or serious consternation.
Yeah, right.
Football, to many of us is as vital to our well-being as liquor and beer, or beer and liquor, or beer and beer, whatever, you get what I am saying. We love this stuff, and that's why it takes the toll it does on our psyches when the colors  that we wear every weekend; or that fly high and proud above our homes, didn't come through for us like they have so many times in the last ten years.
Losing sucks, and we just aren't good at it. Worse yet is the fact that so often in the last ten years when the Buckeyes have lost it has often been in the most unflattering of ways.  When the Buckeyes don't win, they don't just lose, they more often than not look woefully unprepared emotionally and that makes it harder to swallow.  Anyway, moving on, right?
FAN-TASTIC? NOT SO MUCH. I certainly don't want to sit here and tell Buckeye fans how NOT to act this weekend if Joe Bauserman takes the field as the Ohio State quarterback, because I realize that many of you would never boo a college athlete, but it must be noted how the athletes (and prospective athletes on recruiting visits) are seeing the ugly side of the fanatics in the seats.
Two weeks ago, following the narrow escape against Toledo, Jake Stoneburner tweeted "it upsets me that our own fans boo us during the game..." and this past week FB Zach Boren added to that refrain, acknowledging how great Buckeye fans are, but lamenting the quickness with which they turn on their team. It's not hard to understand the frustration that Buckeye fans feel when the team underperforms in a game you paid hundreds of dollars to watch, and maybe you're booing the highly paid, woefully indecisive head coach; but that's not how it comes across to the guys on the field.
When you, the fans, boo the home team; it does nothing but demoralize the good guys, pump up the opposition and leave an ugly memory in the minds of recruits and prospects about the entire fanbase, even if it's only a smattering of naysayers who are doing the belly-aching.
Bottom line? You stay classy, Buckeye fans.
BEEBE GUNNED DOWN  Earlier this week, the University of Oklahoma made two things very clear: Dan Beebe was nothing more than a puppet for the Texas Longhorns and that if OU was to stay in the Big 12, that puppet would have to go. It appears as if Boomer Sooner got their wish, sooner rather than later, as Beebe has reportedly been working on his exit from the conference. With the Pac-12 suggesting that they would not be interested in further expansion at this time, and the Sooner ultimatum being accepted, it appears the the Big 12 will continue to exist as we currently know it.  At least for another day or so.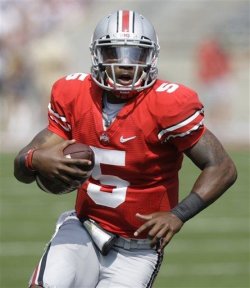 BUCKEYE QB OPTIONS Ohio State had created its game-plan for Miami with the expectation that Braxton Miller would be the starting QB in Coral Gables. For whatever reason, when the kick got closer, Luke Fickell changed his mind and decided it was better to stick with the senior. I know that sounds far-fetched, but if you are like me and re-watch every game as sobriety sets in, then you can see a number of early circumstances where plays seemed to be run with the "wrong" QB in the game. I know this sounds crazy to Buckeye fans who see the depth chart being released with "co-starters", but be prepared for the official start of the Braxton Miller era this Saturday.  It's time to ride the youngster win or lose.
THE POT CALLING THE KETTLE SOMETHING OTHER THAN A KETTLE. In this case, the pot is Luke Campbell or "Uncle Luke", formerly of Two Live Crew fame and recently for his mayoral bid in Miami. The kettle is of course Hurricane Nevin, the bite-sized booster who just wanted to be liked by the football team.  Mr. Campbell has decided it best to sue Mr. Shapiro, currently incarcerated, for slander. Campbell has asked for damages over $15,000, claiming that Shapiro's claims of Campbell being the "first" provider of illicit benefits to Da U's athletes falsely suggests that Campbell engaged illegal and immoral behaviors relative to college-age athletes." Yes, you heard it right - the writer of "Me So Horny" and "Face Down, Ass Up", the rap group that produced "Nasty As They Want To Be"; has apparently really changed his mind about being viewed as a "moral agent".
MICHIGAN MOMENT. Truth be told Buckeye fans, I didn't get to watch the UM game last weekend because I was moving to Southern California.  If you feel up to it, please let me know what you saw from the Wolverweenies against EMU and what you think will happen this weekend as they prepare to devour Brady Hoke's former team, San Diego State.
QUICK SLANTS. Cincinnati Bong-als....no matter how many times I see this, it's funny...Big Life, Big Stage, Big...Cheerleader?...It's official - Ron Artest is an idiot...greatest American-born hockey player ever (?) retires.