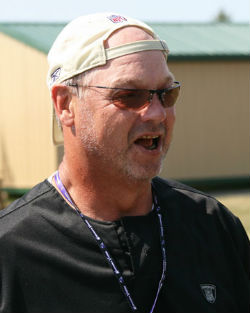 Short-staffed might be the best description of the Ohio State Buckeyes so far this year. With seven would be starters (including those suspended and injured) out for the first two games of the season then four suspended starters and two starters injured for the Miami game, it has been known to all that the Buckeyes were fighting an uphill battle from a  personnel standpoint.
The difference Hall had alone in the first half against Miami was evident of what that experience factor can add to the equation. This is not an excuse but a fact. Every player who scored or created a turnover in the Miami game last year was either suspended, hurt or had graduated. These are the kind of issues that are flat out hard to overcome.
One thing people are not focusing on is how the Buckeyes are short-staffed in the coaching category as well. Don't take that the wrong way. The staff is still one of the best in the country, but, consider for a moment what was lost with the departure of head coach and de-facto quarterbacks coach Jim Tressel.
What the university hired was a new defensive-minded head coach and a linebacker coach. The difference in this I think was the most striking on Saturday. Coach Tressel left giant shoes to fill in both of his roles, and maybe even more so as the leader of the offensive staff. While the defensive group has remained intact with the addition of a coach who is well known to all there, the offense might be suffering from the loss of their lynch pin.
With crisis, comes opportunity, however, and a chance for a good coach to become great. In my experience, the best coaches I have played for aren't necessarily the ones who prepare the best, but the ones who are able to make the adjustments on the fly that make the difference in a game.
In 1995, we had a great team led by a talented defense. We were well-prepared and played a simple game plan of basic, sound football. As the season wore on, teams were steadily doing better and better against us culminating with Tim Biakabutuka's 312 yards in the regular season finale.
The following season, when Fred Pagac took over, we blitzed more, made in-game adjustments to coverages, fronts and blitz packages and were one of the most dominant defenses in the country.
The question here is whether Luke can do what he has done so many times in the recent past as the leader of the defense and make the mid-stream adjustments that are now necessary to get this team back on track and ready for the next big test.