It's another Monday where Ohio State's résumé still isn't pretty enough for AP voters to adorn a ranking on them. Of course, the chance to change that will soon be here.
MIKE LOCKSLEY EXITS STAGE LEFT. It's probably a bad sign for the University of New Mexico's football team's fortunes considering the only times they're relevent is when their head coach is punching an assistant or when an impostor UNM recruit gets caught drunk driving in their head coach's car. After the latter incident this weekend (which, if anything, is quite bizarre) and their head coach presiding over a 2-26 record ... the earth-shakers of UNM have decided they will no longer be needing their head coach's services, effective immediately.
HAPPY VALLEY? ANYTHING BUT, THESE DAYS. The hits keep on coming for Penn State, as Joe Paterno continues to drag Joe Paterno's Legacy (both literally and figuratively) through the mud and to an already-prepared grave. This time, the bad newz comes in the form of their leading tackler, Michael Mauti, having torn his ACL during Saturday's epic clash with Eastern Michigan. He's expected to miss the rest of the season.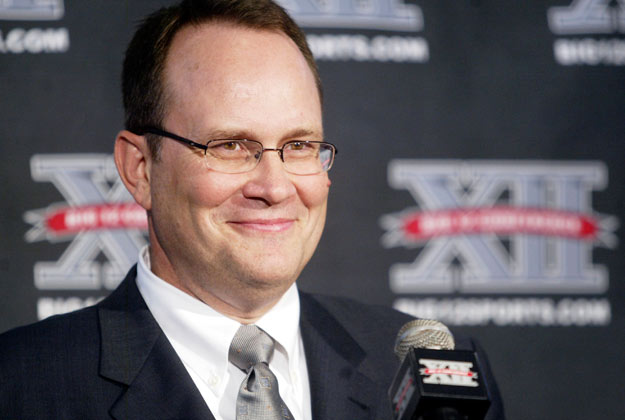 THE SEC AND TEXAS A&M ARE NOW OFFICIALLY ENGAGED. A&M's official introduction into the SEC is set to occur on July 1st, 2012. Does Missouri have the heart to jilt the Big 12 to be the cherry-on-top of the SEC's expansion sundae? Their fans sure hope so, and Missouri is reportedly weighing the option. (Which, if true, means they're going to bolt). Speaking of the Artist Formerly Known as the Big 12, (which may be able to dovetail Texas' ridiculous demands to outside suitors--an angle that's getting laughable coverage from ESPN--into a few more years of pitiful existence), you should probably go check out the Fake Dan Beebe's Twitter rant after the Real Dan Beebe was toppled.
TOLEDO CLAIMS THEY WERE HUSTLED. AND THEY WERE. Big East officials admit their crew blundered a call on an obvious miss during what turned out to be a crucial extra point during last week's Toledo-Syracuse game. Toledo has asked that the game be officially vacated. Now, admittedly, I don't know much about the intricacies of collegiate football refereeing, but I assume there were MULTIPLE people involved in the process of reviewing that play. How in the world did MULTIPLE people look at the tape and "confirm" the ball went through the uprights? I'm generally not a conspiracy theorist, but with most sports books having Syracuse at -2 or -2.5... well, there's an old Montana saying... "Where there's smoke, there's fire." It's a shame people like Charles Robinson are chasing teenagers around and are getting them in trouble for accepting free cash or some lap-dances, because I would definitely read an article about match-fixing in collegiate athletics, which is undoubtedly happening somewhere on some level in college athletics.
JERRY KILL IS BACK IN THE HOSPITAL. Having suffered a seizure during a game a couple of weeks back, Jerry Kill had another one on Sunday morning. This time he's back in the hospital for real. I've always liked Jerry Kill, ever since back in 2008, when he brought his Southern Illinois squad to a place where FCS play-off dreams come to die, Washington-Grizzly Stadium. Sure, the Salukis were crushed like a pop-can by the Montana Grrrrrizzlies, 20-3, but I remember watching an interview of him on the local news that game-week and thinking, "I like this Jerry Kill fellow." It sucks when something uncontrollable as health gets in the way of somebody's obviously successful career, but especially so when it happens to a good human being.
WEST VIRGINIANS LOSE, REACT IN STEREOTYPICAL FASHION. In three thousand years, I'm sure anthropologists will have a cache of files and artifacts assembled from the game in Morgantown last Saturday. While the "town" of Morgantown wasn't burned to the ground in the wake of the Mountaineers getting rolled, multiple people were shot, one was killed and WVU's locker rooms were broken into. I guess the fine denizens of West Virginia actually thought they stood a chance against LSU.
INTERNET THINGS. In Mexico, even their social media is drug turf... From Russia (where Vladamir Putin could rule until 2024), comes this: "Drunken fishermen ram atomic submarine"... Criminals walk with their own gait?.... Ever wonder where all the old cell phones and computers go to die? Ghana... WATERMELON SKIN CARVING... Finally, a face to "the Michigan Man" (NSFW)...