Are you guys feeling better now? I have to admit, if you had told me this time last week that Basil was going to put up our only points against Miami, I would've laughed in your face. That Buchanan would be in serious consideration for our best player of the night (somewhere, Tressel watched that boy punt and got a tingly feeling all over, I'm sure), I would've searched for the nearest tall building. That NOBODY could complete a pass to a WR or TE?!
I would've told you that no way would Luke Fickell be walking around the 'Bus with his head still attached come Monday. And finally, if you had told me Bauserman would be standing on the sideline LAUGHING during this whole debacle, I would've bet my life savings that somebody would've force fed him an envelope full of cash somehow, and they would've made it painful.
Despite all that torture we had to witness in South Beach, and Ohio State Football's super special way of making you feel like you are going to die at times, eventually we remember the last time we felt that way *cough*USC GAME*cough, and realize... everything is going to be alright. So, with that, let's get to talking about things OTHER than Miami...
THE BRAXTON ERA HAS OFFICIALLY BEGUN. Well, Buckeye fans, I guess Luke Fickell finally heard us. Fickell announced during the "The Luke Fickell Call-In Show," on Thursday that Braxton Miller will be making his first start for the Buckeyes on Saturday against Colorado.
After mentioning on Tuesday that the QB competition was open to all four guys, Miller was chosen over Bauserman, Guiton and Graham this week. Knowing the volatile nature of Buckeye fans, especially when #14 runs out onto the field, Fickell did choose his words carefully when he said, "we need both of them. The way we handle it is key."
I don't know what exactly changed his mind, maybe the fact that Bauserman apparently thinks he's playing baseball and there will be about 160 other chances to redeem himself throughout the season. Perhaps that Bauserman thought it was okay to throw passes to Posey in the stands. I don't know. Whatever it was, I'm hopeful this means we'll be giving Miller more of a chance to gain some momentum than we did last week against Miami, yanking him the second he made a mistake. (You know, those pesky little things freshmen do at times.)
I wasn't too pleased with that, much like the fact that Miller was given zero attention while he watched the offense from the sideline this year, but if we've turned a corner and are putting our trust in Braxton, I'm willing to leave my grudges behind and see what the future has in store. I'm hopeful our fans will be so excited by the announcement, and the beginning of something new, that they'll show Braxton the patience he'll need as he develops. IT'S MILLER TIME!
JILTED LOVERS COMING HOME. Ralphie brings three Ohio natives to the Shoe with him this Saturday in RB Rodney Stewart (Westerville), LB Doug Rippy (Columbus) and CB Ayodeji Olatoye (Dublin). Though all three grew up in the shadows of the Ohio Stadium, none of them were paid much attention by the OSU football program.
Unfortunately for us, these guys who likely feel they have something to prove, aren't exactly bench warmers. Rodney Stewart has cemented his place as, at the very least, the fourth leading Buffs rusher of all time. Given Stewart's shifty nature and his nickname "Speedy," as well as OSU's 27 missed tackles last week, watch for Stewart to take advantage.
Rippy also happens to be Colorado's best weapon on defense (he's from Ohio, so I'm not sure if any you are shocked by this... but you shouldn't be). When asked about coming home to Columbus to play the Buckeyes, Rippy said, "It means a lot. Just for the simple fact that I was not heavily recruited by Ohio State, and now that I'm here I have the opportunity to play them. To go back home is really good, but at the same time I have a job to do."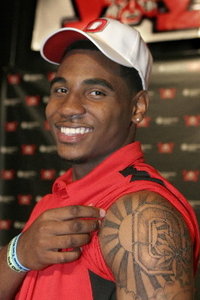 YOU THOUGHT 41-14 WAS BAD? Cincinnati put on a clinic for visiting NC State Thursday night, beating the Wolfpack 44-14. The Bearcats defense really stole the show knocking out six sacks and forcing three turnovers, getting them to 16 forced turnovers thus far this season.
The NC State passing game actually wasn't so bad, with QB Mike Glennon racking up 334 yards and 2 TDs (2 picks didn't help though), but the Wolfpack could've done better on the ground than -26 yards if they'd been roofied and were passed out on the roof of a hotel under the hot Vegas sun. I'd normally be happy to see another Ohio team do well, but coming off a brutal loss I'm just dreading the return of this terrible fashion choice.
YOU'RE IN GOOD HANDS WITH VERLON. The Ozone's Brandon Castel reported Thursday night that WR Verlon Reed suffered an injury to his hand, requiring eight stitches, the week leading up to the Miami game.
While Verlon and the coaching staff weren't using the injury as an excuse for his performance Saturday, they did note that Verlon is doing much better now and has been working like crazy to make up for last week's performance. Ohio State Receivers Coach, Stan Drayton:
"I like the way he has prepared this week, you look at a person like Verlon who ached so much after that game. That particular play, he doesn't rest easy. Now you watch his actions after the fact. Is he moping, or does he try to make sure that never happens again? What I'm seeing is he's working his tail off. He's trying to catch everything that's coming his way."
Here's to a fully recovered, ready to go Verlon Reed against the Buffs tomorrow!
HERE YOU GO, KILL SOME TIME! In case you've been living under a rock, and never heard about this... Somebody's playing hard to get... In even more conference realignment, musical chairs news... You can own a hideous piece of history for only $65... I dare you not to laugh at this!