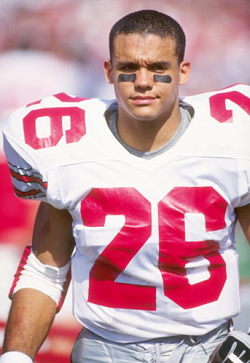 1992 was expected to be a pivotal season for Ohio State football coach John Cooper. It was his 5th year, and most football fans are not inclined to be patient with a coach for any longer than that. OSU fans were especially impatient with Cooper because in his first 4 seasons he had not beaten arch-rival Michigan, nor had he beaten second-tier rival Illinois or won a bowl game of any kind.
Fan frustration with Cooper reached a boiling point the previous season when, on the morning of the team's showdown with UM at Ann Arbor, it was announced that the university had given Cooper a new contract. His team then proceeded to lay a gigantic egg on the field, falling to the Wolverines 31-3. It's one thing to lose a heartbreaker like in 1990, or a physical back-and-forth struggle like in 1989, but to not even be competitive in the most important game of the season is a disgrace.
The fact that OSU was competitive in their bowl game with Syracuse before bowing out did not ease the pain of the Buckeye faithful. And so, with 14 starters returning for the 1992 season, the expectation was that it was time for Cooper to produce or else. In attempting to do so, Cooper would have one additional weapon that he had been missed during the previous season.
Robert Smith came to Ohio State in 1990 with huge potential and lots of accolades from recruiting experts. He was expected to be the next great runner at OSU, and he did not disappoint in his freshman season. But in 1991, he had a falling out with Cooper and new offensive coordinator Elliot Uzelac. He left the team, citing concerns about his academics and the coaches' lack of attention to such. After the season, Uzelac was fired and Smith returned to the team.
Smith would be needed to fill the void left by departing senior Carlos Snow. Snow had carried the load in 1991 when young runners Butler By'not'e and Raymont Harris failed to produce. Now, Smith would join the others to create a strong stable of backs, bolstered by powerful freshman Eddie George. Not only that, but the entire offensive line returned, including tackles Alan Kline and Jason Winrow.
Former ND transfer Kent Graham had moved on to the NFL, leaving senior Kirk Herbstreit as the incumbant at QB. In addition to his backs, Herbstreit had weapons on the edges in split end Brian Stablein and flanker Chris Sanders. Another promising sophomore, Joey Galloway, added a burst of speed that would stretch defenses vertically. Add to that mix reliable tight end Cedric Saunders and the Buckeyes had everything in place for a great offense.
On defense, the entire secondary returned, led by safeties Roger Harper and Chico Nelson. Greg Smith returned at noseguard, but the rest of the line was gone. However, there was much hope that young players like Jason Simmons and Dan Wilkinson would step up and fill the void. LB Steve Tovar anchored the middle of the defense, flanked by OLB's Mark Williams and Brent Johnson. Kicker/Punter Tim Williams also returned, although he would hand over punting duties to senior Joel Kessel this season.
Despite all of the experience and promise, the offense struggled in the opener against Louisville. The game came down to the wire with OSU leading 20-13 when Louisville scored a TD with only 33 seconds remaining. They decided to go for two, but Wilkinson busted through the Cardinals' line and pressured QB Jeff Brohm into an incompletion on the conversion attempt. Needless to say, this did nothing to calm the fans or ease the pressure on Cooper.
Next, OSU hosted Bowling Green in what was supposed to be an easy win. As part of their broadcast team, ABC employed what has to be the worst announcing team ever to call an Ohio State game: Dan Dierdorf and Bo Schembechler. What could possibly possess them to employ a former Michigan player and the most hated former Michigan coach in this capacity is anyone's guess, but prior to the game Schembechler went into the BGSU locker room and gave the Falcons a pep talk. It must have worked because they gave the Buckeyes a big-time scare before OSU limped away with a 17-6 victory. In the game, Galloway was lost for the season after taking a cheap shot to the knee from one of the Falcon defenders. Herbstreit also injured his ankle, although he managed to get through the game.
Week 3 offered up a rare opportunity for revenge, as OSU traveled to Syracuse to take on the team that had beaten them in the Hall of Fame bowl on January 1st. The Buckeyes responded by pummeling the Orangemen 35-12. The offense finally got on track as Herbstreit connected with Stablein on a 46-yard TD, and George scored 3 TD's as the short-yardage back.
Unfortunately, the scoring spree did not last into Big Ten play, as OSU registered 2 lackluster defeats to start the conference season, falling to Wisconsin 20-16 and Illinois (again!) 18-16. Ohio State had now scored 20 points or less in 4 of their 5 games. A 31-7 win over hapless Northwestern did nothing to calm the fans, as Herbstreit once again injured his ankle and had to watch as his backup Bob Hoying led the team against NU. A trip to East Lansing to face Michigan State loomed the next week, and feelings of doom were settling in among OSU fans.
Fortunately, the Spartans were having problems of their own. George Perles' team dropped their first three games, including a humiliating 14-0 defeat at Boston College. However, they won 2 of their first 3 Big Ten games and were confident facing Ohio State at home. The confidence showed early as MSU jumped out to a 14-3 lead in the 2nd quarter. But this was the moment when OSU's senior QB would take over and rally the team.
Having no success on the ground, Ohio State took to the air, and Herbstreit made one completion after another. The drive culminated with a 12-yard TD pass from Herbstreit to fellow senior WR Greg Beatty. The flurry of passes loosened the defense and opened up the running game, and By'not'e capitalized by rushing 15 yards for a TD on the next drive. OSU went into halftime leading 17-14 and would not look back as they dominated the 2nd half on their way to a 27-17 victory.
In the game, Ohio State outgained Michigan State 412-280 and led in first downs 21-14. The Spartans would go on to win 3 of their last 4 to finish 5-6. Perles would coach for two more seasons, but with similar results and he was finally fired in 1994 amid rumors of grade-tampering and other NCAA infractions. 
Ohio State would finish the season with a record of 8-3-1, which included the infamous tie with Michigan and another bowl loss. Herbstreit was named team MVP, although his season included only 4 TD passes against 6 interceptions. Freshman offensive tackle Korey Stringer started the last 6 games and was named Big Ten Freshman of the Year. Robert Smith and Roger Harper would leave early to enter the NFL draft, and Smith had a fine career with the Minnesota Vikings. Today he works as a commentator at ESPN, joining his former teammate Herbstreit in that capacity.