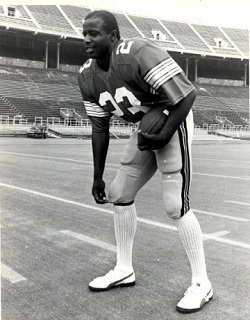 It would be fair to say that Ohio State fans are generally spoiled by the success that the program has had over the past 10 seasons. During that time, the team has gone to 3 BCS Championship games and 8 BCS bowl games overall. They have beaten Michigan 7 straight times and 9 out of 10. New coach Luke Fickell has a lot to live up to, to be sure.
A similar period of success occurred during the late 60's and early 70's for the Buckeyes, and especially during the years 1972-1975. In those days there was no BCS Championship game and so the team's highest goal each year was to win the Big Ten and go to the Rose Bowl. During the 4-year span mentioned above, OSU went 3-0-1 against Michigan and went to the Rose Bowl all four years. They have gone to only 4 Rose Bowls in the 35 years since then.
Now that the magnitude of that accomplishment has sunk in, consider what fans must have thought after the 1976 season, the first season AA (After Archie), when the team lost to Michigan for the first time since 1971 and had to settle for a trip to the Orange Bowl while watching their hated rivals play in the coveted Rose. 
Now fast forward to the beginning of the 1977 season, and the team faces a crossroads of sorts. Michigan is winning consistently behind the running and passing of their star QB Rick Leach. OSU replaced 3-year starter Cornelius Greene with his former understudy Rod Gerald, and while Gerald was talented, he lacked the leadership skills of Greene. Meanwhile, over at Miami Trace high school, a young QB named Art Schlichter was honing his passing skills and receiving lots of attention from Buckeye coach Woody Hayes.
Hayes had always been a proponent of the ground game and little else. He believed in former Texas coach Darrell Royal's famous maxim "Three things can happen when you pass, and two of 'em are bad." In fact, Hayes had added to the quote by saying it could also get the coach fired. Sooner or later, he was going to be forced to use the passing game, if only to keep up with his rivals. But he wasn't going to give up on his old ways easily, and 1977 was not the year for it to happen.
In fact, the deck was stacked in favor of the running game for OSU that season. Gerald was not a great passer, but he was extremely dangerous running the football and he ran the option with great skill. Archie Griffin's old understudy Jeff Logan took over for Griffin in 1976, and he had performed well. But OSU needed a fullback in 1977, since Pete Johnson had used up his eligibility and departed for the NFL. Logan was a team player, and he moved to fullback to replace Johnson, and that left room for another talented runner to take over where Logan had left off.
That role would fall to Ron Springs, a former junior college transfer who had backed up Logan in 1976. Springs was not as big as Logan, but he was a long strider and he could quickly get past you if you don't make the tackle at the line of scrimmage. His 2047 rushing yards in 1975 are still a school record at Coffeyville Community College. Hayes needed to get his best runners on the field and so Springs and Logan played at the same time. Three starters returned on the offensive line, plus the tight end, and so the blocking was solid.
On defense, Ohio State returned 7 starters from the previous season, led by All-American candidate Tom Cousineau at LB. Another potential star was safety Ray Griffin, Archie's younger brother, who had played brilliantly in his first two seasons as a starter. Also returning were defensive linemen Aaron Brown, Eddie Beamon, and Kelton Dansler, and safeties Joe Allegro and Mike Guess.
The season began with a home contest against Miami (FL), a team that Ohio State had never played before. The Hurricanes were coached by Lou Saban during the first of his two tumultuous seasons there. Saban was charged with making Miami a football powerhouse, and, like Hayes, he was also recruiting a hotshot high school QB from Western Pennsylvania named Jim Kelly.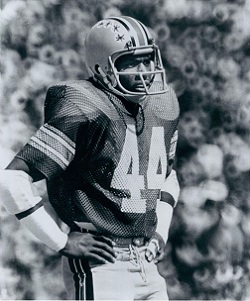 In the meantime though, both schools would have to make due with what they had. As it turned out, neither team had much offense to speak of in the first game. Ohio State scored 10 points in the 2nd quarter but none after that. Fortunately, Miami was even less effective. OSU's veteran defense shut out the Hurricanes and the Buckeyes came away with a 10-0 victory. 
New placekicker Vlade Janakievski booted a 31-yard field goal to begin the scoring. Ron Springs finished it with a 6-yard TD run off the option pitch from Gerald. Springs led all rushers with 114 yards on the ground. OSU's defense gave up over 200 passing yards, but stuffed the run consistently throughout the game and Miami could never punch it in or convert a 3rd down when they needed it.
The Buckeye defense would be dominant throughout most of the season, but they were exposed when they went up against better running teams from other conferences. Oklahoma rode their wishbone offense to a 29-28 victory in Ohio Stadium, while Alabama used their own punishing ground game to pound OSU in the Sugar Bowl, 35-6.
After losing to the Sooners in week 3, Ohio State would rattle off 7 straight victories heading into their season-ending showdown with Michigan. However, for the 2nd straight year they were not up to the task and dropped another one to the Wolverines 14-6. That setback plus the resounding bowl loss would put a sour note on a 9-3 season in which OSU captured a share of the Big Ten title once again. Not only that, but the loss to Alabama would start a long streak of bowl losses to SEC teams that, technically speaking, continues to this day.