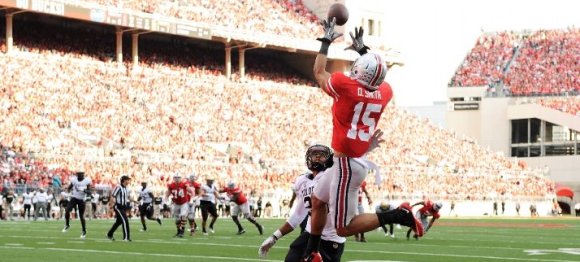 Despite a second consecutive game in which the Buckeyes failed to reach double digits in completions, there were still some positive signs to cling to as the Buckeyes ran past an undisciplined Colorado squad 37-17 yesterday in the 'Shoe. 
The Braxton Miller Era began with a victory, Jordan Hall continued his emergence as the most talented overall skill player for the Buckeyes, special teams had some promising moments and the middle of the offensive line again had its way with an opponent. 
With conference play set to begin next weekend as Ohio State welcomes Sparty to town, there's still plenty for Fickell's squad to work on however if they have any designs on making noise in the Leaders division. 
Now let's take a look at five things...
scratching the surface
Making his first career start, Braxton was able to play with a tad less pressure knowing he likely wouldn't be yanked in the Buckeyes didn't score on their opening possession. Fickell has committed to the kid and responded by showing flashes of brilliance, along with stern reminders that he's still just a true freshman albeit an incredibly talented true freshman. 
Running is his obvious strength as his 17 carries for 83 yards on the ground can attest. His ability to switch directions on a dime and an uncanny knack for weaving through heavy traffic is simply something to behold (how about that sick 17 yard drunken dash on 3rd and 9 on of OSU's 4th possession of the game?). The downside is obviously he must keep his head on a swivel as he makes such cuts because there are plenty of safeties and linebackers on backside pursuit that will be poised to deliver big shots. Clearly, as much as OSU will need to run him to offset his inexperience in the passing game coupled with what is currently a very sketchy group of receivers outside of Devin Smith, he must stay healthy for the Buckeyes to have any chance at consistently moving the football. 
Through the air, Braxton surely had his struggles at times but those struggles were further exposed by the aforementioned receiving corps needing guys to step up. Miller's stat line read just 5/13 for 83 yards and 2 TD but a handful of drops didn't help the cause (TY? NTY). And a couple of those drops would've resulted in huge gainers.
On the plus side, he threw a few strikes including the 32 yard post to Smith, on 3rd and 8 no less, putting OSU in front 17-0. After a steady diet of running plays, I tip my hat to Bollman (1st time I've ever typed that) on the play call. The safeties were cheating up in run support and the the roll right, drop back look that Troy Smith made famous was the perfect calll in that situation. The safeties bit hard, Smith had one on one and easily beat his man to the spot for the touchdown. Great stuff. 
Miller's 2nd TD pass to Smith was also an impressive connection as he dropped a fade near the left pylon for a score giving Ohio State a 27-7 lead with 9:04 left in the 3rd quarter. He put the ball were only Smith could get it and the kid high-pointed it with ease for six. Solid throw, great catch. Imagine how good this combo is going to be in a couple years. 
Though he abandoned designed pass plays a little too quick at times, something I can totally live with from a freshman, he also showed some poise standing in a collapsed pocket a few times to deliver the football.  One play in particular that impressed was a 1st and 10 throw to Fragel for 16 yards in which he stood tall in the pocket before being blasted by Chidera Uzo-Diribe, who earned himself a Roughing penalty in the process. 
Braxton was the first one to stay he has things to work on after the game. I like that. Mostly because it comes off about a billion times more genuine that what we used to hear from our last freshman phenom QB. Miller gets it. He's humble and poised. He knows he needs to improve consistency in his throws. He knows he needs to more consistently feel the rush of a collapsing pocket especially from the backside. He knows he needs to find more touch on passes that don't require missile speed. 
He proved exactly what we all thought. Growing pains and all, he still gives this team a much better chance to win that Bauserman. And the bonus is that he's getting playing time in prep for coming seasons in which the Buckeyes figure to be a much bigger factor on the national scene, assuming the NCAA doesn't lower the boom. 
middle men
The stats show the Ohio State rushing attack racked up 226 yards going for 4.8 per carry. No question those are acceptable numbers but looking deeper, much of that success is the result of just four players. 
Three of those players are Brewster and the two guards that flank him on a given play, typically Mewhort and Linsley while Boren continues to be a destructive force as a blocking fullback. 
I haven't had a chance to tally the results on designed run plays just yet but boy does it feel like runs up the gut are proving wildly successful while designed runs to the outside aren't having much success and when they do it's only the result of ball carrier speed, not because the tackles are creating space. 
Miller's 3rd and 9 conversion going for 17 yards referenced earlier started as a run right behind Brewster. Hall saw huge holes on runs up the gut all day. One that jumps out is the direct snap he took on 3rd and 1 of OSU's first possession of the 2nd half in which he reeled off a 21 yard gain. Hyde found a big gap for a 14 yarder off left guard. He rumbled for another six to open OSU's final scoring drive. 
Numerous other less sexy plays saw the backs get past the line of scrimmage before they had to improvise and while not sexy that success is crucial to giving Miller room to operate. If opposing defenses need to account for OSU's ability to run up the middle then that can force the safeties to cheat up in run support like we saw on Smith's 32 yard TD and also give Hall/Miller a little more space when they do escape wide  on runs or broken plays. 
The downside is these last two games have shown just how badly we need Mike Adams. Finding a way to beat Sparty without Adams protecting Miller's blind side and giving the Buckeyes another proven running lane is a big concern. Norwell isn't a bad player - I think he could start at guard right now - but he doesn't have the feet Adams has at this point in his career. And Shugarts is well, Shugarts. He's not terrible but he won't be confused with great right tackles of the past. And that's if he doesn't false start before engaging a blocker. 
Beyond the questionable run blocking from the tackles, Miller felt most of his pressure in the passing game off the edges and I'm quite certain Sparty's d-line brings more to the table than Colorado's. With the future of the program dropping back to pass, I'll be holding my breath on 3rd down and at least medium next week especially knowing Braxton still needs to take a few classes in self-preservation. 
IN coverage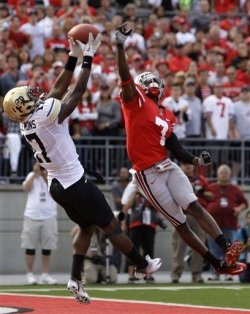 Flat out, I think some of you are very wrong about what we saw from the Bullets in coverage yesterday. It was a mixed bag to be sure but I feel like some guys showed tremendous ability both mentally and physically in defending the Buffalo passing attack yesterday. 
Tyler Hansen did rack up 238 yards through the air yesterday on 22/39 with 2 TD but when the game was yet to be decided, he wasn't as good as that final statline. 
The 1st half saw Hansen through for 91 yards but 67 of that came on the final drive of the half. Up to that point he was just 4/8 for 22 yards and his main target Paul Richardson had just 2 catches for 11 yards.  Preceeding the TD drive, Ohio State forced three 3-and-outs and recovered a fumble the 3rd play of another possession. 
Tyler Moeller even contributed in coverage early on though he got back on the subpar train later on. Christian Bryant however was solid in coverage throughout proving he's one of the best 11 defenders again. Bryant had excellent coverage on Toney Clemons on 3rd and 10 of Colorado's opening drive to force a punt. Later, he showed great coverage on 3rd and 5 of Colorado's empy possession just before their TD drive toward the end of the half. Finally, on receptions by players Bryant wasn't checking he did a nice job of forcing the receiver back to the middle of the defense when he couldn't himself make the tackle.  
Bradley Roby also had a solid day in my view and was one of the Buckeyes responsible for improved defense of screen plays and quick hitters to wideouts. He added a nice tackle of Hansen in space on a 2nd and 6 play to open the 2nd half that led to a 3-and-out. 
Travis Howard had an up and down day to be sure but he did contribute two pass breakups to go with letting some receivers get behind him. Colorado's first TD was the prime example as Toney Clemons got behind Howard in the back of the endzone. Howard just missed tipping what was admittedly a perfectly thrown ball. I continue to think Clarke/Roby deserve every bit as much PT as Howard but even though that play was tough on the eyes, sometimes you have to tip your hat to the QB. He threw on the run and put the throw on a dime. 
For me, the real stinker in coverage yesterday was Andrew Sweat. He consistenly failed to gain depth and Hansen made OSU pay by dropping balls over Sweat's head and in front of the safeties. Sweat was decent on stuff short and wide but anything in the middle or over the top exposed him all day long. One perfect example occurred on 3rd and 6 of Colorado's third possession of the 2nd half. Sweat kinda drifted back with no real intent and Hansen lobbed a ball over his head to Ryan Deehan for a 25 yard gain right in the middle of the field. Painful. 
So again, it was a mixed bag in coverage overall but I saw some good things from Bryant, Roby, Howard and Clarke. If we can just get the LB's to step up...
Fickell's day
It all falls on the head coach. As he found out last week, when you lose there will be tough questions, many valid, from armchair QB's across the fan base. 
He responded to the film, seeing the same thing the fans saw, and correctly inserted Braxton as the permanent staring QB. Because I wrote last Sunday that he should be fired at halftime if he let Bauserman see the field this week, I want to take a second to give Fickell props on having the courage to go with a true freshman, and stick with him, for 3+ quarters yesterday. 
The offense started with an ugly 3-and-out but followed it up with a TD drive, all on the ground, with Braxton at the controls. Props to Fickell for not abandoning the plan. He and Bollman also smartly called a very conservative game but when OSU got some space on the scoreboard I liked that the staff actually chose to work on development by dialing up a good volume of pass plays instead of reverting to a Tresselball tactic that would've even more deliberately guaranteed a win but would've sacrificed Braxton development in the process. And again, to Bollman more than Fickell, that 32 yard post to Smith was a brilliant play call. 
With some positives accounted for there will still some negatives to discuss. Though not many. Seven penalties for 65 yards is a bit ridiculous. That kind of nonsense can be a killer against better competition. I know Fickell's not out there blocking the back and false starting after four years but team discipline is his overall responsibility. 
I'm curious to gain everyone's thoughts on the events that unfolded just before halftime. After Colorado muffed a punt giving OSU the ball at the Buffalo 11 yard line. With precious few seconds remaining, Miller   ran up the middle taking the ball to the 1 yard line. With six seconds on the clock, Fickell opted for a field goal that Basil converted into a 20-7 halftime lead. 
Conceivably, a pass play could've been called after the run and before the field goal. I wouldn't have done it with this curent roster/QB but I guess it's possible. Fickell opted to not run another play and then opted not to go for the TD from the 1 yard line, instead taking the easy 3 points. A chunk of the crowd rained boos. I don't get it. 
I'm not saying I strongly agree or disagree with Fickell's decision to take the three points over the possible six. I say that because I don't think there's a right or wrong answer there. Either choice makes sense and then that choice either makes more sense or is open to huge criticism depending on whether or not the players convert the FG or whatever play gets called in trying for the TD. 
To boo Fickell's choice there is stupid. And I'm not one of those guys that cares about whethe or not coaches/players get booed. I don't necessarily agree with booing and I do believe it can have a somewhat deflating impact on the team but you pay your money, you passionately support the team, you can boo if you want without me getting in an uproar about it. These are big time athletes/coaches so they should be able to take the bad with the good. Still, booing that decision makes no sense. 
Special teams log a strong performance
The legend of Ben Buchanan continues to grow and this week he got support from plenty of his fellow specialists. 
Buchanan was money dropping three punts inside the 20, two in the first half with the game still in doubt, tying his career high for the third straight week. He's become a real weapon and with the state of the offense and the upcoming schedule, his talents in helping OSU win the field position battle will be of huge importance. 
On the FG front, Drew Basil banged home 3/3 including a 47 yarder with the game no longer in doubt. That kick should do wonders for his confidence even if it doesn't do the same for you. Like Buchanan, Basil needs to be effective for the Buckeyes to win what should be a bevy of close games on the horizon where points will be at a premium. 
I still hold out hope for Basil becoming a better than average kicker based on his recent in game performance and what he's always shown in practice which has been better than average ability. The more comfy he gets with playing on the big stage, the more comfy we'll all become. 
On kickoffs, Basil was sharp averaging 60.5 per boot with enough height for the coverage team to make plays. The combo of solid kickoffs and Buchanan's tear drops held Colorado to average starting field position of their own 18 yard line. Ebner and Shazier continue to be lynchpins of the coverage units and Domicone made a heady play spotting the muffed punt and pouncing on it before the half. 
Finally, Hall continues to be a major factor in the return game. His 90 yard kickoff return allowed Hyde to score one play later pushing the Buckeye lead to 34-10 in the 3rd quarter. He also had a 74 yarder to open the game but a penalty forced the Buckeyes to start respectively at their own 40. Dude is lethal. His punt return prowess was his own worst enemy in this game as Colorado opted for a shaky rugby punt approach that while wildy effective for OSU, it allowed Hall just one return for 12 yards.