I
Welcome to Big Ten Play, Week 3: the Conference Who Kicked the Hornet's Nest. Honestly, I hope everyone is sleeping off his/her Patrón and Armand de Brignac-induced blackouts aboard a yacht with prostitutes of questionable aliveness. It's better than trying to write about games that make you envious of Penn State's quarterback production and of points allowed by the Michigan defense while you listen to nothing but the melancholic sounds of Neko Case and your own uncontrollable sobs.
As we close the door on another week of football, we witnessed a lot of typical B1G action. Some of it was boring, some of it was underachieving, and most of it was ugly. We got a couple games that were like eating that last bite of popsicle. There are only two possibilities: either you feel much more victorious than deserved after successfully maneuvering it where it should go, or it completely falls apart and leaves a stain on your shirt1.  
PENN STATE 14, TEMPLE 10
On the strength of their defense, Penn State escaped with a win against Temple. A late-game fourth down conversion helped Penn State set up the fullback Matt Zordich's go-ahead TD with over 2:42 remaining. It was nearly an historic game. Had Temple hung on, they would have beaten the Nittany Lions for the first time since 1941, when Joe Pa first became eligible for Social Security. Speaking of the olden times, there may have only been four forward passes all game2.
The Penn State D forced three turnovers and allowed fewer than 200 yards to the Owls. An interception by LB Michael Mauti gave Penn State the ball back, which eventually led to the game-winning score. Even though Matt McGloin (13/19, 124 yards) had a better day statistically than his platoon partner Rob Bolden (9/17, 92 yards, 1 INT), it was Bolden who was under center for that drive. One key play was a 4th and 2, when he hit Derek Moye for an 11-yard gain. Moye finished the game with 7 catches for 112 yards. While praising the PSU defense, Black Shoe Diaries lamented the offensive strategy and "the lack of utilization of that talent".
The game was played at Lincoln Financial Field, home of the Philadelphia Eagles. It was as close to an NFL game as Elvin from The Cosby Show is to Tiger Woods. 
IOWA 31, PITTSBURGH 27
Down 27-3 late in the third quarter, Iowa mounted their biggest comeback in school history to beat Pitt. QB James Vandenberg started slowly and then did his best Denard Robinson impression—jump balls excluded—and led the Hawkeyes to four TDs, including three in the fourth quarter. With just under three minutes left, he threw a 22-yard TD to the excellently named Kevonte Martin-Manley for the score that put them up for good. Vandenberg ended up with 399 yards on 31/48 passing and 3 TDs to 1 INT. He also ran for a touchdown. 
BHGP celebrated with pants-removing and a simple "WOO GO IOWA AWESOME". Meanwhile, it appears that the Ghost of Dave Wannstedt's Mustache still haunts Pitt. 
NOTRE DAME 31, MICHIGAN STATE 13
Without the Annexation of Puerto Rico to save them, #15 Michigan State fell to Notre Dame. Kirk Cousins, with an otherwise respectable stat line (34/53 for 329 yards, 1 TD), threw a costly interception in the red zone to Robert Blanton, who returned it 82 yards to set up Notre Dame's final field goal. That was far from the only blunder for Sparty on the day. Besides allowing the Irish to score on an 89-yard kickoff return, Michigan State botched a fake field goal, lost a fumble, and racked up 12 penalties for 82 yards. Sparty was also unable to convert third downs at a high percentage rate (29%) and only managed to score three of six times in the red zone.
The MSU running game was shut down, totaling just 49 yards on 19 carries, sacks excluded. As The Only Colors figured, "Our questions about the offensive line may have been answered, and not in a good way." On the plus side, WR B.J. Cunningham continues to excel, grabbing 12 receptions for 158 yards. 
ILLINOIS 17, ARIZONA STATE 14
Taking the lead in the fourth quarter on a Nathan Scheelhaase TD pass to A.J. Jenkins, Illinois held on to defeat #22 Arizona State. It was the Illini's first win against a ranked team since a certain game in 2007 when Juice Williams practiced Voodoo for a few hours. Despite  strong offensive play in their first two games, it was the defense that came through for Illinois. ASU QB Brock Osweiler3 was sacked six times and threw two picks, one of which was to LB Jonathan Brown. Brown recorded seven tackles and 1.5 sacks, including one that forced the other interception.
Illinois, who had reached 200 yards on the ground for seven straight games, only managed 105 yards rushing and 240 total yards. Scheelhaase locked in on Jenkins again, who caught 103 of the quarterback's 135 yards passing. Now at 3-0, the Illini are off to their best start since 2001. 
NEBRASKA 51, WASHINGTON 38
Meeting for the third time in less than a year, Nebraska won the rubber match against Washington. Up just 20-17 at half, the Cornhuskers rattled off 24 unanswered points in the second half. All three of the TDs came via the run. Nebraska accumulated 309 yards rushing, 120 from RB Rex Burkhead. QB Taylor Martinez had a quiet day, for him, running the ball (83 yards on 11 carries, 1 TD). His passing numbers were once again mediocre as he failed to reach a 50% completion rate (10/21), though he threw for two TDs and was not intercepted. Overall, it was not the T-Magic show and Corn Nation praised, "It was a group effort. Glory Glory how wonderful is that to see."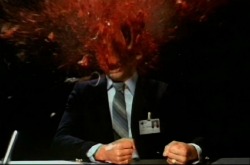 While the Nebraska defense gave up 420 yards to the Huskies, a performance that would normally make Bo Pelini's head explode, Scanners-style, he was happy to avenge the NU loss to Washington in last season's Holiday Bowl. Still, their D forced three turnovers and as Big Red Network pointed out, that could have been the difference as "the defense played well in spots but mostly struggled". So far this season, the Cornhusker offense is carrying the team, the opposite of what was expected.
MICHIGAN 31, EASTERN MICHIGAN 3
A slow start for Michigan soon gave way to Denard Robinson rushing for 198 yards to lead his team to victory over Ron English's Eastern Michigan. Robinson ran for one TD and threw for two more on 7/18 passing for 95 yards. Vincent Smith helped him on the ground as he put up 119 yards on 18 carries. Shoelace was still carrying the ball late in the fourth quarter, which seems unwise. I think he's got the running thing down, and he's slight enough that if he were an actress, entertainment-centered message boards would be filled with "OMG, eat a sandwich, Denard!" comments. So, it might be a good idea to save him from taking some hits and get his backup a few more reps when the game is in hand. 
Even though EMU was driving the ball against the Wolverines in the first half, the Eagles could not find the end zone, and they turned the ball over three times: one a fumble, one an interception, and one on downs. Former Wolverine Mike Hart is now the offensive quality control coach for EMU, and considering they put up three points against the Michigan defense, it's safe to say the Curse of Mike Hart lives on. 
MINNESOTA 29, MIAMI (OH) 23
In what would have been the feel-good climax of a Disney movie had it not been a Minnesota-Miami (OH) football game, Jerry Kill returned to the sideline to coach the Golden Gophers to their first win in his tenure. QB MarQuies Gray played well, accounting for 334 yards of offense, 175 of which were rushing. He completed 12/22 passes for 168 yards. The play of the game, though, belonged to Minnesota's Duane Bennett, who blocked a punt and was able to secure it for a TD after a few amusing bounces.
The RedHawks threatened to score in the waning minutes and converted a 4th & 10 with just over a minute remaining. Another fourth down, with six seconds left, failed. The student section then unleashed a "Jerry! Jerry!" chant and Charles S. Dutton slow clapped before walking away.
But seriously, it was a triumph for a team that hasn't had a lot to cheer about recently. The Daily Gopher summed it up as such: "It wasn't great football but it was consistent and we did a number of things well, and finally it was enough to win."
ARMY 21, NORTHWESTERN 14
Northwestern unveiled their John Burgoyne impersonation and lost to Army, a previously winless team. The Wildcats had no answer for Army's triple option or their RB Trent Steelman, who scored all three TDs, including the go-ahead one with less than three minutes left. He also threw the Black Knights' only completion4. Starting for injured QB Dan Persa for the third straight game, Kain Colter tossed his first career TD pass in this game. However, he only passed for 88 yards on the day, while adding 58 on the ground to lead all NU rushers. Third-string QB Trevor Siemian came in and recorded 105 yards and a TD on 5/7 passing. He was unable to lead another scoring drive when his 4th & 1 pass with 1:11 remaining fell incomplete. 
Big Ten Standings
Legends
Michigan
0-0
3-0
Nebraska
0-0
3-0
Iowa
0-0
2-1
Michigan State
0-0
2-1
Northwestern
0-0
2-1
Minnesota
0-0
1-2
Leaders
Illinois
0-0
3-0
Wisconsin
0-0
3-0
Ohio State
0-0
2-1
Penn State
0-0
2-1
Purdue
0-0
2-1
Indiana
0-0
1-2
WISCONSIN 49, NORTHERN ILLINOIS 7
Wisconsin murdered another opponent, this week's victim being Northern Illinois. The scene of the crime was Soldier Field, Chicago, IL. Russell Wilson kept doing his thing to the tune of 347 yards in the air (23/32) and 3 TDs. He also ran five times for 37 yards, but proved himself mortal by throwing an interception. It was the first Wisconsin turnover in over four games. Montee Ball and James White, twinsies for life, each rushed for 91 yards. The latter had the better average (11.4 yards/carry) while Ball scored two TDs to White's one. The ground game took a little while to get going, but as Bucky's Fifth Quarter noted, "holes started to open after Wilson completed a few play action passes." 
NIU coach, and former Badger defensive coordinator, Dave Doeren could only sit and watch in horror as UW amassed 621 yards of offense and six scores in its first seven drives. After their netting their only TD in the first quarter, the Huskies failed to score again and only put together 237 yards on the afternoon.
INDIANA 38, SOUTH CAROLINA STATE 21
Indiana gave their new coach Kevin Wilson his first win with their victory over FCS program South Carolina State. The Hoosier offense piled up 557 yards. QB Edward Wright-Baker was responsible for 314 of them, passing for 237 yards (21/27, 2 TDs) and running for 41 on 10 carries. Freshman RB D'Angelo Roberts notched two career firsts as a Hoosier: a touchdown and a 100-yard game. A less distinguished stat is the 20 penalties committed by Indiana, a new school record.
The Crimson Quarry's ultimate takeaway from the game is, "it's a win in a season that may not have many, so savor it a bit". 
PURDUE 59, SOUTHEAST MISSOURI STATE 0 
Purdue blanked FCS powerhouse Southeast Missouri State yesterday for its first shutout since 2004. The Boilermakers put up 627 yards of offense. Bringing some Miami swagger to West Lafayette, QB Robert Marve returned from injury5 to throw for 91 yards and a TD while completing 7 of 8 passes. Starter Caleb TerBush was also very accurate, finishing with 142 yards on 14/17 passing.  Three RBs (Ralph Bolden, Akeem Shavers, and Akeem Hunt) tallied two TDs a piece.
Hammer & Rails was thrilled that they "finally got to see a Purdue team assert themselves on offense and use their superior talent to their advantage". Due to the awfulness of SEMO, though, Boiled Sports advised Purdue fans to "enjoy the victory, but temper your enthusiasm".
1 Not a perfect analogy, but both can be quite frustrating. Also, I'm eating a popsicle right now. 
2 Two more than Ohio State ended up with. *cries*
3 Only Arizona State would have a quarterback named Brock Osweiler. This is what he looks like, but I'm guessing you already knew that when you saw the name "Brock Osweiler".
4 Hmmm, has Ohio State looked into the triple option? *cries*
5 Say it with me now: an ACL tear.