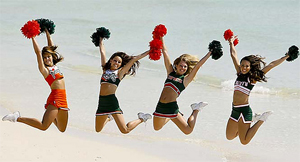 Well, it seems as if Nevin Shapiro may have spoiled more than just the players in Coral Gables. Apparently you can't even get a Miami beat writer or blogger to respond to you for anything less than a hooker on a yacht party these days. I would've imagined their retinas would've adequately healed after the Maryland uniform debacle and they're finally back to reading emails, so perhaps they've imposed trade sanctions on Ohio State until we give Willis McGahee his ring back. (Note to Willis: I'm sure you and LeBron can find rings on eBay if it's truly that important to you. They might sell tissues as well.)
Either way, I'm incredibly grateful to the world of radio and television this week as Jon Linder of 560 WQAM in South Florida and Adam Kuperstein of NBC Miami and 560 WQAM have graciously offered to cross enemy lines and be my knights in shining armor. So, with that, enough of me... let's get to the experts.
Miami suffered a tough loss to Maryland in week 1. How much of a distracting role do you think the suspensions and Nevin Shapiro chatter (or Maryland uniforms for that matter) played in that loss?
Jon Linder: The allegation talk was a minor distraction but inevitably the Hurricanes lost the first game because they couldn't stop Maryland's offense. Regular starters Jacory Harris, Travis Benjamin, Marcus Forston, Adewale Ojomo, Sean Spence and Ray Ray Armstrong were all suspended from playing in that game (due to the Nevin Shapiro stuff) so they certainly missed those guys but Miami still has enough talent to beat Maryland and simply couldn't get it done.
Adam Kuperstein: I think Maryland's ugly uniforms were more of a distraction than Nevin Shapiro-gate. The NCAA investigation hurt the Hurricanes because 8 players were suspended, including their starting QB and 5 defensive starters, but that's no excuse for losing that game. Miami made some of the same mistakes that plagued the team a year ago, when they were not dealing with a scandal.
What are some of the major strengths and weaknesses of the Canes you noticed in week 1?
Jon Linder: Miami's greatest strengths are their offensive line and their runningbacks. Their o-line mixes veterans like Tyler Horn and Harland Gunn with versatile second year players like Brandon Linder. Hurricane runningbacks Lamar Miller and Mike James are both dynamic runningbacks that inevitably the Miami offense will rely on moreso than even the starting quarterbacks.
Miami's greatest weakness is their cornerbacks. Last year's starting tandem of Brandon Harris and DeMarcus Van Dyke are gone to the NFL and the guys they have in place now are good, but not great. Maryland quarterback Danny O'Brien was able to expose them in game one but they should get better with each game.
Adam Kuperstein: Let's start with the weaknesses: tackling, turnovers, penalties. Miami lacked discipline in game 1 under Al Golden. You can chalk some of that up to inexperienced players being on the field (who probably wouldn't have if not for the suspensions). However, Golden needs to prove that he's cleaned up those Randy Shannon-era mistakes.
Strengths: Lamar Miller is a beast of a running back. If the offensive line continues to improve, he'll have sick numbers this year. The Canes are also so deep at WR, and we were encouraged by the emergence of Allen Hurns. Also, sophomore QB Stephen Morris showed great potential before throwing the game-clinching INT. If Jacory Harris struggles against Ohio State, he'll be ready to take over.
Miami played their first game without the help of eight suspended players, including quarterback Jacory Harris, linebacker Sean Spence and defensive linemen Marcus Forston and Adewale Ojomo. How  much of an edge do you think these guys provide Miami and how excited should Canes fans be to see these guys back this week?
Jon Linder: Having the suspended players back is absolutely going to give the Hurricane players an emotional jolt especially when we're talking about the return of Jacory Harris, Sean Spence and Marcus Forston. These three guys who all came from the same high school, showed up at Miami to change the fortunes of the program and this is their last year to do something meaningful.  The team missed them in so many ways in game one and is very excited to have them back for Ohio State.
Adam Kuperstein: VERY excited. Especially for those guys on defense. Sean Spence may be Miami's best all around player. The defense looked lost without him. Ojomo should help a pass rush that was non-existent against Maryland and Harris is a better leader at this point than Morris.
Jacory Harris was named the starting QB for the Canes this Saturday which, frankly, has many Buckeye fans pleasantly surprised. Despite a critical last minute mistake by Stephen Morris in his start, he looked pretty decent in the opener (as well as his comeback win over Maryland last season). What are your thoughts on the two quarterbacks? Do you think Jacory gives you the best shot at the win? Might we see anything out of Morris on Saturday?
Jon Linder: I've said since the beginning of fall camp that Jacory gives Miami the best chance to win.  The most cerebral position on the field is quarterback and Harris has a lot more knowledge and experience when it comes to leading this team.  Stephen's inexperience was evident a few times in the loss at Maryland, with the most obvious time when the team suffered back to back delay of game penalties. Morris will only see the field if Jacory either gets hurt or struggles badly.
Adam Kuperstein: It looks like Canes fans and Buckeyes fans have something in common after all! Yeah, a lot of Miami fans are not convinced Jacory can win you big games. I don't completely agree. I think Morris has a better arm, but Harris is a Senior now and should make better decisions out there with the game on the line. The good news is, if Harris doesn't do that---and falls back into his tendencies from a year ago, Golden will have Morris ready.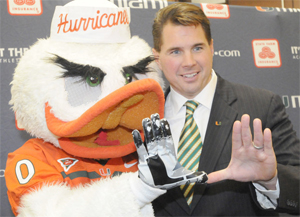 Randy Shannon mentioned last year that playing in Columbus wouldn't provide a significant advantage for the Buckeyes, though it seemed the Canes left their talents in South Beach that weekend. Buckeyes typically travel well and Miami is an attractive destination, how much of an advantage, if any, do you think home field will provide for the Canes this time around?
Jon Linder: The Hurricanes will come out flying high because of where they're playing and fans will be right there with them.  Visting fans only become a factor when their team is winning so, in my opinion, the homefield advantage aspect is directly connected to the successes and failures on the field.
Adam Kuperstein: Please erase anything Randy Shannon ever said from your memory. He never made much sense when he opened his mouth and this is a great example. Of course the horseshoe was a huge advantage for OSU. And unfortunately, as someone who's covered a bunch of games at both stadiums, I can tell you that there is very little home field advantage at Sun Life Stadium. The allure of this matchup will draw a nice sized crowd, and it will get loud at night, but it's nothing compared to Columbus. Now if the Buckeyes sneak down to South Beach for some extra-curriculars... THAT is an advantage.
What players that haven't made it there already do you think are destined to have a breakout year and become household names on the national level by the end of the year?
Jon Linder: Hurricanes runningback Lamar Miller is one of the best in the country and unlike his last two seasons where Miami used three runningbacks, Lamar is going to get enough carries to really get himself in the Heisman discussion. He won't win it because Miami isn't a great team yet and they're facing allegations, but strictly from a numbers standpoint, he's the man.
Miami inside linebacker Jimmy Gaines has been the talk since fall camp opened. The coaches love him and even today Al Golden said he was "the model for what we're trying to do defensively." The Hurricanes need a reliable guy to patrol the middle of the field and even though he's green with experience, he's already money in the eyes of his coaches and teammates.
Adam Kuperstein: Not sure about household names, but I love freshman DL Anthony Chickillo and WR Tommy Streeter. Both will have a great chance to shine this year.
Ohio State came out flat against Toledo in Week 2, with a frustrating performance in multiple aspects of the game. What are your thoughts on the match-up between these two teams this weekend, and can you give us a score prediction?
Jon Linder: I watched the Ohio State-Toledo game and I felt like the Buckeye coaches deliberately tried to win with a vanilla game plan.  Why would they fully expose themselves a week before the Miami game?  Ohio State is a much better team than they showed against Toledo and I'm sure we're going to see their full arsenal on Saturday night. On a sour note, Miami badly exposed the Buckeyes special teams in last year's matchup and you can't hide the tape. Ohio State's special teams play against Toledo was very poor in all aspects.
I think the Hurricanes win this game because they have nearly all of the intangibles in their corner. Home opener, suspended players back, lost to Ohio State last year, brand new head coach who the fans really believe in and most importantly Miami has enough talented players to take care of their first home game.  I see the Hurricanes winning the field position battle, putting a lot of pressure on Bauserman and riding the backfield of Miller/James to a 31-21 victory.
Adam Kuperstein: I'm not a fan of predicting scores, but I think it'll be close. These two teams are similar in talent and I see the game being decided by less than a touchdown.
What's your best September guess for the Hurricanes' 2011 season and where they go bowling?
Jon Linder: Its hard to say because they still have three suspended players who will rejoin them within the next three to five weeks but I see the Hurricanes winning either 8 or 9 games. The season inevitably comes down to this... the winner of the Miami-Virginia Tech will play for the ACC title. Either way, they will go bowling somewhere.
Adam Kuperstein: I know where they won't go bowling... Lucky Strike on South Beach. Too soon? Ok, now that Nevin Shapiro is out of the picture,  I think Miami will win 8 games and end up in a better bowl than last year, but I don't think this team is good enough for the ACC Championship just yet.
Almost a decade later, I still hear about Terry Porter and his inability to reach for a flag quickly enough to satisfy Miami fans... but maybe Buckeye garb just invites it. Are Canes fans really still bitter about that?
Jon Linder: Oh yeah. Hurricanes fans still haven't let that one go. That late flag is probably the most bitter pill that Hurricane Nation has ever had to swallow.
Adam Kuperstein: What do you think???
(Elika's note: Admittedly, it's taking all my will power to not insert a smiley emoticon right now.)
Normally it's about this time that I ask our guests to provide me with their favorite football memory. This time, I thought I might supply you with a few of my favorite Miami memories instead:
Again, I'd like to give a big thanks to Jon and Adam for being my guests this week and sharing their expertise with us. To see more from them, please check out the links below:
Jon Linder:
Facebook: The Jon Linder Show
Twitter: @LinderWQAM
Jon hosts both the halftime and postgame shows on the Miami Hurricanes Radio Network and will be tweeting from the game on Saturday. Be sure to check it out!
Adam Kuperstein:
NBC Miami
Facebook: Adam Kuperstein
Twitter: @AKuperstein
Adam will also be live tweeting from the game this Saturday, and hosting a live postgame report on the NBC Miami 11pm news.