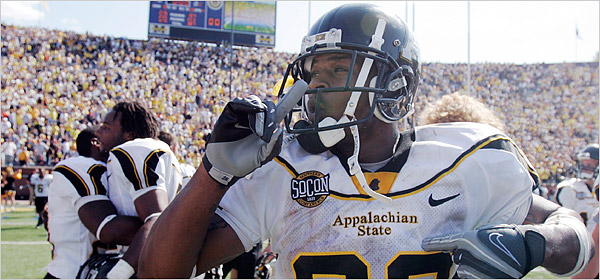 September 1, 2007 was the opening Saturday of the college football season. Prior to 2011, it was the longest offseason in Ohio State football history: Buckeye fans had the entire spring and summer to relive Chris Leak channeling Joe Montana, Roy Hall channeling his inner ankle assassin and Troy Smith channeling too many In-N-Out animal-style double cheeseburgers.
We needed relief. We need salvation. And as in 2011 - but for entirely different reasons - we desperately needed a game. In what can only be described as unfortunate timing, that Saturday I found myself at the longest baptism ever recorded in the history of religion. It was scheduled to begin during Ohio State's layup redemption game, which was a home opener against Youngstown State in what amounted to a nice little payday by Jim Tressel to his former employer.
What you see below are the actual text message updates I received in the church from friends during the afternoon hours of 9/1/07. All messages and senders have been consolidated into one stream.
---
1. Total mismatch dude.  UR not missing a thing.
2. Boone not even trying. Killing his guy. Poor guy.
[from me] ESPN mobile telling me that Jamario O'Neal just scored on a 1-yd run. Assuming that's Saine?
3. Yeah Saine
4. Saine
5. LOL it was Saine
6. ESPN is dumb. They're both #3.
7. BTW Michigan just kicked a FG to cut Appy's lead to 28-17 at half.
[from me] They'll wake up in the second half.
8. Ugh. Wilson's leg is broken. Poor kid.
9. Beanie looks like crap.
10. The Michigan score just came up in the stadium and everyone went nuts.
[from me] They'll wake up in the second half.
11. Foot is off the gas: Tressellball fully engaged. UR missing nothin
12. M FG now 28-20 appy
13. U still in church?
[from me] [instructional expletive]
14. Dude U can't text that in church
15. Pretorious PAT-length FG. Six minute boring drive=3pts TRESSELTRESSELTRESSEL
16. Appy FG 31-20 Appy. M defense looks [fecal-based expletive]
17. (Ohio) Stadium is quiet. More people trying to get M score than paying attention.
18. YSU FG. LOL people clapped for them.
19. Mouth TD. Going for 2.
20. Mike Hart TD. 31-26 Appy
21. Mouth is fired up
22. M TD
[from me] Here it comes.
23. CONVERSION FAIL
24. M tried to punch them in the mouth on the 2pt and it didn't work.
25. NO GOOD STILL 31-26
[from me] Time?
26. 4Q starting now
[from me] M will score 14, win and not let its guard down for the rest of the season. Watch.
27. Ramz Ty says to tell you to say hi to Jesus for him
[from me] [instructional expletive]
28. Some walkon just scored for OSU
29. TOUCHDOWN TREVOR ROBINSON! WHO IS TREVOR ROBINSON
30. TD OSU its 31-6
31. M game is getting really good
32. Punting and tension in ann arbor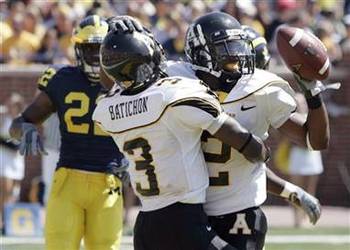 [from me] I have to go light a candle now
33. DONT CHOKE DUDE
34. Good luck ramzy
35. Say a prayer for michigan
36. TD OSU Henton to TWash
37. Touchdown Taurian Washington. Looked good.
38. OSU scored but we're watching M in the concourse
39. M turning the ball over. Appy playing Tresselball.
40. Appy confident. You can hear the nervousness on TV
41. OSU 38-6
[from me] Seriously get out of there and go watch Michigan
42. You should take your own advice
[from me] [instructional expletive]
43. Mouth scored
44. TD UM
45. Michigan scored. Hart with a big run. Michigan by 1.
[from me] they shouldn't have gone for two. God I hate two-point conversions
46. You want M to win?
[from me] Yes. Every game, every year but one.
47. Going for 2 again
[from me] They have to this time bc its only a 1pt lead. (Ari Gold voice) LLOYD!
48. 2pt conversion comin
49. Here we go
50. They should run at them again after Mouth's run
51. OMG
52. NO GOOD
53. 2PT FAILVERSION
54. FAIL TRAIN
55. !!!!!!!
56. WHY DID THEY GIVE IT TO MINOR
[from me] they should be up 3. Embarrassing day for Big Ten. <-------- I had no idea what was coming
57. INTERCEPTION. Game over. Michigan ball.
58. M picked off Appy. Appy QB was having an awesome game
59. Game over. M's ball.
60. M running clock.
61. 3rd down coming they have to get this
62. 4th down. FG. Maybe Stewart & Westbrook can transfer to Appy
63. BLOCKED
64. FG blocked
65. APPY BLOCKED IT
66. [expletive]
67. HOLY [expletive]
68. WHY ARE YOU IN CHURCH ON SATURDAY YOU ONLY LOOK JEWISH
69. Appy driving
70. Big pass
71. Appy picking apart M secondary. On M side of field.
72. [expletive]
73. APPY INSIDE THE M FIVE
[from me] Oh my God. Time please.
74. It's 1st & goal at the M five. 30 seconds
75. 32-31 M w/Appy at the 5. under a minute left
76. FG on 1st down.
77. Here comes FG attempt. Good idea if they botch the snap they can try again.
78. ITS GOOOOOOOOD
79. FG good. Holy god.
80. APPY IS HAPPY
81. 34-32 Appy. 70 yds in like a minute after the FG block. Epic fail by M.
82. M ball now.
83. Henne bomb!
84. Huge play Henne to Manningham. Big gain
85. ITS NOT OVER UNTIL LLOYD CARR SAYS ITS OVER
86. MARIO MANNINGHAM WANTS YOU TO KNOW HE HAILS FROM MANVILLE, MANTANA
87. Wow. M could win this.  that was huuuuge.
[from me] FG range huge?
88. Ball on Appy's 20.  Six ticks.
89. Unreal that Michigan will win this.
90. FG time
[from me] don't get blocked again
91. Appy out of timeouts. Can't ice.
92. Here we go
93. no good
94. BLOCKED! [expletive]
95. blocked again. unbelievable.
96. MICHIGAN LOSES
97. THIS DID NOT JUST HAPPEN
98. APPY IS SO HAPPY
99. Blocked again and Appy almost scored on the runback. [Mutual Michigan fan friend] is going to kill himself.
100. BTW, Buckeyes final score was 38-6