Good morning everyone and welcome to the day before the weekend begins. I know you were all waiting for me this week to let you know how Chicago was and I'm not going to sugar coat it. It was flat out AWESOME and included tons of good food, visits to both US Cellular Field and Wrigley, Lollapalooza, and best of all dinner and drinks with Jason and some readers at this place.
Getting back to work and the real world was certainly tough earlier in the week, but then Keith Wells came back into my life and all of my worries seemed to drift away. Yes, the same Keith Wells that was supposed to follow Cam Heyward in leading the Georgia pipeline to Columbus. The same Keith Wells that showed flashes of brilliance at times on the field as a freshman, but was redshirted for mysterious reasons in his sophomore year. The same Keith Wells that was tweeting about rejoining the Buckeyes this spring but was missing in action when it came time to put on the pads.
Where is this Keith Wells you ask if he's not with the Buckeyes? Well, he has been in Lexington, Kentucky the past three days checking out UK football practice and working on getting his paperwork approved so that he can join the Wildcats in SEC land. We can all finally take a deep breath, sleep easier at night, and put down our guard knowing our favorite #94 may finally have a home. And we can finally stop mentioning him in the same sentences as Kyle Long and Shaq Rowell who obviously will be in Scarlet and Gray sometime in the near future.
Anyway, now that the Keith Wells news has put you to ease, it's time to take things to the next level and we start with your Thursday Skull Session.
Roger That. Some of you may have seen it and some of you may have missed it, but either way, now you know that Roger Lewis became the 12th member of the OSU recruiting class of 2012 on Tuesday. The 6-2/190 wide receiver from Pickerington Central verballed to Luke Fickell and the Buckeyes over offers from West Virginia, Cincinnati, Arizona, virtually every MAC school, and was on the verge of adding more after blowing up at various summer camps the past few months.
Lewis does have pretty good size, but has speed to burn too, clocking in at 4.42 seconds in the 40-yard dash at the OSU Senior Advanced Camp earlier this summer. He has good hands, can get off the blocks well, and knows how to use his body to get positioning, but definitely needs to work on his route running before coming to campus next year. He is definitely a good get and could be a diamond the Bucks found in the rough before anyone else could get to him. Here is his highlight video for your pleasure:
Cam Hard at Work. We all knew stories like this would be coming in time, but we didn't think it would be this soon. Yes, this is indeed a fluff piece on the Pittsburgh Steelers' first round pick and former Buckeye Cameron Heyward. NFL Training camps have only been going on for a few weeks, but Cam is already impressing teammates, coaches, and onlookers with his tremendous work ethic and humility in carrying himself both on and off the field.
Heyward will play defensive end in the Steelers' 3-4 system and I'm not sure there could really be a better fit as he played the similar 5-technique position in Ohio State's defense the past few seasons. Cam likely won't start right away, but his talent coupled with the other traits previously mentioned will definitely be enough to get him into the defensive line rotation this upcoming season. Whether you like the Black and Yellow or not, I think we can all agree we can root for a great guy like Little Ironhead.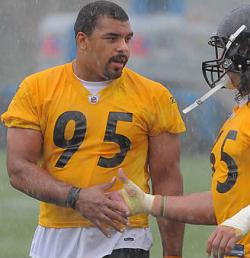 Andy Staples is our Dude. In addition to having a man crush on DJ, Andy Staples also is actually a pretty good writer for SI.com's college football content. Staples just released his top 25 for the season and has the Bucks slightly higher than the coaches do at #14.
I think one of the cooler parts of the column is that each week Staples does his top 25, he will have a theme to go with the commentary. This week's theme was ranking each team with it's corresponding musical act. This definitely lead to some entertaining capsules, as well as me giving a ton of props to Staples for actually knowing who the Dead Schembechlers are. Touche Andy and thanks for the support!
Luke Winn-ing. Speaking of SI.com, another one of our favorite writers over there is Luke Winn. No, we don't only like him for his ever-lasting support of the 2010-2011 Buckeyes' hoops team's run into March, we also like him because his content features deep though, analysis, research, and facts to back up the points he makes.
Luke's newest piece of work features a study on commitments from basketball prospects and what goes into various players' decisions to commit and de-commit from schools. While I don't believe there's a 100% science that goes behind things like this, Winn breaks it down as well as you could, citing examples from across various years and featuring data. I think one of the more telling stats here is the increase in the transferring of high schools by college prospects, which is definitely a hot trend in young hoops stars today. Give this a read and let me know what you think.
Coach Sis Torn. Some of you may support him and some of you may question his ability to coach quarterbacks, but one thing that is certain is that Nick Siciliano was an integral part in Terrelle Pryor's development as a quarterback while at Ohio State. It was no secret that the man commonly referred to as "Sis" by players and peers was very close to Pryor and the two developed together as coach and player over the last three seasons.
That being said, it's no surprise that Siciliano is distraught over Pryor's departure from Columbus. He said he hasn't spoken to Pryor in weeks, but wishes him well in his quest to play in the NFL and thinks he'll perform well at the next level. If anyone is to believe in Terrelle Pryor outside of Jim Tressel or Ted Sarniak, it is Siciliano and the coach seemed genuinely choked up when talking about his former quarterback, even referring to him as a son-like figure.
I know it's probably tough for Sis to lose someone who he helped groom, but I hope he's not too hung up on TP as he has a quarterback (or four) to groom over the next few weeks before the Akron game. Let's hope Siciliano is as effective on the next starting quarterback as he was on Pryor and uses the lessons he learned through that experience to better our players going forward.