This year the Buckeyes will line up against 12 regular season opponents. Eight will be conference foes, two non-conference opponents will be real or perceived MACrificial lambs, one is a middling BCS program, while one is -- or should have been -- a marquee top 10 matchup.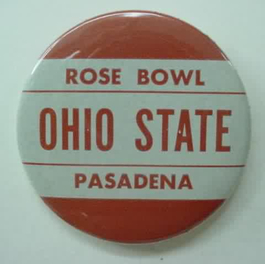 For six years now, that setup, more or less, has treated the Buckeyes kindly. Jim Tressel's teams went 66-11 (on the field, at least), dropping just four Big Ten games in 40 tries and played in six consecutive BCS bowl games. This is clearly a format that works.
With a new coach, a new quarterback and missing three all-conference caliber players for the first five games, it won't be easy for this team to duplicate the success of recent squads. Not many expect them to, either. Their #18 ranking in the preseason AP Poll is the team's lowest starting point since they entered 2001, Tressel's first season, ranked 23rd and ultimately finished 7-5.
This team certainly has the talent to compete for a Big Ten title, but a lot of it is untested, young talent. Ohio State catches a break with the problems in Miami and getting Michigan State at home helps in so much as there's a more than decent chance the team is 5-0 heading into a crucial week six matchup in Lincoln, with Adams, Herron and Posey back in the fold.
Even if the Buckeyes were to stumble against the Cornhuskers on the road, they still look to have a good shot to capture the Leaders division crown, putting them in position to participate in the conference's first ever championship football game and the trip to Pasadena that goes to the winner. Traveling to Illinois is never easy and the Illini will be a slightly more dangerous team than usual this year, but the Buckeyes get Wisconsin at home in night for a "revenge game" and Penn State and Michigan are not as dominant as they might have been five or ten years ago.
We'll take a deep dive into each of Ohio State's opponents as we preview the games this season, but for now, we'll touch on all 12 games on the 2011 schedule, pointing out key players and getting feedback from writers covering those teams.
Akron Zips
Saturday, September 3rd • Ohio Stadium • Columbus, OH
Coach
Last Year
Returning Starters
Rob Ianello (1-11)
1-11
6/8
Key Games
@ Eastern Michigan (10/1), Kent State (11/12), @ Buffalo (11/19)
Key Players
LB Brian Wagner (132 TKL, 7 TFL), DT Oren Wilson (MSU transfer)
Depending on what set of preseason rankings you're looking at, and by rankings, I mean the thoughtful ones that rank all 120 FBS teams, Akron is either the worst or 2nd-worst team in the country heading into this season. Second year coach Rob Ianello went 1-11 in a nightmarish innaugural campaign and he doesn't have a whole lot returning this year.
The Zips are bad on the level of Eastern Michigan last year and New Mexico State two years ago and as such, I've listed fellow bottom feeders as their key games. Essentially, battles to stay out of the MAC cellar.
This matchup will be a perfect opening game for the Fickell era and will help the new contributors (extending all the way to the third team) get their feet wet in what should be a romp in the Shoe.
Toledo Rockets
Saturday, September 10th • Ohio Stadium • Columbus, OH
Coach
Last Year
Returning Starters
Tim Beckman (13-12)
8-5
9/9
Key Games
Boise State (9/5), Northern Illinois (11/1), Western Michigan (11/8)
Key Players
RB Adonis Thomas (1098 YDS), WR Eric Page (99/1105 YDS), LB Dan Molls (143 TKL, 5 SK)
Former Ohio State cornerbacks coach Tim Beckman has, in three years, reversed the slide the Rockets had suffered under previous coach "Toledo Tom" Amstutz, going 8-5 (7-1) and finishing 2nd in the MAC West last year. With 18 returning starters, and their two biggest conference games at home, they should contend for the title again.
Wide receiver Eric Page has been nothing short of filthy his first two years in school and former Buckeye target Andre Sturdivant should see action on the Rockets' defensive line.
Beckman has led Toledo against Ohio State before, getting blitzed 38-0 in his first season, 2009. The score figures to be a little closer this time around.
Miami Hurricanes
Saturday, September 17th • Sun Life Stadium • Miami, FL
Coach
Last Year
Returning Starters
Al Golden (27-34)
7-6
7/7
Key Games
@ Virginia Tech (10/8), @ North Carolina (10/1), @ Florida State (11/12)
Key Players
RB Lamar Miller (646 YDS), LB Sean Spence (111 TKL, 14.5 TFL), S Ray-Ray Armstrong 
Last year, Ohio State and Miami met in a battle of top 12 teams. The Buckeyes would go on to polish off the Hurricanes 36-24, thanks in large part to four Jacory Harris interceptions.
This year, the two teams will meet under a different kind of hype as each program enters the season bruised by NCAA violations (or alleged violations in the case of Miami). The game has already spawned several nicknames that would be funny if they didn't involve the school I cheer for on Saturdays, so those nicknames will go unmentioned.
Miami does get a bye ahead of Ohio State this year, and they'll be playing at home in front of what will surely be dozens of loyal fans, but will it even matter? 15 current players are under investigation for being part of the Nevin Shapiro Hooker and Bottle Service Express, including star linebacker Sean Spence and terrific safety Ray-Ray Armstrong.
Colorado Buffaloes
Saturday, September 24th • Ohio Stadium • Columbus, OH
Coach
Last Year
Returning Starters
Jon Embree (0-0)
5-7
9/7
Key Games
@ Arizona State (10/29), USC (11/4), @ UCLA (11/19)
Key Players
RB Rodney Stewart (1318 YDS), DT Will Pericak (3 TFL), TE Ryan Deehan (25/249 YDS)
Colorado will be participating in the Pac-12 this season, but thanks to the miracles of advanced scheduling, they have a non-conference game against Cal in week two. As it is, the Buffs were a late addition to Ohio State's schedule, coming in August of 2010 after the Great Conference Merry-Go-Round.
"Colorado Man" Jon Embree is in his first year as head coach, arriving by way of the Washington Redskins (TEs) after Dan Hawkins was dumped for pointing out that Big 12 football was not intramurals and losing plenty of football games, among other things.
While the Buffaloes return 16 starters and should improve on last season's 5-7 mark, the defense is still pretty bad and won't figure to pitch many shutouts.
Michigan State Spartans
Saturday, October 1st • Ohio Stadium • Columbus, OH
Coach
Last Year
Returning Starters
Mark Dantonio (51-36)
11-2
6/6
Key Games
@ Notre Dame (9/17), Michigan (10/15), @ Nebraska (10/29)
Key Players
RB Edwin Baker (1201 YDS), QB Kirk Cousins (2825/20), WR Keshawn Martin (394 YDS)
2010 was a bittersweet year for the Spartans. With Ohio State off the schedule, Mark Dantonio led the team to victories over Notre Dame, Wisconsin, Michigan and Penn State on the way to a rare New Year's Day bowl game. In which they were promptly destroyed by Alabama, 49-7.
Still, 11-2 is a great year, no matter how you cut it and Dantonio clearly has the program headed in the right direction. They rotate back on to OSU's schedule for the first time since 2008 and are a much better team than that group that was blasted 45-7 in East Lansing, but they aren't in a habit of winning in Ohio Stadium, the site of this year's game (Sparty and Northwestern are puzzling in that no matter how good they seem to be in any given season, each team generally likes to roll over for Ohio State).
Pete Rossman from The Only Colors defines success for the 2011 Spartans:
MSU goes at least 9-3, obtains wins two of its four tough games on the road (OSU, Notre Dame, Iowa, Nebraska), and makes it four straight against Michigan.  A berth in the Big Ten title game would be nice, but missing it would be understandable given the schedule.
And failure:
MSU has seven wins or fewer, and fails to win a game on the road.  The Spartans play in a third-rate bowl game in Arizona, or even worse, the Little Caesar's Pizza! Pizza! Bowl.  It's twice the "Pizza!" to compensate for the shame I'd be feeling if that happens.
Nebraska Cornhuskers
Saturday, October 8th • Memorial Stadium • Lincoln, NE
Coach
Last Year
Returning Starters
Bo Pelini (30-12)
10-4
5/7
Key Games
@ Wisconsin (10/1), Michigan State (10/29),  Iowa (11/25)
Key Players
QB Taylor Martinez (1631/965), LB Lavonte David (152 TKL) , DT Jared Crick (9.5 SK, 7 TFL)
Ohio State travels to conference newcomer Nebraska's place for what should be the hottest ticket in the conference this year. It's a night game, the first meeting between the two blue bloods since a two-game series in the mid-50s and the Cornhuskers first home game as a Big Ten team.
The oddsmakers will likely have the Huskers favored in this one and maybe by a touchdown or more, but there are two comforting facts for Buckeye fans to lean on: Adams, Herron and Posey will all be back in action and Nebraska must travel to Madison the week before, so the odds of them being being banged up are high.
Steve Hanway from Big Red Network spells out success for the 2011 Cornhuskers:
11 wins would be progress but anything less than a BCS bowl will feel a little hollow.  Getting over the hump in a third straight conference championship game would make every Husker fan feel good.
And failure:
Failing to win the division, especially in the absence of a BCS bowl bid or 11 wins would be tough to accept, especially if the final tally for Nebraska after the bowl game is nine wins or fewer.
Illinois Fighting Illini
Saturday, October 15th • Memorial Stadium • Champaign, IL
Coach
Last Year
Returning Starters
Ron Zook (51-59)
7-6
7/6
Key Games
@ Penn State (10/29), Michigan (11/12), Wisconsin (11/19)
Key Players
CB Terry Hawthorne (1 INT), RB Jason Ford (480 YDS), QB Nathan Scheelhaase (1825/17)
As a freshman quarterback, Nathan Scheelhaase was thrown to the wolves -- and lived to tell about it. Not only did he live to tell about it, but he actually thrived in Paul Petrino's offense, finishing the final seven games 82 of 139 for 1044 yards and 13 touchdowns with just one interception.
The two teams will meet in Champaign, which traditionally has a way of boring the Buckeyes into poor performances and the Illini will be much improved on last season's 7-6 effort (primarly because of Scheelhaase), but it's still a Ron Zook-coached team, so there's that.
Joe Kutsunis from Hail to the Orange defines success for the 2011 Illini:
We improve as a program. Looking at the Illinois football program through the Ron Zook years has been like being an investor in the Dow Jones, we have come to expect a certain amount of volatility. A year that ends in a Rose Bowl is shortly followed by a a year that ends in November. Big wins against Penn State are balanced by losses against Fresno State. If Illinois got through a year where it didn't sneak up on anyone but it beat the teams it was supposed to, I would be very satisfied. At this point that would mean at least seven wins and another bowl. I think this is pretty reasonable, but given the past decade, unlikely. It's always all or nothing in Champaign.
And failure:
We don't make a bowl. Regardless of coaching staff and past experience, you still have to hold the team to normal expectations, and with eight home games and no Nebraska or Iowa a bowl game should be a given. Losing seven games mean we really crapped things up. (That is an industry term.)
Wisconsin Badgers
Saturday, October 29th • Ohio Stadium • Columbus, OH
Coach
Last Year
Returning Starters
Bret Bielema (49-16)
11-2
6/6
Key Games
Nebraska (10/1), @ Michigan State (10/22), Penn State (11/26)
Key Players
QB Russell Wilson (3563/28), RB Montee Ball (996 YDS), WR Nick Toon (459 YDS)
Last season, the Badgers took the opening kickoff to the house and built an early lead before holding on for an upset over the top-ranked and unbeaten Buckeyes in front of a rabid crowd in Madison.
This year, they must replace quarterback Scott Tolzien, but pulled an upgrade when Russell Wilson transfered from North Carolina State over the summer. He was the ACC's best quarterback last season, throwing for 3563 yards and 28 touchdowns and will make an immediate impact in the Big Ten.
The Buckeyes do get the Badgers at home for a night game and coming off a road trip to East Lansing, so you'd be hard-pressed to find a more advantageous situation to play against this team. Good thing, because this game will likely determine the innaugural Leaders division's champion.
Adam Hoge of Bucky's 5th Quarter defines success for the 2011 Badgers:
The Badgers make another BCS bowl game. I think winning the Big Ten and returning to the Rose Bowl is the main goal, but if they happen to lose the Big Ten Championship Game and still make a different BCS game, then I still think the season has to be considered a success.
And failure:
The Badgers fail to reach the Big Ten Championship Game and/or miss a BCS bowl game. All the pieces are in place for the offense to be as good as last year and if the linebackers are healthy, the defense should be better than last year. 
Indiana Hoosiers
Saturday, November 5th • Ohio Stadium • Columbus, OH
Coach
Last Year
Returning Starters
Kevin Wilson (0-0)
5-7
6/6
Key Games
Virginia (9/10), @ Wisconsin (10/15), Purdue (11/26)
Key Players
WR Damarlo Belcher (78/832), QB Gunner Kiel (Next Year)
Hope abounds in Bloomington with new head coach Kevin Wilson, the mind behind Sam Bradford's eye-popping numbers at Oklahoma.
Wilson has himself a quarterback, but unfortunately for the head coach, he won't be enrolling until next year.
Though this team is heading in the right direction, they don't quite have the talent to compete with Ohio State -- or a lot of teams in the Big Ten, for that matter.
Jon from the Crimson Quarry spells out success for the 2011 Hoosiers:
The Hoosiers reach 6-6 and qualify for any bowl game.  It's a tall order with a new coaching staff and with a green quarterback, but not impossible given the schedule.  Also, it would be nice to not give up 83 points to anyone.
And failure:
If the team takes a big step back in competitiveness or win/loss record, or has a bad loss in the non-conference season.  It's tough to set an expectations floor for a program like IU's in a transitional season. 
Purdue Boilermakers
Saturday, November 12th • Ross-Ade Stadium • West Lafayette, IN
Coach
Last Year
Returning Starters
Danny Hope (9-15)
4-8
7/9
Key Games
Notre Dame (10/1), @ Wisconsin (11/5), @ Indiana (11/26)
Key Players
DT Kawann Short (6 SK, 6.5 TFL), CB Ricardo Allen (73 TKL, 3 INT), K Carson Wiggs (15/19)
Ryan Kerrigan is gone? Good.
The sting of Purdue Harbor is still fresh in the minds of most Buckeye fans, even though the good guys got revenge of sorts with a 49-0 pasting in the Horseshoe last year. Still, this is the team's first trip back to West Lafayette since that debacle and the game will be on the minds of many upperclassmen, to be sure.
I want to like Danny Hope, I really do. But I can't bring myself to do it.
Boiled Sports on what success is for the 2011 Boilermakers:
They make a bowl game. Sometimes we long for the days of Jan 1 bowl games and 8 or 9 wins, but right now if Danny Hope guides this bunch to any bowl game, it will either mean they won all the games they could/should plus maybe one of their toss-ups or it will mean they were spotty in the non-con and then rose up to surprise a few during conference play. Either way, a bowl would be good, given that Purdue is in the midst of three straight losing seasons...something not seen since the dark early/mid '90s days of Jim Colletto.
And failure:
Purdue looks unprepared and undisciplined as they have a number of times over the past couple of seasons. Hope's teams have heart and pride, but they seem to be emotional roller coasters and the team loses focus on an alarming basis. We could deal with a non bowl season if at the end of the year we feel like these guys didn't give any games away. Because when you're struggling to win games and you give a few away....it REALLY hurts. Especially when it seems preventable. 
Penn State Nittany Lions
Saturday, November 19th • Ohio Stadium • Columbus, OH
Coach
Last Year
Returning Starters
Joe Paterno (401-135-3)
7-6
7/7
Key Games
Alabama (9/10), Nebraska (10/12), @ Wisconsin (11/26)
Key Players
WR Derek Moye (53/885), LB Michael Mauti (67 TKL), CB D'Anton Lynn (75 TKL, 3 INT)
Joe Paterno will lead his Nittany Lions back into the Shoe for the 2nd time in a row thanks to adjustments to the conference schedule for new member Nebraska. Call it payback for having to travel to Happy Valley twice in a row shortly after the Lions entered the Big Ten in the mid-90s.
While Penn State has been on a bit of a slide of late -- they've actually settled into a pattern of three mediocre seasons sandwiching a breakthrough BCS bowl year -- they're still Penn State and they still play the Buckeyes tough. Ohio State has double-digit victories the last two years, but look beyond that and you see a lot of nail-biting, one score games between the two powers.
As a fellow Leaders Division team, this game takes on a little bit more importance than usual as both teams will likely still be in contention for a trip to Indy when they meet.
Michigan Wolverines
Saturday, November 26th • Michigan Stadium • Ann Arbor, MI
Coach
Last Year
Returning Starters
Brady Hoke (47-50)
7-6
9/7
Key Games
Notre Dame (9/10), @Michigan State (10/15), Nebraska (11/19)
Key Players
QB Denard Robinson (2570/1702), DT Mike Martin (2.5 SK, 3.5 TFL), C David Molk
New coach Brady Hoke has Michigan fans believing again. They got a Michigan Man (and another in a line of them originating from Ohio) and he's taken to calling the Buckeyes "Ohio", exciting a fanbase that hasn't had a whole lot of reasons to talk smack to their biggest rival after going 1-9 against them in the previous 10.
The Buckeyes busted the "1st Year Wolverine Coach Always Slays Ohio State" myth three years ago when Rich Rodriguez led his team to a 42-7 thumping in his first taste of The Game, so at least we don't have that hanging over us.
Still, given the general trends/vibes eminating from each program, and the fact that the game will be played in Ann Arbor, there may be cause for the typical gameday butterflies that we've sorely missed the last few years.
Brian Cook of MGoBlog on his view of a successful 2011 for the Wolverines:
Beat Ohio State. Normally I roll my eyes at that extra increment of obsession in the OSU fanbase in re: Michigan. Not this year. Michigan needs to win The Game this year. They're going to have a mediocre record going into it,  they'll have a massive advantage at QB, and it's at home. If the infamous "days since" hits 0 in November, Hoke is off and running.
And failure:
There is room for some optimism even if the above doesn't happen as long as Michigan does better this year. Run in place as a 7-5 team despite returning about 19 starters and (probably) getting vastly better kicking, though, and enthusiasm will dampen significantly.