Football, real football, is finally here. The Ohio State Buckeyes opened their fall camp this morning on a sunny day in Columbus and got to work immediately at the Woody Hayes Athletic Center in preparation for the upcoming season. Although the players were only in helmets, jerseys, and shorts (no pads), it was nice to hear the chatter around the practice session focused solely on the actual game, rather than the off-field issues that have been the center of attention this entire off-season.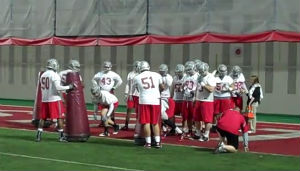 The first day, and really the first week, of camp never really tells us too much, but there definitely were some key observations to take note of during today's session. Things will definitely get a little bit more intense later in the week when the guys strap on the pads and start really going at it, but these first few days are really to help the players get back into the swing of things and work on their fundamentals. It also gives most of the freshmen their first lick of college football and for many it was an eye-opening experience.
We know you don't want to hear me ramble on and gush about how excited I am for football to be here, so here are some notes from the first day of fall camp:
We know quarterback is the position you are all anxious to hear about, but don't get too excited yet. Reps were pretty much split between all four players and were given by seniority (Bauserman, Guiton, Graham, Miller) in terms of order the players went under center. None of the players looked too sharp in terms of consistency, all looking like they could be the next starter at times, while at other times looking like they didn't belong on a high school field. Guiton and Graham each threw an interception today, which doesn't necessarily mean much, but doesn't help either. My money is still on Bauserman and Braxton to open the season in some sort of QB rotation.
At running back, Boom Herron, Jaamal Berry, Jordan Hall, Carlos Hyde, and Rod Smith all saw time with the first unit. Jordan Hall actually spent most of his time with the receivers and he should have a Percy Harvin-like role in the offense this year. We were really impressed with how vocal Boom was on the field today, as he really got after the entire team all day. Carlos Hyde looked to be in great shape and you can tell he has worked hard this off-season to get more consistent in all aspects of the game. Smith had a few nice plays, including one or two through the air, while Berry is just a speeding bullet out there. This is going to be a good group.
Out the first five games of the season, it only made sense that DeVier Posey ran with the second team today. This gave the opportunity for Philly Brown and Verlon Reed (as well as Hall) to get reps at receiver with the first team. I know Philly is the more experienced guy, but the hype around Verlon Reed is real and he was the best pass-catcher on the field today. It was even reported that he has surpassed Brown on the depth chart, but we will see how things shake out throughout camp. Following Reed and Brown were Chris Fields and TY Williams and then Devin Smith and Evan Spencer. Williams had a case of the dropsies today, but he looks like he could be a great redzone threat. Devin Smith looks very impressive for any player, let along a freshman, and I think he will see significant playing time this year.
At tight end, Reid Fragel and Jeff Heuerman did a great job today. Notice I left out Jake Stoneburner? That's because he was featured as more of a receiver rather than a true tight end. We figured this was coming with the thin depth and youth at receiver, so if healthy, expect Stoney to catch a ton of passes this season. As for Fragel, he is an absolute beast and just may be the top at the position in the conference this year. Heuerman came in for winter conditioning and spring ball, which speaks volumes to how he is playing on the field, especially compared to his classmate Nick Vannett who just enrolled in June. I expect Heuerman to see the field this year, but I think Vannett will redshirt.
The first team offensive line was Andrew Norwell, Jack Mewhort, Mike Brewster, Marcus Hall, and JB Shugarts. Mike Adams worked with the first team as well and will reclaim his spot in Lincoln. Corey Linsley saw significant time at right guard as well, but there is some chatter he may be facing a two-game suspension. One more note on the line, as Chris Carter, who reportedly was extremely overweight, looked to be handling his size pretty well. Thought to be a guard, Carter repped at left tackle and looked extremely quick for a guy his size. He definitely turned heads and could be a pleasant surprise in terms of providing depth for this season.
On the defensive line the starters were Nathan Williams, Jon Hankins, Garrett Goebel, and John Simon with Adam Bellamy getting a lot of action as well. Solomon Thomas, suspended for the first five games, sat out with a yellow jersey on. JT Moore was backing up Williams at the LEO position and looked pretty good out there. One interesting observation was seeing Mike Bennett line up at defensive end on the strong side. Bennett was thought to be a pure tackle, but it looks like the coaches like his athleticism and strength combination on the outside.
Mike Vrabel had his first real day with the linebackers and it was great to see him out there. As you would guess he was extremely vocal and even got after Curtis Grant pretty good at one point. Vrabel also showed his dedication to the unit by partaking in sprints with the linebackers. Onto the actual players, the starters in the base 4-3 were Andrew Sweat at the WILL, Storm Klein at the MIKE, and Etienne Sabino at the SAM. In the 4-2-5 defense (Star instead of SAM), it was Sweat and Sabino who were on the field. It looks like this is how things are going to go, so expect a lot of Storm Klein this year. Tyler Moeller was the starter at the Star position, backed up by Christian Bryant. Chad Hagan also saw some time at Star and Scott McVey seemed to be running at both linebacker and Star. Freshmen Ryan Shazier and Curtis Grant will need to work their way up the pecking order, but that won't happen today as neither stood out in day one. Grant, as mentioned before, got the brunt of a Mike Vrabel verbal abuse rant and despite his massive body, will still be making freshman mistakes.
At corner back Travis Howard has one spot locked up, but it looks like a battle will ensue throughout camp for the other spot as Bradley Robey, Dom Clarke, and Dionte Allen all repped across from Howard Island. CJ Barnett starred at one safety spot and had an interception, while his back-up, Zach Domicone, also had a pick. At the other safety spot was Orhian Johnson, backed up by Christian Bryant. It looks like the d-backs will be pretty deep this season and they are a very athletic and physical group.
Overall it was a very good first day of practice for the Buckeyes. Nothing too eventful went down, but as we progress through camp there will be a much clearer picture of what the 2011 Ohio State team will look like come September 3.