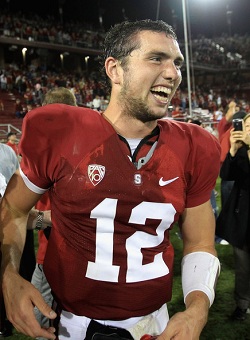 Ohio State was once thought of as a sure top-10 pick for the 2011 season, and a possible BCS championship contender. That was before you-know-what happened. Most still had OSU in the upper echelon of teams until Jim Tressel "resigned" and Terrelle Pryor decided to end his college career. Now, the consensus is that the Buckeyes are 11-15 timber or worse. Strangely enough, I do not have a problem with it.
As it gets later into the summer, more and more media sources are coming out with their predictions for the CFB Top 25. At the top of most lists you will find the usual suspects: Oklahoma, Alabama, Oregon, etc. However, there are always a few surprises and so I thought I would take a look at some of these "surprise" teams and discuss whether or not they deserved to be in such elite company. I am going to limit the analysis to the top ten in the interest of brevity (not to mention laziness).
Stanford
Several pundits have picked the Cardinal for a top ten finish, with Tim Hyland of about.com pegging them at #5. Perhaps he is impressed by their 40-12 victory over Virginia Tech in the Orange Bowl, but beating the ACC champion has lost a bit of its luster over the past few years, and VaTech last season was, to say the least, a bit of a flawed team (see below). Still, an impressive (and physical) win in a BCS bowl has to count for something, and so you're probably wondering why I'm doubting the idea of having "the tree" in CFB's top 10.
While it is true that top NFL prospect Andrew Luck returns at QB and leading ground gainer Stepfan Taylor also returns, the Cardinal lose 3 out of 5 starters on the offensive line. In addition, Luck's top two receivers have also moved on. It doesn't get a lot better on defense, where they lose another 5 starters. But the most crushing blow is that the man who resurrected the program, Jim Harbaugh, has moved on to coach in the NFL, and so the team will be led by former offensive coordinator David Shaw. Quick, name the last team to finish in the top 5 of the rankings with a first-year coach.
Stanford has an easy early schedule, but must play USC, Oregon, and Notre Dame (possibly overrated, see below) in their last 5 games, plus a road date at Oregon State and the traditional rivalry game with Cal. That late stretch might be the place where the new players step up and carry the team to greater glory, or it might be the place where the wheels fall off due to inexperience both on the field and on the sideline.
Virginia Tech
The Hokies return 13 starters from last season's 11-3 team and they have an extremely weak schedule (playing in the Atlantic Ghost Conference). Athlon thinks enough of them to put VaTech at #7 in their pre-season rankings. So what's not to like? Well, for starters they looked terrible in their 40-12 bowl loss to Stanford. Since then, star running backs Darren Evans and Ryan Williams left early for the NFL, and of course all-time leading passer Tyrod Taylor exhausted his eligibility. And this is a team that struggled to score points against quality opponents even with those players. 
It is possible that "Beamer-ball" will allow the Hokies to overcome their offensive shortcomings long enough for Soph Logan Thomas to mature into a quality QB. They do return 4 of 5 starters on the offensive line and both starting WR's. Thomas does not have Taylor's mobility, but even more than that VT will miss Taylor's leadership. No one was more instrumental in getting the team back on the beam after the devastating loss to FCS school James Madison in week 2, which is one reason to doubt VaTech in 2011, at least early in the season. As weak as the schedule is, they could still end up in the ACC championship game, but they would probably face a very good Florida State team, and Beamer's boys might be overmatched in that one.
Notre Dame
Again it is Athlon that pulls the surprise by putting Notre Dame in their top 10 at #6. As with VaTech, the schedule is very favorable. The Irish get Michigan State and USC at home, while traveling to Michigan is not the scary trip that it used to be. The toughest challenge is a road game at Stanford, but that won't happen until the last week of the season. Also, this is coach Brian Kelly's second season at the helm, and year 2 is traditionally when a big-time head coach has his breakout year. So why am I doubting the Irish? 
First of all, I can't find any other publication or pundit who has Notre Dame in the top 10. Perhaps that is because their 8-5 record from a year ago does not impress? Maybe it's because they still haven't settled on a quarterback even after spring ball? Or maybe it's because star receiver Michael Floyd was arrested for DUI in the offseason and his future with the team is uncertain. Combine that with the QB questions and the loss of star TE Kyle Rudolph and some of the luster might come off of Kelly's vaunted passing game. Yes, the Irish won their bowl game last season, but it was the Sun Bowl. Until they make a strong showing against a quality opponent I remain unconvinced that Notre Dame is ready to "wake up the echos" in 2011.
Oklahoma State
Lindy's has the Cowboys ranked #7 in their pre-season top 25, and they would appear to be on solid ground at first glance. The team returns 10 offensive starters, including record-shattering QB Brandon Weedon and star WR Justin Blackmon. Their schedule in the Nebraska-less Big 12 is fairly soft, with the only scary road game being an Oct. 15 trip to Texas. Add to that the fact that they get in-state rival Oklahoma at home, and all the pieces appear to be in place for a big season.
However, offense alone cannot win a championship, and that's bad news for this particular OSU squad. They return only 5 starters on defense, with 3 of them in the secondary. But the secondary was routinely shredded by opposing passers last season, and so fans might have wished that some of those players were gone now. Finally, Oklahoma State is coached by the mercurial Mike Gundy, who is the polar opposite of the seasoned leader the team needs. It's possible that the Cowboys can score enough to be a contender for national honors, but somewhere along the line their defense will have to carry them, and I'm not sure that they are capable of it at this point.
So what do you think? Which team did you see in someone's top ten that just caused you to do a double-take? Am I wrong to doubt the teams listed above?