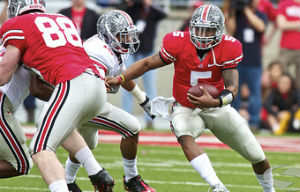 We're thrilled to welcome Matt Finkes as a regular contributor. If that name rings a bell, it should. Finkes was a stalwart defensive end for the Buckeyes in the early to mid-nineties, playing alongside current Ohio State coaches Luke Fickell (NG) and Mike Vrabel (DE). His accolades from his days at Ohio State are long and numerous including multiple All-American honors, defensive MVP of the Florida Citrus Bowl and leaving school 2nd on the career list for TFLs and sacks.
He's currently the defensive line coach at Hilliard Darby High School and manages an athletics performance outfit, Category 5. He'll be weighing in from time to time to give us a unique perspective on what the players are seeing and going through. Today, he offers insights into freshmen camp.
 — — — — — — — — — — — — — — — — — — —
I've been asked many times over the years, "How big of a leap is it to go from college to the NFL?"
Time and again I answer that the leap from college to the NFL pales in comparison to what 17-18 year old incoming freshman are going to be facing when the upper classmen roll into town for camp. The physical and mental adjustments necessary to be successful at the college level is absolutely staggering.
Let's begin with the factor that comes to everyone's mind first, physical readiness. The physical difference between players entering their rookie year and the veteran players in the NFL is negligible. At 21 or 22, you are for the most part physically developed. You have spent the past 3-4 years in an intensive year-round supervised training program designed to maximize your athletic potential. Strength and Conditioning coaches at the college level are some of the most dedicated and best in the business.
While the speed of the game increases, it is more through the mental aspects of the game rather than physical side. At Ohio State, I practiced everyday against Orlando Pace and Korey Stringer. Physically, that was as good as it gets!
But, when I arrived at camp for the New York Jets, I had no idea whatsoever the degree of complexity and the shear amount of information that needs to be processed to play in Bill Belichick's defense.
Players coming out of high school are rarely ready physically to compete at this level, especially on the line. There are the Andy Katzenmoyers of the world out there but they are few and far between. My 40 time improved from a 4.91 to a 4.63 over my 4 years while I gained 45 lbs. You develop physically every single year in college.
The demand of suddenly having to constantly compete at the highest level in every practice is quite a shock to the system for those who have come from programs where the focus of practice was to keep them healthy and ready for Friday night. Playing in the various all-star games and freshman camp for three days attempts to serve as a good stepping stone, but it all goes out the window when the big boys hit town!
The mental leap from college to the NFL is comparable to the high school to college jump. The complexity levels skyrocket in both instances. The biggest challenge mentally for many is the harsh realization that life will go on without you if you can't get it right. While everyone who has earned a Division I scholarship was surely a star during his prep years, unmatched physically by anyone else on their team, that is no longer true when they set foot on campus. The understanding and patience quickly goes by the wayside.
As one of my favorite coaches, Fred Pagac, used to say, "remember that guy who recruited you and kissed your ass to be here? He's dead. You get to deal with me for the next four years."
Coaches despise errors, and abhor repeated errors. Making a repeated mistake is the surest way to end up on the bench and the patience for you to come around and get the system is strikingly short.
While camp seems to go on forever, as a coach evaluating his team, the time flies by. Decisions are made rapidly and without remorse. Cohesion needs to be built and that requires determining who will be playing together and getting them on the field with each other as much as possible before the opening kickoff.
The realization that you may be a special teams player or a role player in certain packages can be hard for some guys to take. Not being able to get on the field at all and remaining focused and disciplined during a redshirt year can actually be too much for some good players, causing them to leave the team or not live up to their potential. All that being said, the majority of players will adapt and overcome the mental adversities.
To get to where they are, these young men are extremely driven and competitive. I know my freshman year, I took it as a challenge to show the upperclassmen I belonged. I remember Jason Winrow snickering at me when lined up my entire 220 lbs over him as a nose guard those first few reps. As someone who had already started for the Buckeyes, he had my respect, but I earned his and a few others. I backed down from no one and no competition. This led to some hard lessons learned but they were valuable ones that would serve me well in the coming years and ones I would impart to the next class with a smile.